Vimae d'Auzay, a heartfelt story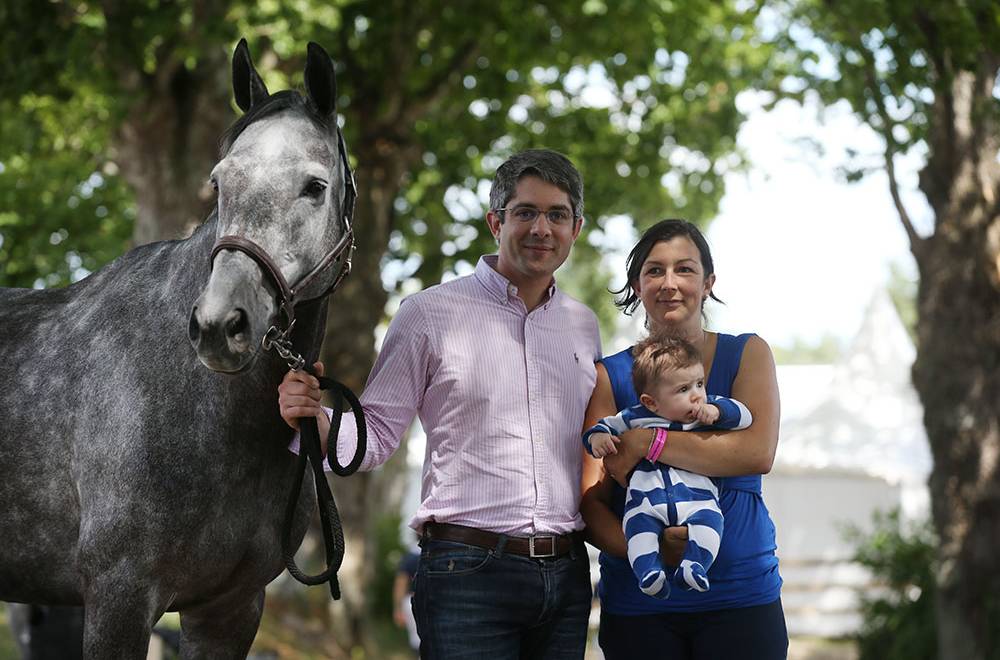 17 March 2021
Last week, at 12 years old, Vimae d'Auzay (Nouma d'Auzay) retired from the stables of her lifelong rider Pierre-Marie Friant to join her owner and co-breeder, François Buzon, at the Haras des Embruns, near Nantes. With nearly 50 victories and placings from 1.35 to 1.45m throughout her career, over just 100 courses, this little grey mare with a strong character has built up a fine record of achievements, but not just that... Because this mare's story is the fruit of unexpected encounters which have marked the life of those who have crossed her path.
The story begins in 2003. While leafing through the magazine L'éperon, a real point of reference at the time, François Buzon discovered a portrait of Patrick Blanckaert from the Élevage d'Auzay breeding stud in Nantes. Of course, it talked all about his breeding, his crosses, but it was particularly a sidebar on the life of the breeder that shook this young 19-year-old student. "It was incredible how many similarities I found between his life and mine," recalls François Buzon. We had lost our fathers at a very young age, we were interested in the same painters, we liked classical music; Handel in particular, and he explained that he had not been able to ride a horse when he was in Paris... so I took a sheet of paper and a pen and wrote to him. Two weeks later, he answered me and after a few exchanges, he invited me to his house, where I started to go more and more frequently, until I spent all my free time there."
Vimae d'Auzay with her owner François Buzon and her rider Pierre-Marie Friant.
During the summer of 2003 at Élevage d'Auzay, the young man discovered a breeding program built on several generations of international horses. He was captivated by a young 2-year-old horse during a free jumping session, a certain Nouma d'Auzay (Carthago x Quidam de Revel x Le Tot de Sémilly). Having followed the stallion's evolution and even having ridden him a few times, François was travelling along with his breeder to take him to Franke Sloothaak in Germany. "It was a wonderful opportunity to be able to follow and participate a little in the career of such a stallion. He had a proud look that could almost make you look down. When he was 2 years old, we thought about which crosses we could do with him and the mares at the stud. Our attention was quickly drawn to a filly who had just been born, Philae d'Auzay (Cento x Allegretto x Weaver's Hall xx). When we wrote the six generations out on paper, it gave a 3x3 inbreeding to Capitol, 4x4 to Jalisco, and 5x5 to Cor de la Bryère, which made it a very symmetrical breeding on paper. We liked the idea very much and said that we would do it one day."
When Philae was 6 years old, François Buzon finished his studies in England at the University of Cambridge and received an e-mail from Patrick Blanckaert: "He wrote that Philae had been inseminated with semen from Nouma and asked me if I was still ok to do the embryo transfer as we had discussed. There were no more questions to be asked, we were off on the adventure, as he says so well: "Take it Auzay". The mare gave us an embryo that took straight away in the recipient mare. The condition was that I had to raise the foal because Patrick didn't have the space at home. In December, Patrick called me because he had been invited to the housewarming party of a friend whose daughter had just opened a stud farm in Nantes. I had no idea how important that call would be in my life since it was the first time I had heard of Marie... who would later become my wife and the mother of our two... and soon to be three children!"
But, as much as Vimae's journey has been a real adventure, François Buzon's first meeting with her filly was just as much of one. Having arrived late from Paris on the TGV, François Buzon once again made his way to the Élevage d'Auzay and the two co-breeders went to meet their filly, but they were well beyond the opening hours of the vet clinic in Nantes... The two men climbed the wall of the clinic to go and see their protégée. A few weeks later, it was of course at the Haras des Embruns of Marie Illegems, now Mrs Buzon, that the filly landed in the middle of the gallopers. "The filly was very independent from her dam; when we free jumped her at 18 months old with Patrick, she had shown some quality. She didn't jump very big but she was quite relaxed. At the beginning of her 2-year-old year, at a small free jumping competition, her hind legs cleared the stands, and at 3 years old, seeing us arriving in the truck, she jumped her 1.60m paddock fence in front of us! I broke her in at the stud. I was working in Paris at the time, so I used to come to Nantes on weekends where I took her to Jacques Friant's which was 5 minutes from home. I started her in the 4-year-old events at Malville where we went clear. Fifteen days later, I took her to her second competition. Even though we were clear, the mare proved to be too difficult for me. I felt things while jumping that I had never felt on any other horse. I really thought she had a lot of quality, even though I still wondered how much."
Although he is an amateur rider, the young man is not unknown in the horse world. As a student at the Ecole Polytechnique, he was the one who was the impetus for the Palaiseau competition to go international. "I didn't want to make a mistake for the mare's sake. At the time, my job required me to travel around the world a lot and the mare deserved a better rider than me. I decided to entrust her to Jacques Friant and his son Pierre-Marie who had just returned from working for Paul Schockemoehle. They knew how to create good training codes and formed a real partnership. During all these years of collaborating, they have let me reserve some time for embryo transfers. At that time, we didn't have many foals, but this offered the mare a long period of rest, and for us, the possibility of enjoying her and seeing her at home, which was priceless. On the other hand, I never really intervened in the competition program. I never imagined entrusting her to another rider because Pierre-Marie succeeded in forming a real partnership with her. He has always remained stoic in the face of all her quirks and that's what we needed to do. Pierre-Marie is as cold as the mare is hot. They were very complementary. She's a mare that has an incredible mind; she always wants to jump and loves to turn. She was turning so fast that during a landing in an indoor arena she almost fell. Never in her career did she stop. She always wanted to jump. It's her greatest quality, even before her elasticity and her hind end. She also has the unique aspect of having the thoroughbred stallion Son-in-Law in her genetics 18 times, which we find in the thoroughbred stallions that have marked the history of jumping like Furioso and Rantzau."
François and Alexandre Buzon at the Longines Masters of Paris course walk
It's a combination that has built a fine reputation on the competition grounds, to the surprise of François Buzon, himself. "The mare is very well known in the region. Unfortunately, I couldn't follow all their exploits, but I have no regrets. I still have many great memories with her. Saddling her up for her first competition, while thinking about Patrick and the cross we had imagined several years before, I had tears in my eyes. Her first round in the 6-year-olds where she flew over the bars, her first indoor 1.35m Grand Prix that she won where I can still hear her hit the rail when she came out of the double... Of course, her victory in the big Canteleu CSI3* event was a great moment in her career, but there were many others. When I had the opportunity to take my 3-year-old son to the Longines Masters of Paris to see our mare who had already won two events there, it was a very intense emotional moment. Especially since it was the first big competition I went to see as a child, as the Grand Prix du Jumping de Paris at the Salon du Cheval which my father took me to. Unfortunately he passed away very young."
Her long-time rider, Pierre-Marie Friant, also recognizes the departure of this atypical little gray: "Vimae is a star! She's a very complicated mare to which we had to adapt. At 5 and 6 years old, I rode her as she was. At the end of her 6th year, I wanted to start bending her more, but it didn't work. So I had to leave her as she was: I didn't care which lead she was on, I just kept her in balance. However, she is a mare that has a very good mouth that let me decide what I wanted to do, but she was just atypical, and I had to forget about straightness. Obviously when I entered several horses in a competition and I found myself riding her before or after a colder horse, a little adaptation was required. We had a whole series of codes in place. I always lunged her before riding her and then in the paddock, when I had finished warming up, I always dismounted, undid her girth her to let her breathe and calm down, and then I went back to the arena. Sometimes, after jumping an obstacle, but sometimes not even after that. Honestly, I'm not sure she was really calmer, maybe it was just in my head, but it was part of our code. I had to get off because if I stayed in the saddle, she wouldn't stand still."
Vimae d'Auzay's family photo with François and Marie Buzon and their first son, Alexandre, at the Dinard jumping.
Her rider continues: "I had seen the mare when she was 4 years old at home when François came to train with my father, and at her first competition in Malville. It was hard to miss a hot little mare with such good jumping ability. She's really the kind of horse you don't want to miss out on if you get the opportunity to ride her. Obviously, the fact that I've ridden her from the time she was 5 to the level she has reached is of great satisfaction. When you saw her compete, you could perhaps doubt the training that had been done, but personally, it reinforced my choices. Especially since she and Urdy, my lead horse, are two of the first horses I took back to France after having worked for Paul Schockemoehle. For sure, Vimae was not at all the type of horse I had the opportunity to ride in Germany, but I immediately got a good feeling from her. To have brought these two horses up to the top level is a great joy to me. As any rider would tell you, seeing the mare leave for embryo transfers is frustrating because we lost half a season each time, but it was part of the deal, it was something important to François. We had some nice accomplishments winning 1.45m placings with a nice line-up behind us, but I think that without the breeding periods we could have been competitive over 1.50m. She's a very well-known mare on the competition grounds. With her, we never came back without a ribbon! When the other riders saw that she was focused, they knew that it was already not looking good for them... "
Obviously when a horse stands out, buyers are easy to find and prices rise as events pass, but for her owner, it's a question that he has always approached with a lot of distance: "We have obviously received some nice offers... but that's not why we would ever sell her! I think that when you have horses, there are many opportunities, and you have to know why you have horses. You can have them to hope to reach the highest level and jump big obstacles, or to hope to sell them at a high price, or you can decide to live with them and enjoy them. I think we have clearly chosen the third option. She's part of our life. Without her, I wouldn't have met my wife and for that reason and with regard to Patrick, I could not have imagined selling her," says François Buzon.
François Buzon has been led by his wife's passion for thoroughbreds for several years and has also copied the breeding model with this mare. "In racing, some horses do run until they are 10 years old... but you must admit they're rarely the good ones. The very good ones run until they are 3 or 4 years old, win at the Group 1 level, and go on to breeding because it's the races that are used to select the breed and not the other way around. Honestly, I would have liked to end her career after a victory, but the Covid and rhinopneumonitis (EHV-1) epidemics have decided otherwise. She has already proven enough and deserves to be respected. I still want to do some embryo transfers and allow her to have her own foal. We have had a few setbacks so far, but I still have high hopes for the future. I will try to outcross her, which is not very easy with the decrease of the genetic diversity of all of our studbooks. I'm nevertheless very conscious of the chance that I have to breed with such a mare. I hope that her offspring will be at least as good as her. Not so much for me, but for the mare, so that her legacy continues. Personally, I consider myself very lucky and I'm now enjoying the transition to her broodmare life in a smooth way with some nice walks. Then I will find time to ride her first son Handel MZL (Cornet Obolensky) who is turning four this year."
The story continues…