Very Belle du Seigneur retires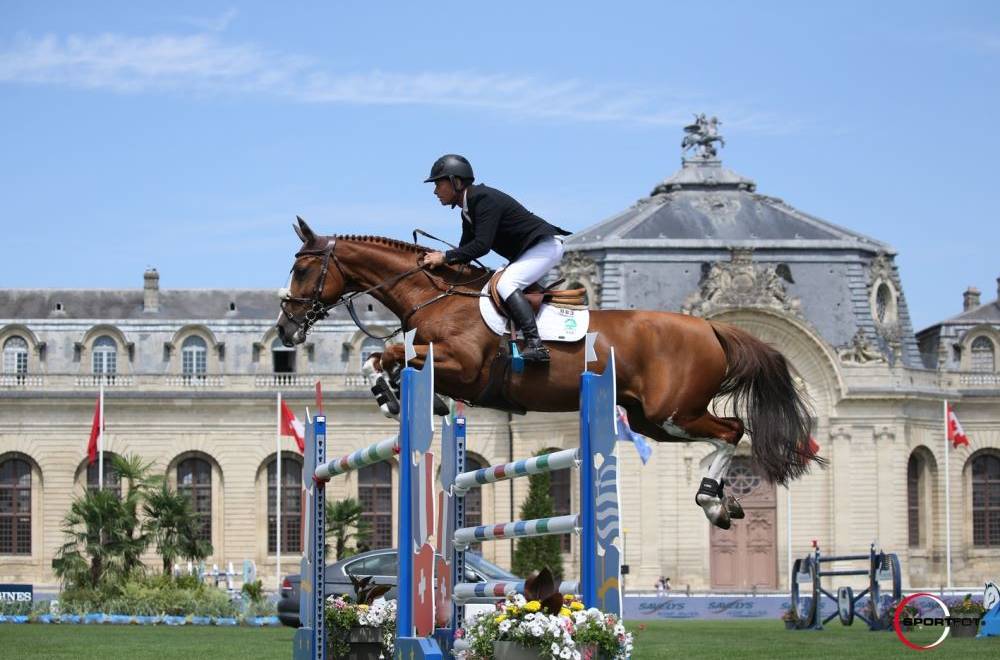 07 October 2020
Delicate and a little extravagant, Very Belle du Seigneur aka Oak Grove's Heartfelt (Heartbreaker x Rubens du Ri d'Asse x Chin Chin) distinguished herself in competition under the saddle of German rider Harm Lahde, after a more complicated period under the saddle of Rolf Goran Bengtsson, with whom she didn't get along well. With Gestüt Eichenhain's regular rider, the chestnut finally expressed herself well and placed 3rd in the Redefin 3* Grand Prix, and 4th in the Gross Viegeln CSI4*.
Today, Very Belle is retiring from competition and will return to breeding! Indeed, before her sporting career, the SBS mare had already produced several horses, which today are progressing at the Grand Prix level, such as Cardino du Seigneur (Cardento) who is competing in Germany, Cibelle and Décibelle du Seigneur, who have both progressed to the international level, and of course Fais Toi Belle du Seigneur (Baltik Sitte), who competes at Grand Prix level under the saddle of Jérome Guery, and Anabelle Hero Z aka Oak Grove's Americana (Aganix du Seigneur), who is following in her dam's footsteps with Harm Lahde.
Very Belle is none other than the daughter of the famous Quasibelle du Seigneur, who also produced the international performer Arac du Seigneur (Ogano Sitte), and four approved stallions including Vivald'Ick (Vivaldi du Seigneur). Quasibelle is above all the daughter of Jos Lansink's star stallion Ta Belle van Sombeke, and therefore the maternal half-sister of star stallion Carembar de Muze aka London, Taran de la Pomme, the late A Pikachu de Muze, Casimir de la Pomme, Wabelle de Muze and Figo de Muze aka Golden Hawk, not to mention, more recently, Dabelle who, like her siblings, has also progressed to the highest level of competition, showing that she is simply from one of the best lines in the world.
"When Oak Grove's Heartfelt came to me, she wasn't easy. I had to adapt. She's a very special mare who might be afraid of screens, for example, or some days of tractors, but not every day. We had to learn to understand each other, and I had to compromise. It was important not to force her to face her fears. She's a mare that has incredible quality, and we ended up achieving some very good results. Of course, I think if we had met sooner, we could have done even better... but we can't go back and change the past. Now, I'm able to count on her daughter, Oak Grove's Americana, who I've been riding since the beginning. She's also a complicated mare, but I think having her from a much earlier age will help us to do even better, even though she's already competing at the 3* Grand Prix level at 9 years old. We also have two offspring by Ogano Sitte out of Oak Grove's Heartfelt's dam. They are only 4 years old and are still very green, but I think they have the potential to make it to the top level as well. I think that now you can clone or harvest embryos, every horse will be different because of how they're raised, and how they start their career will change the course of their lives, but it's always better to start with quality horses.
In recent years, I have had several horses sold, and today I'm missing two or three horses that would allow me to progress every weekend at a high level; however, I'm fortunate to be able to count on a very good group of young horses with a good batch of 7- and 8-year-olds, as well as four exceptional 6-year-olds. We'll take our time, but the future looks positive," said Harm Lahde.
Featured photo: © Sportfot.com