Two horses from the same breeder on the podium in Doha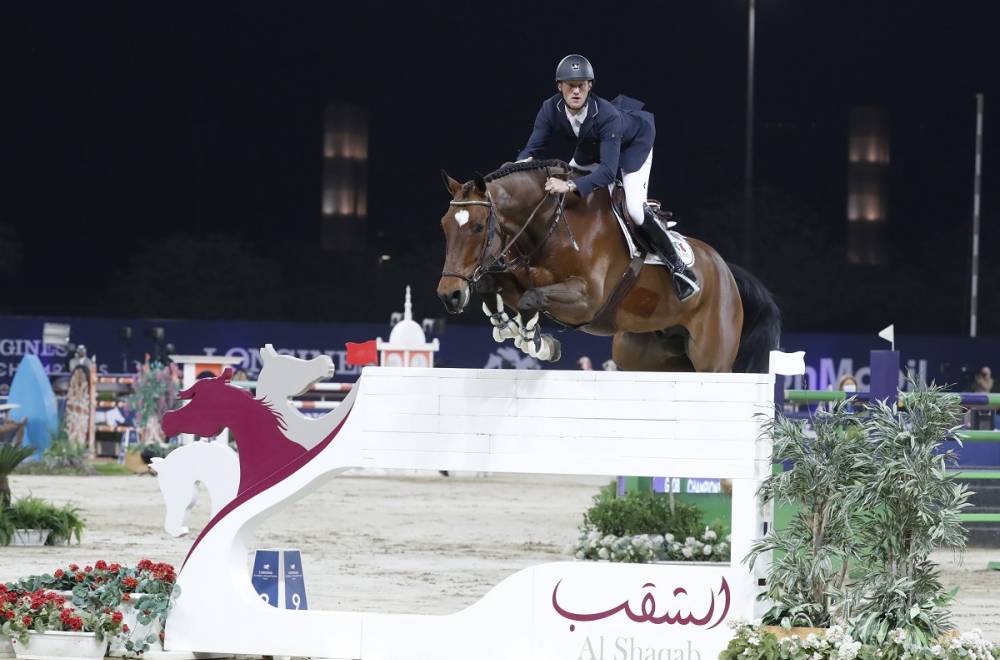 08 March 2021
Despite the rhinopneumonitis epidemic, which is mainly affecting Europe, a few competitions were still held this weekend. The most beautiful of these were held in Qatar and the United States.
Doha CSI5* LGCT
The participants of the Global Champions Tour met in Doha for the first round of the Jan Tops circuit. The victory at the Saturday evening Grand Prix went to Belgium thanks to the speed of Niel Bruynseels. The rider is associated with Delux van T&L (Toulon) and finished only a couple of hundredths of a second ahead of Stephex's driver Lorenzo De Luca. The Italian had placed his bets on his new and very promising rookie Nuance Bleue VDM Z (Nabab de Rêve). This was only his second Grand Prix at this level and all bodes well for the future!
Completing the podium was Eric Lamaze, a rider making his debut on the lucrative Global Champions Tour circuit. The Canadian also achieved a fast round in the jump-off with Dieu Merci van T&L (Toulon).
It's interesting that the two sons of Toulon on the podium were bred by Luc Tillemann who is none other than Toulon's stallion breeder. A great success for a breeder!
Delux T&L first debuted with a young Swiss rider, Joel Kurmann, before joining Niels Bruynseels to achieve the success we know about. The tandem took 3rd place in the World Cup stage in London and 5th place in the World Cup final in Gothenburg in 2019. "My preparation was completely different to what I usually do. I could never take part in tours and this year I went to Oliva for three weeks to prepare for the two competitions in Doha. I think our planning was good. It worked out very well. I think that the break did my horses and all the other horses good. In recent seasons, the competition schedule has been crazy with five-star competitions every week and very challenging courses. My horses haven't jumped all winter. They were able to prepare by jumping in two and three star competitions, and they got conditioned and stronger. Unfortunately, now we're going to have to stay home, but I think it's really important to take it very seriously so that things can improve quickly. It's very important. I am lucky to have a lot of room at home and we have already arranged to accommodate the Doha horses in a completely different place from the others so that we don't take any risks", said Niels Bruynseels.
Eric Lamaze and Dieu Merci van T&L © GCT - Stefano Grasso
Bart Bles finished at the foot of the podium with Cooper vd Heffink's son, Kriskras DV, also a Grand Prix double clear round.
The Global Champions League was won by Valkenswaard United thanks to the solid performances of Peder Fredricson with Hanson WL (Hip Hop) and Marcus Ehning with Stargold (Stakkato Gold). They were closely followed by the Shanghai Swans represented by Christian Ahlmann on Dominator 2000 Z (Diamant de Semilly) in one round and Solid Gold (Stakkato Gold) in the second, and Max Kühner and Elektric Blue P (Eldorado v.d. Zeshoek).
GCL Results
Grand Prix Results
Wellington CSIO4*
A "Nations Cup" weekend took place at the Winter Equestrian Festival (WEF). The Nations Cup was held on Friday, with a second round under the spotlights. It was won by Robert Ridland's young American team of Lillie Keenan with Fasther (0+4), Bliss Heers on Antidote de Mars (0+0), Brian Moggre on Balou du Reventon (4+0) and Jessica Springsteen on Don Juan van de Donkhoeve (1+0). The young Americans were ahead of the Irish team consisting of Shane Sweetnam, Bertram Allen, Michael Duffy, and Cian O'Connor. The Brazilians took third place ahead of the Israelis in fourth, the Canadians in fifth, the British in sixth, the Colombians in seventh and the Mexicans in eighth.
Daniel Deusser and Tobago © Sportfot
The Sunday Grand Prix ended with the victory of Daniel Deusser and his brilliant Scuderia 1918 Tobago Z (Tangelo Vd Zuuthoeve). There was a German double as André Thieme came in second with Chakaria (Chap 47). The young Teddy Vlock (23 years old) and Amsterdam 27 (Catoki) won a good third place. "I couldn't be more excited," said the rider with a broad smile. "He's a fantastic horse and I've only ridden him in four competitions. Every time I get in the arena, I learn something new about him and it's a great partnership, I'm ecstatic."
World No. 3 Daniel Deusser is getting even closer to Martin Fuchs and with this victory could well take steal his place in the world rankings. The Stephex stables rider was reunited with his little "Tobi" in Wellington, who had only arrived a week earlier. "He hadn't competed since December. He seems to have enjoyed this time without me!" said the winner with his usual humor.
Next weekend, the battle once again promises to be intense at the WEF. The CSI5* Grand Prix will be taking place on Saturday night with a USD 401,000 prize pool. Tonight, the Brazilian Yuri Mansur will be Théo Caviezel's guest in our "Welcome to the USA" event. See you at 6pm on Instagram!
Vilamoura CSI4*
Despite the rhinopneumonitis issues in the Iberian Peninsula week six at the Vilamoura CSI was held. Victory in the 4* Grand Prix went to Piergiorgio Bucci and Cochello (Casall). The Italian was successful once again with a son of Casall who had shone so brilliantly with Casallo Z a few years ago. Piergiorgio Bucci was more than a second ahead of his pursuers, including Germany's Finja Bormann, 2nd with Clippo 3 (Casall) and France's Juliette Faligot with Arqana de Riverland (Cornet Obolensky).
Fourth place went to the Belgian rider, Alexander Kumps on Luigi van de Kornelishoeve (Carabas), and fifth to Mathieu Billot on his faithful Quel Filou 13 (Quidam's Rubin).
Thermal CSI3*
The Desert International Horse Park 3* Grand Prix in Thermal was won by Richard Spooner. The fine American won on Quirado RC (Quinar). Second place went to Kaitlin Campbell on Doraindo, while the podium was completed by Eric Navet on Cadillac Jack. Only the top trio qualified for the jump-off.
The winning pair have already achieved some great successes together, including a victory at the Nations Cup in Vancouver in 2019. "Quirado was absolutely spectacular and continues to impress. He's very resourceful and respectful. I'm fortunate to be able to keep doing this," said the winner.
Gorla Minore CSI3*
A 100% Swiss victory in the Gorla Minore CSI3* Grand Prix with Barbara Schnieper and her Swiss mare Judy KM (Joly St. Hubert). Second place went to Denmark's Zascha Nygaard Andreasen on Quinn 33 (Quidam de Revel), while Guido Klatte and his very good Qinghai (Quidam de Revel) came in third.