Twelve years after the last time, Switzerland wins gold at the European Championships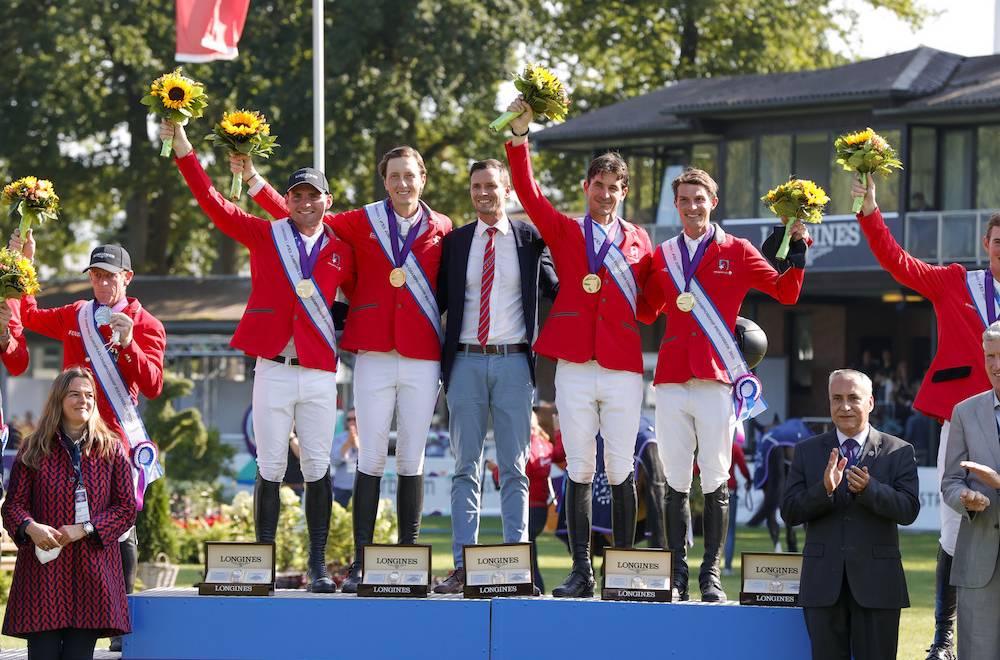 03 September 2021
Well done Switzerland! Four years after winning the team bronze medal at the European Championships in Gothenburg, this time Switzerland succeeded in winning the most beautiful metal in Riesenbeck. A victory achieved by the team's strength and the talent of their youngsters.
Under Riesenbeck's shining sun, the four riders of the Mannschaft (Andre Thieme, Marcus Ehning, Christian Kukuk and David Will) did their best to shine in front of their home audience. "I had promised my son I would bring home a medal," Marcus confided at the press conference, and so it was done! Germany fought hard for the gold from start to finish, but in the end, lost it to Switzerland.
Switzerland held on!
Sitting in third after the first qualifier, Switzerland had already started its comeback yesterday after the first round of the team final. The hardest part of the final round, which was by far the most difficult of the three, was to go after Elian Baumann, the first Swiss rider to start, who rode Campari Z (Contact v.D. Heffinck), and had a 12-fault ride. "Bryan did an incredible job to get us back in the race after Elian's run which wasn't as good as we had hoped," said Steve Guerdat. He has already proven his ability on many occasions, notably during the European Young Riders Championships which he won in 2017, but Bryan Balsiger has strong nerves. The youngest member of the team had a clear round with AK's Courage (Chepetto C).
With the well-named Courage, Bryan Balsiger achieved a great performance this afternoon © Sportfot
A few minutes later, he was followed by Martin Fuchs and Leone Jei (Baltic VDL). At this stage of the competition, Switzerland had a short lead over Germany: Steve Guerdat wasn't allowed to drop more than one rail. In order to give his supporters some suspense, he used up his joker at obstacle number nine. "I got a little nervous at that moment because I lost control of Maddox after the triple. I tried to stay calm and not worry about the outcome by focusing on getting him back with me," Steve analyzed. And he did! Switzerland won with 9.47pts over Germany (12.77pts) and Belgium (17.34pts). Despite Peder Fredricson's clear round, the Swedes made too many mistakes to hope to remain on the podium, so they settled for fourth place. "I just tried to do the best I could. I think that's also the thing: everyone wants to fight, not just for themselves but for the team. You're stronger when you're fighting as a group of four," said Steve, who also took the opportunity to point out that the four-person format was as just suspenseful as it was in Tokyo, a reminder that the Olympic rules will have to be reviewed and corrected before Paris 2024.
In any case, it was a great success for Switzerland which won its fifth European gold medal (the last one was in 2009 in Windsor, the first was won in 1983, when a certain Thomas Fuchs was a member of the team, who is none other than Martin's father!) It's also Michel Sorg's first medal since his nomination as the Chef d'équipe. Andy Kistler's successor was very happy and spoke to Studforlife after the event:

Martin Fuchs, on his way to a double?
Not content with winning the team gold medal, Martin Fuchs is also leading the individual rankings. He already won the gold medal at the last European Championships in Rotterdam; will he be able to repeat his feat? "Normally, coming as the reigning European Champion would be an additional pressure, but I see it in a different way: I have already won, the pressure isn't there anymore. I want to give a good experience to Leone Jei. Now that we're in the lead, I'll try to do my best to bring home another gold medal." In any case, it would be a nice tribute to his star Clooney 51, who was injured a few days ago and is continuing his rehabilitation.
Twenty-four other pairs were selected for the final. There are six within one rail of Martin Fuchs: German rider Andre Thieme, Belgians Pieter Devos and Nicola Philippaerts, Frenchman Olivier Robert, Swede Peder Fredricson and Greek rider Ioli Mytilineou. The latter has shown real ease since the beginning of the championship with her mount Levis de Muze (Elvis Ter Putte). Let's bet that she continues her momentum. We'll know on Sunday at 1pm.
Featured photo: FSSE - Dirk Caremans