A tough Grand Prix of Madrid goes to Olivier Robert!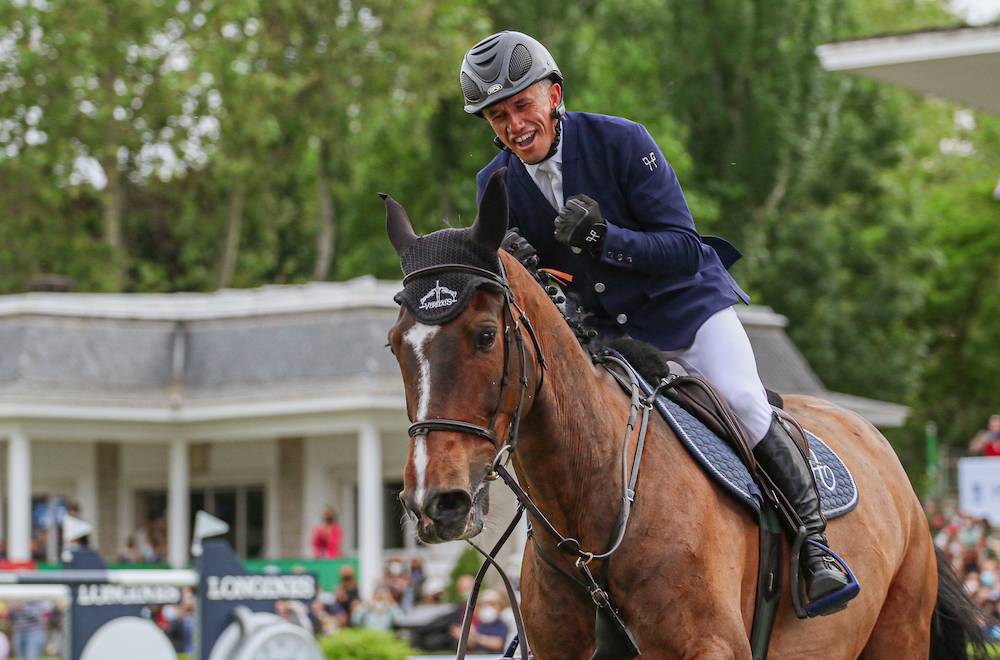 23 May 2021
After Doha in March, riders met under the Madrid sun to compete in the second stage of the Global Champions Tour this weekend. The incredible facilities of the Campo Villa Club de Madrid offered the riders a large grass arena, just how we like it, and put on some great sport in a nice green setting.
On Friday, the first round of the Global Champions League took place and the Shanghai Swans team, composed of Christian Ahlmann and Max Kühner, had already signaled their intent: they were the only ones to achieve the double clear and were ranked first in the provisional rankings.
Max Kühner and Vancouver Dreams (Valentino) during the league's first round
This Saturday was a day of top sport for the horses as well as for the riders! The afternoon started with the second stage of the Global Champions League, which was a qualifying event for the Grand Prix, which took place afterwards. The Spanish course designer, Santiago Varela, proposed a course set at 1.55m with 15 jumping efforts, enough to get the combinations in shape for the 5* Grand Prix! The individual riders were the first to start, followed by the teams. The Shanghai Swans team was the last to start and won the event with four clear rounds. This time, Christian Ahlmann rode Dominator 2000 Z (Diamant de Semilly) and Max Kühner rode Elektric Blue P (Eldorado vd Zeshoek). Eric van der Vleuten and Maikel van der Vleuten, representing Madrid Motion, took second place with five points. The Paris Panthers closed out the podium with Harrie Smolders and Darragh Kenny in this second round.
Thirty-four riders also qualified for the Grand Prix, which started at 6:45pm.
Darragh Kenny and VDL Cartello (Cartani)
What a course we discovered when the first rider, Teddy Vlock went out! Santiago Varela had drawn up a worthy course with multiple traps, composed of 14 obstacles and 17 efforts. One of them was the fence placed on the vertical at fence four followed by a broken curve on a line composed of a vertical and then the double. At fence 10, the course designer gave the duos the opportunity to jump the water, which they had already jumped in the warm-up on Thursday. This was followed by a straight of six strides, which also proved to be a fault-heavy spot. This last line, composed of a triple-bar, a triple combination at number 13 (upright, upright, oxer) then six or seven strides, depending on the horse, and a final oxer over a water tray was the "Juge de Paix" for the riders without a fault so far. "It seemed difficult just by looking at it... You can't imagine riding it! You can't imagine how hard it is to ride," said France's Kevin Staut.
Kevin Staut and Todele de Mescam Harcour (Mylord Carthago) over the fence #4 vertical
For a long time, we thought it would be a four-point jump-off, but in the end, it was duo #17, Scott Brash and Hello Jefferson (Cooper vd Heffinck), who gave us the first perfect round! Afterwards, only France's Olivier Robert, riding Vivaldi des Meneaux (Chippendale Z), managed to qualify for the jump-off as well. While waiting for the riders to prepare for the second part of the event, coach Jean-Maurice Bonneau debriefed with us: "Today we saw a particularly difficult Grand Prix of Madrid. With the quality of horses and riders at the start, seeing such heavy scores is impressive. There was a particularly tough last line, there were faults everywhere but mostly there. There may have also been the Covid effect with horses not fully back to their best level and used to this system of two big rounds that follow each other. In any case, we saw some great sport that had a lot of surprises in store for us!"
Olivier Robert and Vivaldi des Meneaux cross the finish line, winning the jump-off
The first rider to start in this jump-off, Scott Brash secured the double clear but Olivier Robert went faster than him, stopping the clock three seconds faster, securing the Grand Prix of Madrid victory! The French rider came and spoke with us about his incredible afternoon:
"Here in Madrid, we found an audience and it feels good! Last year, we had the organizer of Grimaud in France who allowed us to continue our sport with competitions behind closed doors, but in the end, we needed the public. When we enter a stadium with a soul, the grass turf and an audience, it's a fantastic moment. Of course, we compete in this sport to win but also to be able to share it with others. That's what I did and that was my afternoon! I never win but today I succeeded, it has taken me years at the CSI5* level! We rode two rounds and a jump-off in one afternoon, Vivaldi had already done that in Doha by going triple clear, but again he was incredible. I ride a star! Coming out of the first round, I felt like it was the most successful course of my life. At a time when we are in the selection phase for the upcoming events, since Doha I have put a different type of pressure on myself and I have realized just this year that I can ride correctly. Valerie, his owner, has also set up a protocol with Vivaldi, who she grooms. I used to ride at the same stables with her when I was 14. It's a long and beautiful story; I'm proud to ride for this family."
The final podium was thus composed of Olivier Robert and Vivaldi des Meneaux, then Scott Brash on Hello Jefferson. The third step of the podium went to Darragh Kenny, who was the first of the four fault rounds, with VDL Cartello (Cartani).
Global Champions League Complete Results
Photo credit: Léa Tchilinguirian