Tim van Tricht talks about Tiji Stables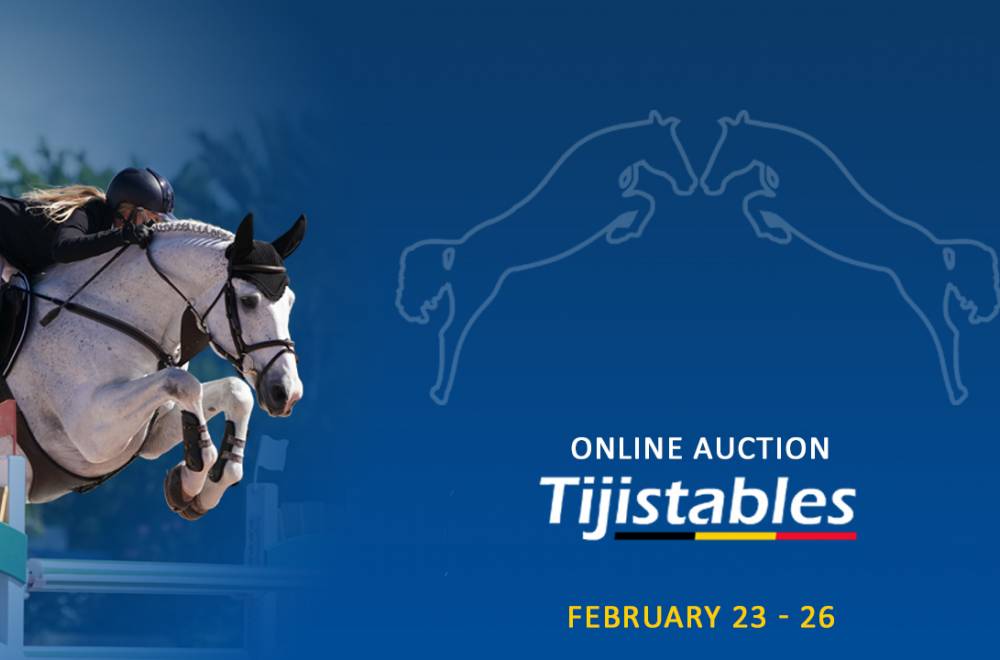 26 February 2019
Tonight (Tuesday, February 26) at 19h00 sharp the Online Auction of Tiji Stables will come to an end. Tiji stands for the breeding of Tim van Tricht and Jill Smits, a breeding duo that has already won many prizes. For example, their breeding product Garfield de Tiji was already chosen as horse of the year, while in the same year they also received the 'Young Breeder Award'. But it does not stop there ... Also Bull Run's Faustino, Sea Coast Don't Touch Tiji Hero and Flinstone de Tiji (now Hello Guv'nor) are bred by Tim and Jill!
How it started..
"I bought my first breeding mare from my father, the second from Joris de Brabander", says Tim. "With the latter I was already quite successful... I covered her with Mr. Blue and sold that foal as a three-year-old to Niels Bruynseels. Niels, in his turn, covered that mare with Berlin and that resulted in Belcanto Z, who already jumped successfully at 1m60 level under the saddle of Henrik von Eckermann. Belcanto Z comes out of the very first mare that I've bred! "
Sea Coast Don't Touch Tiji Hero
An important horse in Tim's life is Don't Touch Tiji Hero, which he bred together with Luc Henry out of China Touch Hero, a daughter of Chin Chin who jumped at 1m40 level with Patricia Guery. "Already when I saw China Touch Hero as a two-year-old in the field at Luc Henry's, I thought she was special ... I immediately asked Luc to do a flushing with her and he promised me to think about it. A few days later he called back and that is how our cooperation started. As soon as Don't Touch was born he already looked like a very special one. He had so much charisma! As a yearling, I got him completely in my ownership and I was more than happy with that when I saw him jump for the first time ... So special! He had everything: blood, careful, scope... My wife Jill made him saddle broken and also then he did not disappoint. I remember that at one point I was in Holstein at the stallion inspection. Jill took the first jumps under the saddle with Don't Touch that day and she immediately called me: "Tim, you can stay in Holstein for two months, but you won't find one with this quality and the accompanying feeling! I am going to cover all my mares with him!". As soon as he did his first shows as a four-year old, just on regional competitions, the demand was already high. Everyone saw his special quality, also Gudrun Patteet. When she saw him jumping one year later in Hulsterlo she was convinced again. A few days later she came to try him and so he moved to Sea Coast Stables as a 6-year-old. He has already successfully jumped 1m45 classes and I'm convinced it won't stop there! Everyone who has jumped with him is lyrical about him! It is not for nothing that Jill always calls him "the horse with the sixth sense."
Auction
In recent years, the number of horses at Tiji Stables has grown a lot, so Tim and Jill decided to appeal to the Zangersheide auction house. "That's right. Over the years we have been able to build a nice collection of young horses & broodmares. We own, for example, a daughter of Carlina from Pius Schwizer. Carlina herself jumped the Olympic Games, the World Equestrian Games and was second in both the Aachen Grand Prix and the World Cup Final. In addition, she won numerous world cups and GPs. She gave one daughter of Nonstop, Faverly de C, out of which we have already flushed several embryos. We even have four full sisters of Don't Touch Tiji Hero out of her and that is also the reason that we have put Dallonia de Tiji Z in our online auction. Dallonia is a 3-year-old mare who confirms her good pedigree on the jump. She has a lot of blood and a lot of quality! Really a careful bloodmare, as I like to see them myself ", says Tim. "Also the embryo of Kassander van 't Roosakker that we offer for sale comes out of this dam line. Kassander is still quite exclusive in breeding but it is a stallion with a lot of future. He is a son of Electra vh Roosakker, so I think we combined two very special dam lines with this combination. In addition, Kassander provides a super canter, a good attitude and a lot of scope, while dam Scarlina De Tiji Z gives the looks, the movements and an exceptional technique. "
"Another dam line that I obviously attach great importance to is the one of Don't Touch Tiji Hero itself. Out of his half-sister, Java Touch Hero (Calvaro Z), we have already flushed a lot of embryos. In 2018 she gave 7 more foals, three via Embryo transplantation and four via ICSI. Two offspring of her are also in the auction, namely Sauvignon de Tiji and Saint Emilion de Tiji. For the first one we chose Urano de Cartigny to get a more modern sport horse. Calvaro Z gives a lot of front and mass and the blood and the lightness of Urano seemed like a nice. For Saint Emilion de Tiji we chose Diamant de Semilly to get as close as possible to Don't Touch Tiji Hero. And, if you've already seen Don't Touch jump, you'll understand why (grins). "
"Cassis Ideal Home is also an interesting breeding mare", continues Tim. "She is a daughter of Cicero Z and has a lot of quality herself. She jumped very well in the 7-year-old classes as a young horse and showed a lot of light-footedness and scope. Unfortunately she had to stop her sport career due to a small injury. She now has her third foal in a row: first one by Diamant de Semilly, followed by Don't Touch Tiji and now she is in foal to Urano de Cartigny. She is a half-sister of Boudika Ideal Home, who jumped at 1m60 level under Kady Abrahamson and also seems to confirm her quality with her own offspring. For example, her two 7-year-old offspring have already successfully jumped at 1m30 level! "
Charming Touch De Tiji Z is the oldest ridden horse in the collection. "She's 6-years old and I'd rather have kept her. But she is the oldest horse in the stable and so it is not very efficient to go to international competitions with one horse alone... She is a super good mare with a lot of power and a good canter. She has already jumped a few shows for young horses, but she is still pretty green because she already earned her spurs in breeding. She carried Dirty Touch de Tiji herself and we have also flushed some embryos out of her," continues Tim. "By pairing Charming Touch with Don't Touch, Dirty Touch can present some beautiful line cultivation. She has clearly inherited the carefulness & scope of both her mother and father!"
With Grizzly HH de Tiji we've also used line cultivation on Don't Touch. "The damsire of Grizzly, Cardino, has as mother Alaska II and she is also the great-grandmother of Don't Touch and that's how I think you get a very interesting combination", Tim explains. "Grizzly is a very nice and pretty horse with a lot of quality. He is also very eager to jump: if you put an obstacle in the arena he will start jumping himself while showing a good jump time and time again! I sometimes say that mentality is difficult to judge in freedom, but Grizzly leaves no doubt about it! (laughs). "
We've already talked about the familiarity that Tiji Stables has acquired thanks to Bull Run's Faustino and thanks to Quelle Chance de Tiji you can now invest in this dam line! Grandmother Guappa van Chierbergen jumps at 1m35 level herself under the saddle of Gilles Thomas and is praised for her fine character and willingness to work. In addition, Quelle Chance inherited the scope and canter from her sire Jenson van 't Meulenhof, as well as his bascule! With Platini de Kalvarie we can offer a unique grandson of Femke P. For those who do not know Femke P: she is the direct mother of three 1m60 horses, three 1m50 horses and another two 1m45 horses and then we haven't named her grandchildren yet... "Platini has clearly inherited the jumping technique of his damsire For Pleasure", dixit Tim. "It's a bit of a late horse, but don't be mistaken: he has a lot of balance, scope and is careful! He might be the next For Pleasure... Also Final Touch de Tiji still needs some time because of his size, but I also have very high expectations from him. He has a lot of blood and scope and is a really nice horse to work with. It would surprise me if he doesn't end up in the big classes! He has a lot of courage, and can easily jump back and stretch effortlessly! Actually he has a lot of common ground with Paris de Tiji. She also has a lot of quality, scope and a real winners attitude. She always wants to go over the fence and does so with a top technique! A real winner!! "
Then only Madame de Tiji and her son Bellissimo De Tiji are left to talk about. "We have flushed four embryos out of Madame as a two-year-old, including Bellissimo. He can move very well and has a lot of balance, qualities that he certainly received from his mother. Add to that the qualities of Bamako de Muze and you understand why I have high expectations of him ... Especially when you know that I am convinced that Madame is a horse for the big sport! She comes from a very good dam line with, among others, her granddam Linotte de Sohan who jumped at 1m50 level. On top, Madame also has a lot of suppleness and scope! I am really happy and proud that we can present a very nice collection with these 15 horses", Tim concludes. "A collection that has a lot of future to offer!"
Communiqué Zangersheide