Thimo Stegen - Mélanie Cloarec, the duel of the 6-year-olds!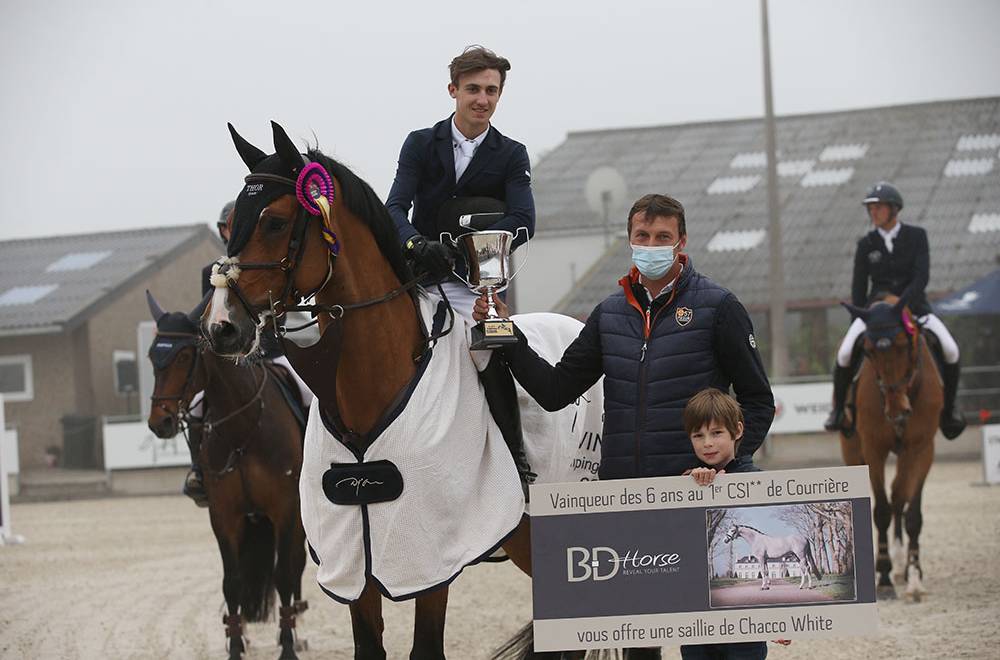 06 June 2021
The first edition of the CSI2* of Courrière was rainy, but the admiration of the work accomplished is on everyone's lips. There are obviously things to be reviewed, but the responsiveness of the organizing team, which was happy to get their hands dirty, is to be commended. It is a pity that the sanitary conditions don't yet allow the public to be present to see the former European Reserve-Champion in action on his tractor harrowing the arena between the events!
But let's move on to the sport side. This Saturday, the finals of the young horse events were held. The Wat(h)elet's are passionate about breeding and decided to put forward their 6- and 7-year-old horses for this competition. This approach was followed by the Haras de Pléville which sponsored the two 6YO qualifiers, while BD Horse sponsored the "Chacco White" Grand Prix.
Fourteen pairs qualified for the jump-off, including the impressive Crackchou de Queen Z (Chellano Alpha Z x Diamant de Sémilly) with Allan Pacha, even though a misunderstanding cost them dearly.
The two offspring of Aktion Pur Z also impressed. While François Bossu secured a double clear round with his mount Atlanta des Sequoias Z (Aktion Pur x Indoctro), Jagali d'Hoopoort (Aktion Pur x Nabab de Rêve), ridden by Marine Scauflaire, had a small fault in the jump-off but couldn't make us forget the power and ease of their round.
It is also difficult not to mention the sobriety and finesse of Laura Monier's round with Evita Peron (Etoulon). A real schooling round by the young Frenchwoman who finished in fourth place.
Bertrand Genin gave himself a beautiful podium spot with Plato vd Wellington (Clarimo) by taking third place!
But in front of them, there are two untouchables! Two combinations who didn't leave the podium spots during the qualifiers, and they held on tight to them.
The winner of the two qualifying classes on behalf of the Haras de Pléville, Mélanie Cloarec and the very respectful Fol'Amour de Pléville once again completed a double clear round and took the lead in the class... but this time it wasn't enough! She's a daughter of Eric Lamaze's legendary champion, Hickstead, whose paternity she cannot deny, and the little bay is also a daughter of Pin'up de Pléville (Kannan) who has already produced several international performers including the approved stallion Superlover de Pléville.
"This is only her second international competition, but she has already won an event in Fontainebleau and finished second in the Grand Prix. I know her well because I've been riding her since she was four years old. She's very sensitive and was afraid of her rider at the beginning, but she's getting better. She's still a bit afraid of the other horses and here in the warm-up it was the first time she has jumped in a ring. But the more she jumps the better she gets, and we saw that she jumped even better in the Grand Prix jump-off. She has a lot of respect; she is a real show mare. We came close to the triple because I had a distance that didn't come out the way I wanted, and I had to add a stride... you don't have to look any further for the 15 hundredths of a second difference. These horses are still young. I took an option, but I didn't try everything. I'm really happy to have come here for this first edition. As I said to Grégory Wathelet, for next year, we'll order the sun but for the rest, it was fantastic," said Mélanie Cloarec.
But while he was present at the jump-off with two mounts, Thimo Stegen didn't give up, and this time, he succeeded in beating the French rider's time to take the lead with Cosibi Ems Z (Cosimo M x Toulon). Only the rider of the Tinti stables, Valentin Marcotte, had done better with Quarlos (Qualandro) but he had a fault.
The winner could only be delighted with his weekend. "I'm really happy. I never imagined I would win this Grand Prix when I came here this weekend. I'm really happy with the competition despite the rain because the arena is really excellent and the infrastructure is beautiful. I work for Thor Stables in Zutendaal, just a few minutes from Zangersheide. This is only my second international show with this horse, so my goal was just to give him some experience. The first day he gave me so much confidence that I took a little risk and we finished second, yesterday we placed third again and today he just jumped fantastic! I'm really happy. There's still a long way to go and we know that an injury can always happen, but without that, I think he is a real horse of the future."