Thierry Rozier, the reconversion of a high level rider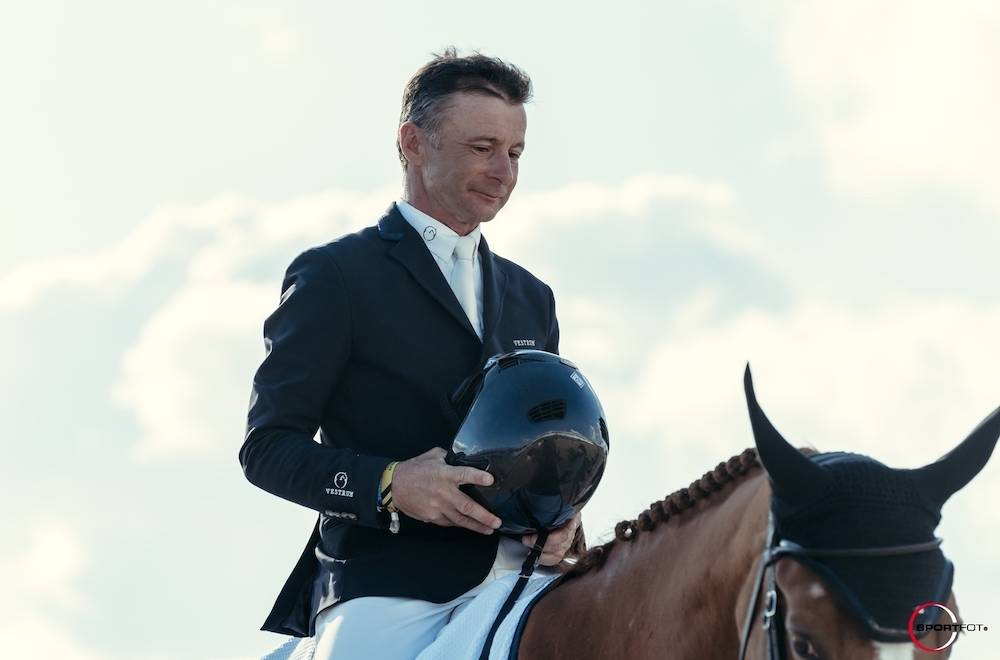 31 March 2021
In 2016, Thierry Rozier returned to the fold of the best French riders with one single goal, the Olympic Games of Tokyo 2020. However, Coronavirus decided otherwise by postponing the event by one year, leading to the sporting retirement of his leading mare Venezia d'Ecaussinnes, as well as his farewell to the high level. With a full agenda, Thierry Rozier is now taking advantage of his reconversion to pile up his different hats. The French rider comes back to Studforlife to tell us about the daily activities which fill his life.
Last October, you said goodbye to high level sport at the Grimaud arena. How do you feel today?
"So far I have no regrets, although the context is quite unusual. After the competition in Saint-Tropez, there were very few important events, but I nevertheless went to Oliva with young horses. At the same time, there were CSI2 and 3* and, even if I didn't have the horses for them, I didn't feel the need to do these events. One thing is for sure, I don't regret stopping my mare Venezia d'Ecaussinnes. She was totally remarkable in her last competition. What more could I have asked of her today at her age? I see her every day, and she is doing very well. I regularly hear about Star from Jan Tops and Mike Kawai who also ask me for advice, I think it's a great approach. I know everything is going well, so I am happy!"
After turning that page, how are you reinventing yourself?
"My schedule is not just booked, it's overbooked! Before, I was only focused on high level competition with a very established program. Today, I don't have that hat anymore, I've started doing courses again, training, organization of the Fences, the Masters of Chantilly and I also have young horses to ride. All of them will have in my opinion and depending on the different owners, a sales objective. I am very much in demand for training courses in Europe and Morocco. I have always had a passion for teaching, and I think I do it well by taking time for each student. On a daily basis, I am also training private riders such as the French eventing rider Camille Lejeune. I would love to find the time to accompany him to competition and learn more about the discipline, as well as getting interested in ponies. I have had a lot of requests, but I don't know much about it even though there is a beautiful circuit in France."
Do you plan to leave Bois-le-Roi?
"My dream is to own a small training center where I can welcome riders in good working conditions. I have visited a few places, but I am not in love with the Paris region. For the moment, leaving is not an option but it's like everything else, we have a big structure in Bois-le-roi and unfortunately nobody is immortal. My father Marcel Rozier is trying to find the best solutions, but France is not particularly helpful. I am extremely attached to this place since it is full of history, and my roots are here, but I don't work at all with my brother Philippe. We each do our job differently, certainly with the same objective, but we can't work together. The attachment to this place is one thing, however, we have to face reality: I'll have to find a way."
In 2018, you took over from Jean-Maurice Bonneau as the sporting director of the Chantilly competition. How do you take this role to heart?
"I have known Gérard Manzinali (editor's note: president of the Chantilly competition since its creation) for a very long time. We met thanks to my jockey friend Olivier Peslier who asked me to come and do a training course at the Chantilly club. At that time, Gérard was the president. We got on well and one thing lead to another, and here we are. I am taking over from Jean-Maurice Bonneau. We are a team of passionate volunteers busy throughout the year in parallel with our respective lives in preparation for this competition and offer the best conditions to riders."
After wearing the colors of the Global Champions Tour, the competition is going ahead with EEM group, under the name of Masters of Chantilly. Tell us about this new project!
"When it came to renew the contract with the Global Champions Tour, Gérard Manzinali decided to stop working with them. It was becoming financially complicated with their requirements, which are also the reason for their success. We have been solicited by many people, but I know Christophe Ameeuw well; he has always been in love with Chantilly, so this was an opportunity to discuss this project with him. After long discussions, the Masters of Chantilly were born! After the health crisis, we need new competitions like this. Our entire team is delighted and has found an incentive to excel. We are starting from scratch. We are eager to write a new story and to bring new things to this environment. Above all we hope for one thing: to see the spectators in the stands again because an empty CSI5* is terrible..."
Precisely. You have a foot in the competitions' organization now so how do you see their future in equestrian events?
"I'm a bit afraid... In recent weeks a new provision has been enacted by the International Equestrian Federation in recent weeks - the invitations for the CSI2*, as is already the case for the 5*. We have been hearing about it for a while, but is this measure really necessary now? Whoever we are, we've had a catastrophic year without competitions with considerable financial losses for the organizers and the industry. What is the FEI's objective with this measure? To have no more competitions? For there to be competitions, you need athletes, and there are athletes all over the world, some good, some very good, some not so good, but they all need to compete. In order for them to compete, the organizers need to be able to bring in money. They need to try to find sponsors today! The argument is: "this is not the right year". These are incredible budgets in prize pools, personnel, construction of beautiful structures and arenas to ensure safety and well-being for all. If the CSI2*, which is held very often in parallel with a CSI5*, also have invitations, how will an organizer cope financially? He'll have to cancel this category! This will be very sad and the riders will be crazy. They will give up and stop buying horses. Unfortunately, one can be a rider and have horses, but without competitions, everything will stop and the whole sector will be in danger. It is absolutely necessary that competitions come back but they will only be able to do so if the organizers make money."
Coronavirus, rhinopneumonitis, what lessons have you learnt as a rider but also as a man?
"I have a good group of people around me, but you can sense that everyone is a bit on edge. The riders are going around in circles in their stables, some of them are getting demotivated or irritated. Riding is also an expensive sport and it doesn't stop during the lockdown. Being a professional, I was able to do a month of competition in Oliva, but the amateurs have been stopped for a year now. Being among friends with Nicolas Delmotte, Laurent Guillet or Philippe Léoni in Spain did us a lot of good. We finally even realized that it was easier to organize ourselves on tours than going from competition to competition every weekend. Then came the equine rhinopneumonitis. What the riders in Valencia experienced was horrific! The situation must not be allowed to continue. If there is a lesson that I could learn from this crisis it's that we are insignificant. When everything stops, we stop with it. You have to learn to put things in perspective, keep calm and accept."
Featured photo: Sportfot.com