Thierry Rozier leaves the top in the nicest way!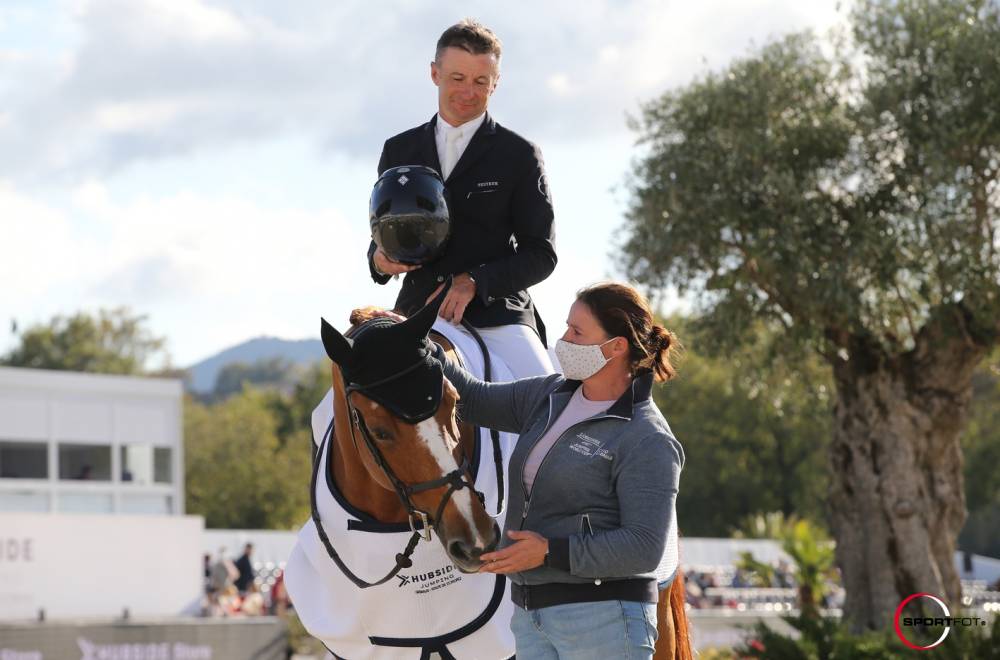 19 October 2020
Even if no CSI5* was on the program this weekend, the wonderful starting line-up in Grimaud promised a fight at the top. All eyes were turned towards Thierry Rozier who rode his accomplice Venezia d'Ecaussinnes in their final course together.
St-Tropez CSI4*
It was a German victory in the Saint-Tropez CSI4* Grand Prix, where Daniel Deusser was able to count on the speed of his little mount Scuderia 1918 Tobago Z (Tangelo Vd Zuuthoeve). Kévin Staut, who started in last position, couldn't dislodge the World No. 3, but secured a nice second place with Viking d'La Rousserie (Quaprice Bois Margot). The leading trio was completed by Dutchman Harrie Smolders on Dolinn (Cardento).
"I'm very happy with this victory in the Hubside Jumping CSI4* Grand Prix, especially for my horse Tobago Z," said Daniel Deusser. "He had to be stopped at the beginning of the year, and came back mid-season over small courses and then competed in the Hubside Jumping CSI5* event a few weeks ago. In fact, he's doing really well again and getting better and better. So much so that he's been able to win the Hubside Jumping CSI4* Grand Prix today! I'm really very proud of him!"
Eight riders had managed to qualify for the jump-off, but two were deprived of the final fight because they went over the time allowed: young Belgian Pieter Clemens and Thierry Rozier. The Frenchman was riding his last high-level course there with his faithful mount Venezia d'Ecaussinnes (Kashmir van Shuttershof) and couldn't hold back his tears at the end of the Grand Prix, where he secured a nice 10th place:
"I have mixed feelings. Sad that it's ending and happy that it's ending this way! It wasn't easy, we lacked condition due to the lack of competitions currently available. I've been trying to fine-tune her preparation for the last Grand Prix of her career which took place today and I don't think I missed the mark. Last week I made her jump three courses to open up her lungs, the day before yesterday we did a course to train her at height, and then today we had this final event where she gave 4000%. I don't regret the time fault, which obviously deprived us of the jump-off, but that jump-off could have been one course too many. She leaves in the nicest way and shows us that she's still in Olympic form despite her retirement. I was nervous about this last course because I wanted her to be able to end on a high note. It's now done and as I speak, I'm on my way back to my stables and I can tell you that I'm relieved. There's obviously a lot of emotion as a page is being turned. I'm no longer a top-level rider."
Thierry Rozier had already shone the day before by taking second place in a 1.50m event with Wouest de Cantraie Z (Winningmood), just behind World No. 2 Martin Fuchs and the revelation of the 2019 Europeans, Tam Tam du Valon (Ogiron des Champs). It was the 11th and final week of competition in Grimaud, where the organizers were able to offer some great sport despite the difficult times.
In the 2* Grand Prix, it was the American Laura Kraut who won with Goldwin (Emerald) ahead of Mathieu Billot on Ilena S (Verdi) and François-Xavier Boudant with GFE Cicave du Talus (Untouchable). "I've been riding Goldwin since he was six years old and when he enters the arena he consistently gives me the feeling he wants to give the best of himself," said Laura Kraut. "Today is his first big Grand Prix win; he was third in another Grand Prix last week. We couldn't have hoped for a better finish to our European season. Goldwin is going to get some rest now and then I'm off to Florida for the American season."
Coapexpan CSI3*
In the Coapexpan 3* Grand Prix in Mexico, it was José Antonio Chedraui Eguia who won by achieving the only clear round of the event with a mare that is well-known in Europe, Mighty Mouse (Quartz Adelheid Z), who evolved under the saddle of World No. 1 Steve Guerdat. Second went to Juan Carlos Martin Del Campo who was only penalized by one time fault with Dimitri (Up to Date). Arturo Parada Vallejo, the fastest of the 4 fault-rounds, took 3rd place with Ideaal (Andiamo).
Vilamoura CSI3*
In Vilamoura, the CSI3* Grand Prix went to Dutch rider Kim Emmen on Jack van het Dennehof (Toulon), ahead of the famous John Whitaker and Sharid (Toulon), while third place went to Yuri Mansur and Vitiki (Valentino).
The British had illustrated their intent in Friday's big event, as Guy Williams won on Rouge de Ravel (Ultimo Van Ter Moude), ahead of Jack Whitaker on Scenletha (Scendix) and Lily Attwood with Karibou Horta (Landor S).
Tryon CSI3*
Karl Cook had a nice victory in the Tryon CSI3* Grand Prix with his faithful mount Caillou 24 (Casall). The American even had the luxury of beating his compatriot Kent Farrington, who had bet on Electra van t Roosakker's daughter, Kaprice (Echo van t Spieveld). Darragh Kenny was third with Carthano (Cartani) and the Team World Champion Adrienne Sternlicht was fourth with Bennys Legacy (Lupicor).
Oliva CSI2*
Frenchman Harold Boisset confirmed his current form with his second consecutive Grand Prix victory. A week after his triumph with Divine de la Roque (For Hero), the Frenchman returned to the action on Sunday with Katinka vh Valenberghof (Corland) in the Oliva 2* Grand Prix. "I've been riding Katinka since she was four years old and she's still very competitive. Once you're in a jump-off, she knows how to go very fast," concluded the winner of the day.
Second place went to Belgian rider Karel Cox with Curiano Van Maarle Z (Canabis Z) and third went to Janne Friederike Meyer-Zimmermann with Chesmu KJ (Cornet Obolensky). Of note, Victoria Gulliksen and Best Boy's fifth place in the Grand Prix. Best Boy is Henrik von Eckermann's former mount; promising beginnings for this new pair.
Aarhus CSI2*
There was little foreign competition in the Aarhus CSI2* in Denmark, where the Danes took all the top spots. Victory went to Zascha Nygaard Andreasen on Quinn 33 (Quidam de Revel). Second place went to Kasper H. Hansen and Contador (Cardenio), and third place went to Martin Dinesen Neergaard and Chadeur (Chacco-Blue).
This competition also served as a Dressage World Cup stage and it was Cathrine Dufour who had the luxury of triumphing in front of her home crowd, ahead of the queen, Isabell Werth.
Lier CSI2*
The combination of Thiago Ribas da Costa and Kassandra Van t' Heike (Epleaser Van t' Heike) secured another good victory. After their victory in the Bonheiden Grand Prix at the beginning of October, the pair did it again in the Lier CSI2* Grand Prix. The Brazilian came in ahead of the young Belgian Thibeau Spits on Classic Touch Dh (Casall), and his compatriot Pedro Junqueira Muylaert on Lumina (Lordanos).
Michalowice CSI2*
In the Michalowice Grand Prix in Poland, Poland's Msciwoj Kiecòn won with Baccord (Balou du Rouet) ahead of Jaroslaw Skrzyczynki on Chacco Amicor (Chacco-Blue), and the 2019 World Cup Final revelation Wojciech Wojcianiec and his amazing Chintablue (Chintan).
Royan CSI2*
It was a French victory in the Royan CSI2* Grand Prix thanks to Edouard Mathé on Alcazar Sitte (Rexar du Houssoit). The French rider came in ahead of the 2013 European Pony Champion, Susan Fitzpatrick of Ireland on Verdict de Kezeg (Diamant de Semilly), and Margaux Rocuet on her 13-year-old stallion by Quaprice Bois Margot, Trafalgar Kervec.
San Giovanni in Marignano CSI2*
The Italian anthem was played at the end of the San Giovanni CSI2* Grand Prix. Giovanni Consorti won with Felicia (Harley VDL) ahead of Kevin Canavese on Happy (Lux Z), and Martina Simoni with Evenzo (Diarado). In Friday's big event, Italian rider Paolo Paini and Chaccolie (Chacco-Blue) were the fastest combination ahead of German rider Tim Hoster on True Grit (Sir Shutterfly), and the Brit Jason Smith on Lykkeshoejs Castus (Casir Ask).
Chevenez CSI-U25 / Y / J / CH / P
The next generation of young riders gathered at the beautiful facilities in Chevenez, Switzerland, for CSI Children, Ponies, Juniors, Young Riders and U25 (under 25-year-old) events.
In the U25 and Young Riders Grand Prix, it was Germany's Lea-Sophia Gut who won with Balam (Diamant de Sémilly). Alexandra Amar and Calou (Roven) secured a nice second place. Thanks to this, the Swiss rider got a wild card entry to ride in the U25 events in the next CHI Geneva. The podium was completed by Jeremy Zuber on Delgado (Verdi).
Featured photo: Sportfot.com