Thierry Rozier with his Star in Paris!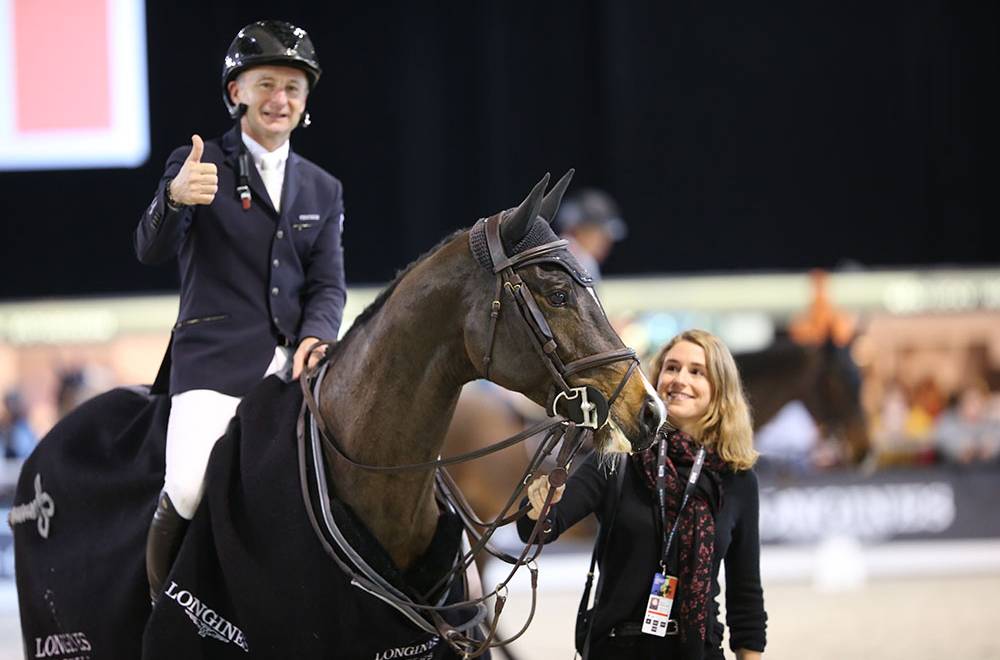 08 December 2019
With a tight time to beat, setting up the perfect stage with just eleven jump-off riders for the 2* Grand Prix. Caroline Nicolas gave a clear indication of the way forward with Alias Watch (Diamant de Sémilly). Her first double clear round, but her time was quickly challenged by Bliss Heers, the American rider, on her fantastic stallion Antidote de Mars (Diamant de Sémilly x Jarnac), grandson of the crack Qerly Chin who really shone with a time of 34''26.
Delphine Perez squeezed in tight with Untouchable Gips (Portofino) but without taking any risks. Unlike Marie Pellegrin who jumped a great round saving time wherever she could... but it was just too much for her fantastic Alcazar du Moulin (Mylord Carthago) who, despite her best efforts and a fantastic time of 32''03, couldn't avoid making a mistake.
However, one man was intent on doing better and going clear. Before the eyes of his owner and former rider, Victoria Niaschos, Thierry Rozier went into the attack with Star (Singulord Joter). It was an incredible show : 31''63 and a delicious victory which no one could compete with.
The man knows how to choose his events. He's passionate about the world of competition and knows how to choose his commitments to suit to his horses. He is not interested in participating: "I know my horses and I knew that Star lacked the experience. I knew he needed to develop on an intermediate level and not always at the highest. Star was a little "spooky" and was looking around to start with. But as the days went by, she loosened up. This morning when I woke up, when I rode her, I told my groom Virginie "I feel very good about her". Some friends I met told me that we were favorites, but it's the easiest thing in the world to knock down a pole. Winning here at the Longines Masters of Paris is such a pleasure for me, for the mare, but also for Christophe Ameeuw, his team and the public. Paris is my city. Ending the year with a victory is the best thing in the world!" said Thierry Rozier.
"I had a wonderful season, both with our racing team and in jumping with Thierry. Of course, Venizia's injury is a shame, but Star has closed the year beautifully. I am all the happier because I particularly appreciate this competition where I've been riding myself. They've done a really great job and I love being able to enjoy it just as an owner. I still ride today, but just for fun and just a few competitions a year. It's a real pleasure to follow Thierry, even if watching's more stressful than riding. But I can't really complain right now, everything's fine. We'll see what happens next. At the moment we still have Venizia for next year and Star for a few more years, we'll see what the future holds for us," explained Electra Niarchos.