The Inaugural Vancouver Grand Prix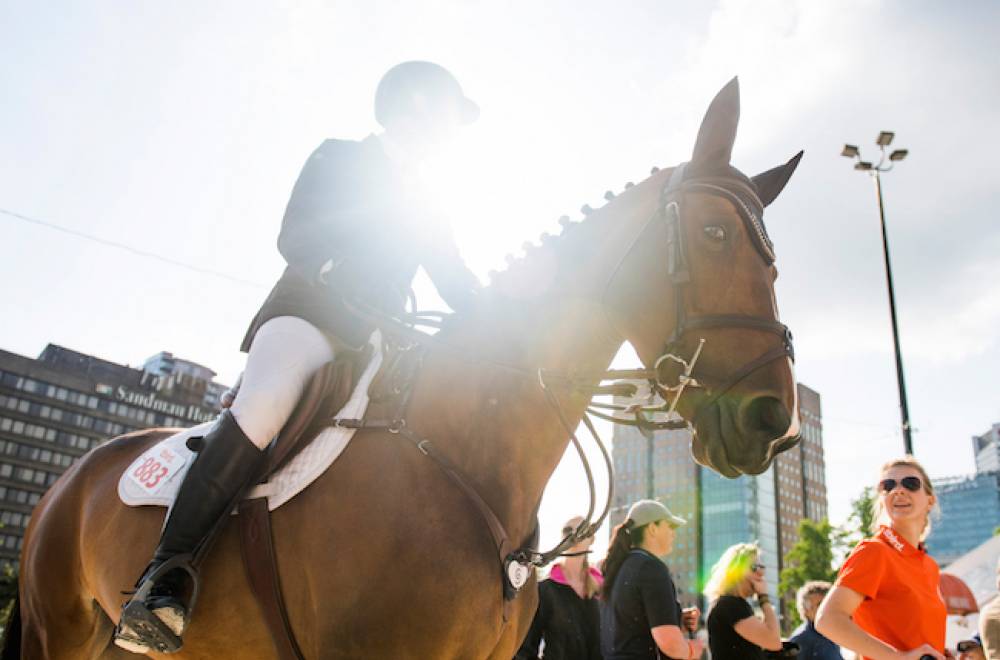 23 May 2018
A Showcase for Show Jumping
The Inaugural Vancouver Grand Prix The downtown core of Vancouver B.C. Canada got an exciting introduction to show jumping on Sunday, May 20, 2018. Right in the heart of the city, the inaugural Vancouver Grand Prix brought the sport of show jumping straight to the people. Organized by the Thunderbird Horse Park, a temporary arena using 500 tons of silica sand footing gave the city of Vancouver an opportunity to experience show jumping up close.



All photos ©Cara Grimshaw

Nineteen riders competed in the 1.40m Vancouver Grand Prix in a 90x175 foot ring. The field featured riders from Canada, USA, Ireland, Israel, and Netherlands. The riders brought their horses into the downtown location on Saturday and had the chance to ride around and help the horses adjust to their very different surroundings. On Sunday afternoon, the excitement in the crowd developed as the horses made their way out for competition. For many, it was their first time being so close to a horse.




The first round was over a course of ten jumps including a difficult combination out of a tight corner. Course designer Kirsten Rodel did a fantastic job of using the small space of the ring, with the course giving the opportunity for riders to take risks, such as taking a jump on an angle. Rodel asked for just enough power from the horses where they couldn't always get the pace because of the small space. The lines proved to tricky because if riders missed their approach to a line, they were forced to add a stride or risk getting tight through the corner. Out of the 19 riders in the first round, 11 went clear and returned for the jump-off.




American Kyle King, riding 8-year-old Westphalian stallion Christian (Capone 1), took the win in the jump-off. Ashlee Bond, riding in her first appearance for Team Israel, and Cornancer were the closest to his time of 29.91, coming in second with 30.65. In third was Kristen Senger, the top placed Canadian rider, with a time of 33.0.

The showcase event raised awareness of the sport ahead of Thunderbird Show Park's upcoming CSIO5* week of competition, and Longines FEI Nations Cup in nearby Langley on June 3rd.