"The team around me is more important than anything else" Mathilda Karlsson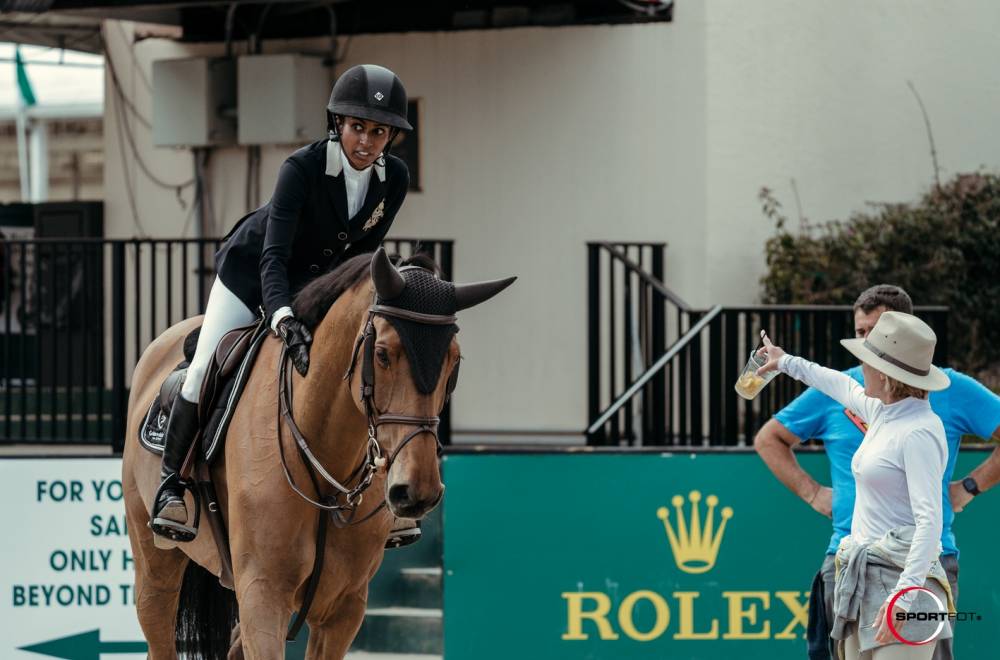 09 October 2019
The first rider to represent Sri Lanka at high level jumping, Mathilda Karlsson is not far from getting her ticket for the next Olympic Games which will take place in Tokyo on her continent.
CAN YOU TELL US A LITTLE MORE ABOUT YOU?
"My name is Mathilda Karlsson, I used to ride for Sweden, and for the past two years I have now been with Sri Lanka. I was born there so it was quite logical to take the nationality, and ever since then it has greatly impacted my sporting career. It is much easier to compete for a country that has very few top athletes, and this was part of my decision. At first, I was a bit worried about making the change because I really feel Swedish. However, it was the best decision I could make to achieve my goals.
The goal was to ride at better events and have the chance to qualify for the Olympics which is my biggest goal this year."
WHAT BROUGHT YOU TO HORSES?
"There are a lot of clubs in Sweden, it's part of the culture and it's a very social activity. All the children go to the pony club not necessarily because they like horses, but to meet friends. The parents come with them for a coffee at the club... The social aspect is a very strong part of this sport. For my part, I just fell in love with the sport and the horses and I haven't left them since."
AS A SRI LANKAN RIDER, CAN YOU TELL US A LITTLE BIT ABOUT HORSE RIDING THERE?
"It's not very well developed, but the few people involved in horse riding are very supportive. It would be a shame if I didn't qualify for the next Olympic Games. The people behind me believe in it wholeheartedly. It's not just the people involved in horses, there are also but locals wishing to take part in this adventure and, through me, carry the whole nation. There are so many of them, it's impressive and heartwarming. They are very proud that someone is representing their country."
HOW OFTEN DO YOU TRAVEL TO SRI LANKA?
"I would love to go more often. But I'm very busy with all the competitions. It's a beautiful country, one of the most beautiful places I've visited in my life. Everybody should go there (laughs)!"
HOW DO YOU ORGANIZE YOUR TIME?
"I'm in competition almost every week, especially in this year of qualification for the Tokyo Olympics. This year is very intense, I'm giving myself every chance to get the ticket for Tokyo 2020. I have an incredible team right now. That's the most important thing – to have a team you can count on and that does their job. I have a very good in-house rider at my stables near Hamburg. He takes care of riding the younger ones when I'm away. We also have great grooms. My competition groom is always with me. I couldn't do anything without him. I wouldn't go to any competition if he wasn't there (laughs)! It makes things so much easier when you have a good entourage at home."
WHO DO YOU TRAIN WITH?
"Sylve Söderstrand. He is Swedish and was Sweden's chef d'équipe for many years and I've been riding with him for two years now. We actually work together at competitions, because I'm so rarely at home. He comes with me and supports me a lot. He has all of the qualities of a chef d'équipe and knows how to keep me motivated and support me in every way. He knows my horses, he knows me and he knows how I work. It's great to have him on my team."
WHAT ARE YOUR HORSES AT THE MOMENT ?
"My main horse is Chopin VA, a ten-year-old stallion now. We raised him, so he's very special to me and I've been riding him all his life. I have other very good horses, but he's really special. He thinks I'm the best rider in the world because he doesn't know anything else: "This stride seems a bit long...Ok but she's the best so I'll jump now if I have to". He's fantastic and I think he is one of the best horses in the world. It would be a real shame to have this kind of horse and not be able to take him to the Olympics!"
ARE YOU PREPARING A STRING OF YOUNGER HORSES?
"I actually have Cera VA who is nine years old but has had two foals before, so she's quite green. But her quality is incredible, I really hope that in six months' time she'll be ready for Grand Prix'. Right now she's assisting Chopin and we're still working on bigger and bigger events and creating a routine.
I let Chopin grow up quietly so he could take his time, because Appolonia was my main horse at the time and she taught me a lot from her experience, which I I can now apply with Chopin."
AS A FAN OF THE LONGINES GLOBAL CHAMPIONS TOUR, WHAT DO YOU THINK OF THE CIRCUIT? DO YOU HAVE A FAVORITE DESTINATION?
"I'm often asked this question and I always say that the destination where I am at the moment - T, is incredible (laughs). Every competition has something very special, but my heart chooses the Mexican stage. It was just incredible, the spectators created a great atmosphere and the colors... everything is so beautiful. I also like Stockholm very much, apart from the fact that it's in Sweden, the competition was also beautifully organized for a first edition."
Interview by Alan Cararic. Featured photo: Sportfot.com