Sweden takes the gold medal in the team competition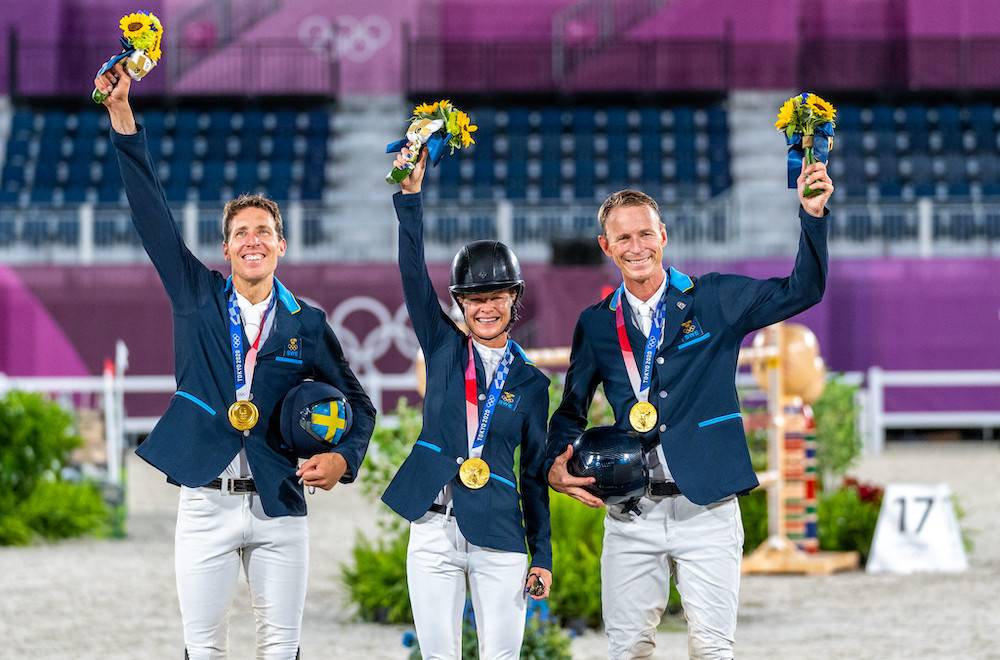 07 August 2021
Any other outcome than the victory of the Swedes would have seemed unfair as they dominated this Olympic Team Final! The new format puts all nations back on zero during this ultimate test, so the Sweden - United States duel made more than one viewer tremble. It was impossible to steal the gold from the Swedes; the Americans won silver ahead the Belgians, who secured the bronze.
Ten nations had the right to enter the Baji Koen Equestrian Park arena one last time for the team final. Spain's Santiago Varela proposed a course worthy of a championship final, consisting of a triple bar, a water jump and three combinations with heights up to 1.65m.
A new format means new rules. For this event, the Chefs d'équipe could choose to replace a rider, which is what Philippe Guerdat did for Brazil. Having not been very convincing yesterday in the qualifier, leaving the arena with 20 faults, Rodrigo Pessoa gave his place to Yuri Mansur who turned in the best performance of his team today by dropping only one rail. Marlon Modolo Zanotelli and Pedro Veniss finished with 12 and 13 faults respectively, leaving Brazil in sixth place, just behind Switzerland, which has seen better days. Young rider Bryan Balsiger, who had a clear round yesterday with Twentytwo des Biches (Mylord Carthago), was left with 16 faults. Neither Martin Fuchs nor Steve Guerdat were able to get the team back on track.
In Tokyo, Bryan Balsiger experienced his first Olympic Games. © Sportfot.com
France had started so well
Simon Delestre and his gray stallion Berlux Z (Berlin) were the first to not drop any rails, though they conceded a time fault all the same. Selected as a reserve rider, the Lorraine native was still able to compete in the team events with panache, which was a good comeback after the London Games where his right rein broke during the first team round, and the Rio Games where he forfeited before the start of the events.
Simon Delestre and Berlux Z. © Sportfot.com
His teammate Mathieu Billot improved well over the course of the events. Riding Quel Filou 13 (Quidam's Rubin), he too only had one time fault. After the second rotation, France had a total of two penalty points, and as unlikely as it may seem after their setbacks at the beginning of the week, they found themselves in pole position to retain their Olympic title.
However, this dream quickly came to an end when Penelope Leprevost's stallion, Vancouver de Lanlore (Toulon), refused to jump the combination placed in number 3 on two occasions, which led to his elimination. This was a major blow for France, which found itself in eighth place, just ahead of Germany, who was relegated to this position after Daniel Deusser's withdrawal after the triple, and Great Britain, whose leader Ben Maher decided not to start. "Holly (Smith) and Harry (Charles) have shown great talent, but this is the pinnacle of the Olympic competition and with 24 points, the British team won't be in the running for a place on the podium. Ben and Explosion W showed their world class stature by winning individual gold and we collectively decided it was in his best interest to save the horse for another day," said Chef d'équipe Richard Waygood in a statement.
A France - United-States jump-off!
France's elimination eventually suited Belgium which made it back onto the podium despite some cold sweat caused by Gregory Wathelet's ride (8pts). Pieter Devos (4pts) and Jérôme Guery's (clear) rounds allowed them to secure the bronze medal (the last one dates back to the Olympic Games of Montreal in 1976!)
Jérôme Guery and Quel Homme de Hus (Quidam de Revel) have achieved the only Belgian clear round today.
© FEI/Christophe Taniere
The gold medal was finally decided in the jump-off between Sweden and the United States, with each sitting on eight faults after Peder Fredricson/Malin Baryard-Johnsson and Jessica Springsteen/McLain Ward's rails and Henrik von Eckermann and Laura Kraut's clear rounds. Hats off to the latter who has only been riding Baloutinue (Balou du Rouet) since April!
During the jump-off, the three riders of each team had to start again. Since neither nation made a mistake (even though the Swedish team's horses were on their sixth run!), it came down to the clock. The Swedes had a very slight lead after the ride of their second rider, Malin Baryard-Johnsson who was once again able to rely on the quality of her powerful but sensitive mare Indiana (Kashmir van Schuttershof). "I've known her now for many years and I've been through better and worse rounds riding wise, it took me a couple of years before I even felt safe on her, she was so difficult from the beginning. But we know each other so well and even when she's at her worst to ride she always goes in and tries her hardest to jump the jumps," she said.
Everything was still on the table in the final rotation. The last American rider was none other than McLain Ward, who once again proved his mastery of the art of speed with a time of 39.92 seconds. Peder Fredricson was not allowed to go over 40.20 seconds to win the gold. The rider who has been nicknamed "Swedish Steel" or "Swedish Man of Steel" rarely yields to pressure, and he proved it once again today: his round was 39.01 seconds! A well-deserved gold medal for Sweden.
Gold for Sweden, Silver for the United-States and Bronze for Belgium! © FEI/EFE/Kai Försterling
A special mention for King Edward and All In
Henrik von Eckermann and King Edward (Edward 28) put on a show throughout these Olympic Games, all in great form! He is also the third horse in the history of the Games to have been clear in all rounds of the show jumping event. He joined Eliot, ridden by Frantisek Ventura at the time of the Amsterdam Games in 1928, and All In (Kashmir van Schuttershof), who has already accomplished this feat in Rio under the saddle of Peder Fredricson.
Speaking of All In, he proved again this week that nothing could stop him at the age of 15, despite colic surgery in 2016. However, the gelding doesn't catch the eye at first glance because of his rather common physique, but he is formidable in the arena and even more so during championships. He won individual silver and then team gold in Tokyo, five years after winning his first individual silver medal in Rio. He is certainly one of the most medal-winning horses of all time and in the opinion of his rider "one of the best horses to ever exist". See you in Herning for the World Championships next year? It's the only line missing from his prize list.
With Charlotte Marichal. Featured photo: FEI / Arnd Bronkhorst