Sweden continues on its mission but the new Olympic format raises questions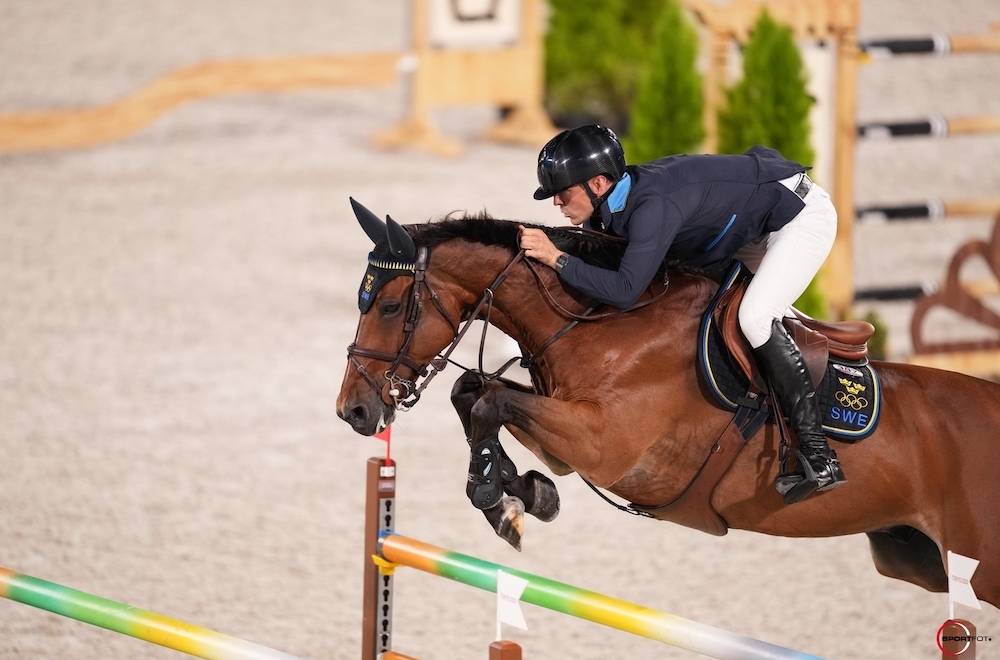 06 August 2021
Author : Eléonore Magnien
97 years after its last gold medal at the Olympic Games in Paris, will Sweden succeed in repeating that feat? Henrik von Eckermann, Malin Baryard-Johnsson and Peder Fredricson seem to be on the right track after the first team qualifier, which they won with flying colors. Was it too easy? Not really. The event caused trouble for the teams at the back of the pack and still calls into question the new Olympic format.
Nineteen nations started in the Baji Koen arena today in the first qualifying round of the team championship, with the top ten qualifying for the final, which will be held tomorrow at noon (French time).
If there is one team that has been unanimous since the beginning of the championship, it's Sweden. Its three riders, Peder Fredricson, Malin Baryard-Johnsson and Henrik von Eckermann have not yet knocked down a single pole in four rounds. Today, their horses All In (Kashmir van Schuttershof), Indiana (Kashmir van Schuttershof) and King Edward (Edward 28) again flew around the course and, unlike many others, didn't concede a single time fault. The two courses in Wednesday's individual final didn't seem to test them much. In fact, their Chef d'équipe Henrik Ankarcrona hasn't yet decided to bring in the reserve combination, Rolf-Goran Bengtsson and Ermindo W (Singapore). Rolf was part of the silver medal-winning team in Athens in 2004 together with Peder and Malin. Will they be able to do even better tomorrow?
With the excellent but hotheaded Indiana, Malin Baryard-Johnsson has so far had an impeccable championship © Sportfot.com
Ten teams for three places on the podium
Although Sweden is the favorite for the final, it will have to deal with serious competitors: the Belgians are out to take revenge for the individual final. We know that they are capable of fighting until the end to win the gold medal, their last title of European Champion in Rotterdam is the proof. Pieter Devos, who entered the ring for the first time today after the withdrawal of Niels Bruynseels, had a good run with Claire Z (Clearway), while Jérôme Guery and Grégory Wathelet can still count on Quel Homme de Hus (Quidam de Revel) and Nevados S (Calvados Z). None of them dropped a pole, just like their German neighbors.
Switzerland finished fourth, but Bryan Balsiger's performance is worth mentioning. Replacing Beat Mändli for the team championship, the young 24-year-old rider, for whom this is his first Olympic Games, didn't let himself be discouraged: he gave his team a clear round with Twentytwo des Biches (Mylord Carthago). Martin Fuchs conceded just one point with Clooney 51 (Cornet Obolensky). For Steve Guerdat and Venard de Cerisy (Open Up Semilly) on the other hand, there were two rails and one time fault. Though this Olympiad doesn't seem to be the most auspicious for the former World No. 1, who was already unable to make it into the individual final, no one doubts that he'll be capable of coming back to post a clear round for his team tomorrow. And that's good because the scores will be reset for the final. Sweden, Belgium, Germany, Switzerland, the United States, France, Great Britain, Brazil, and Argentina (who qualified by surprise!) will all start on equal footing.
She has already competed in several championships with Romain Duguet, but it is with Bryan Balsiger that Twentytwo des Biches is taking part in her first Olympic Games. © Sportfot.com
A new questionable format
Although all the previous nations did well during this qualifying round, it was (unfortunately) not the case for all of them. One cannot question the work of the course designer Santiago Varela and his team. The pairs that are prepared for this level of competition weren't put in too much of a difficult situation. If we don't count the points for exceeding the time, 14 pairs of the 53 who started left the arena without any rails or refusals (26%), a very normal proportion.
Was it a good event? It's enough to make you wonder. By obeying the wishes of the International Olympic Committee (IOC), i.e. by including more emerging nations while reducing the number of riders to three per team, the FEI has made the sport unequal. Some riders are simply not up to the task of competing over 1.60m courses with the pressure that comes with the Olympic Games.
And the removal of the drop score didn't help matters. Ireland's Shane Sweetnam's round was the perfect example. From the beginning of his round, his horse Alejandro (Acorado's Ass) didn't seem to be at ease, he lost a shoe and then made a series of mistakes until he finally fell and dragged his rider off. If the rider had been able to quit without causing the elimination of his team thanks to an extra rider, would he have needed to push his horse that far? At a time when equestrian sports are scrutinized from all sides, are such images really still acceptable?
After Shane Sweetnam and Alejandro's fall, Ireland was eliminated, as were Mexico and Israel. Japan was also eliminated © Sportfot.com
There are so many questions that must be raised before the 2024 Olympic Games in Paris. It's certainly important for this sport to evolve, but not at the expense of the well-being and safety of horses and their riders, without hiding the fact that the sport has and will always have its hazards and its share of risk.
Featured photo: Sportfot.com