Success for the Ekestrian Elite Auction of October!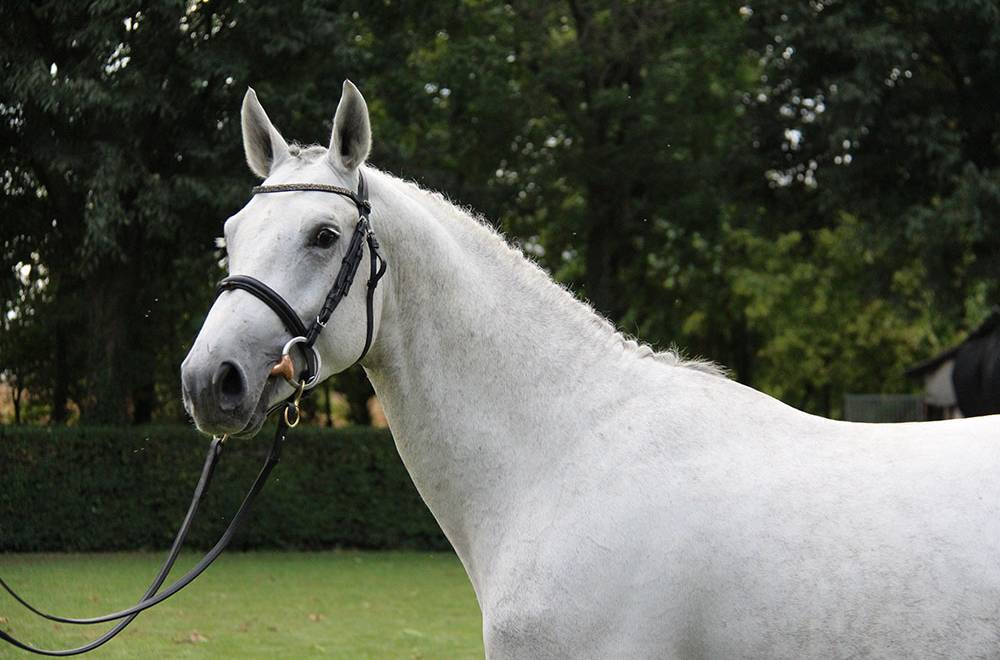 08 November 2018
Success for the Ekestrian Elite Auction of October! Nimmerdor x Cor de la Bryere, approved stallion by Cornet Obolensky and more for the November auction!
Ekestrian was offering a collection of 23 lots for its last Elite auction on the 29th and 30th of October: exceptional foals, embryos and broodmares.
The auction was a success, particularly with the acquisition of the colt by CORNET OBOLENSKY x FOR PLEASURE out of the sister of the champion NIFRANE DE KREISKER, promised to a bright sport career, for 18,800€ (sales fees included) by the Olympic Irish rider Greg Broderick and the Nations Cup rider David Simpson. Notice to breeders who want to see their products valued at a young age with renowned riders!
USHA VAN'T ROOSAKKER stays a reference! The embryo by FOR PLEASURE out of the granddaughter of the top mare was adjudicated 22,000€ (s.f.i) to a French breeder.
60% of the lots were sold the night of the auction, 2/3 of which abroad (Ireland, UK, Belgium, Hungary). The two top sport fillies by KANNAN are going to their new owner in Hungary. The great filly by QLASSIC BOIS MARGOT out of the damline of the performer GIN D (CSI5* P. Devos) will join l'Elevage du Terroir in France.
The superb colt by QUICK STAR x BAMAKO DE MUZE out of the daughter of the full sister of the world champion VIGO D'ARSOUILLES take the direction of a prestigious French stable. We hope to see him shine in the St-Lô stallion contest in the near future!
You missed the auction? Hurry up, there are a few lots which were not sold. Contact us at +33647580045 or at +33686496006 or [email protected]ian.com.
EMBRYO NIMMERDOR x COR DE LA BRYERE, APPROVED STALLION CORNET OBOLENSKY X QUIDAM DE REVEL, DAMLINES OF EMERALD VAN'T RUYTERSHOF AND KASHMIR VAN SCHUTTERSHOF… : EXCLUSIVITY AT THE PROGRAM OF THE NOVEMBER AUCTION!
2 & 3 yo, foals and embryos for top level sport and excellent breeding.
Access the full catalog: https://eliteauction.ekestrian.com/en/enchere/12
- Implanted embryo by NIMMERDOR x COR DE LA BRYERE: who will get the chance to acquire this unique lot?
- Last chance of the year to get and embryo out of the full sister of EMERALD and DIAMANTHINA VAN'T RUYTERSHOF!
- Filly daughter of the full sister of KASHMIR VAN SCHUTTERSHOF
- Embryo by CHACCO BLUE x FOR PLEASURE
- And of course the best French damlines: UELEME, BALOUBET DU ROUET, RHUNE D'EUSKADI, PANAMA TAME…
- You wish to buy an approved stallion? Ekestrian proposes you a stallion by CORNET OBOLENSKY x QUIDAM DE REVEL, grey, 3yo, SBS approved.
- And many more lots to discover on the website of Ekestrian: https://eliteauction.ekestrian.com/en/enchere/12
IMPORTANT: it is mandatory to register on the website to be able to bid on the auction: https://eliteauction.ekestrian.com/en/register
For further information, please contact the Ekestrian team at +33647580045 or at +33686496006 or [email protected]