Steve Guerdat's conference: a successful exercise for the Olympic champion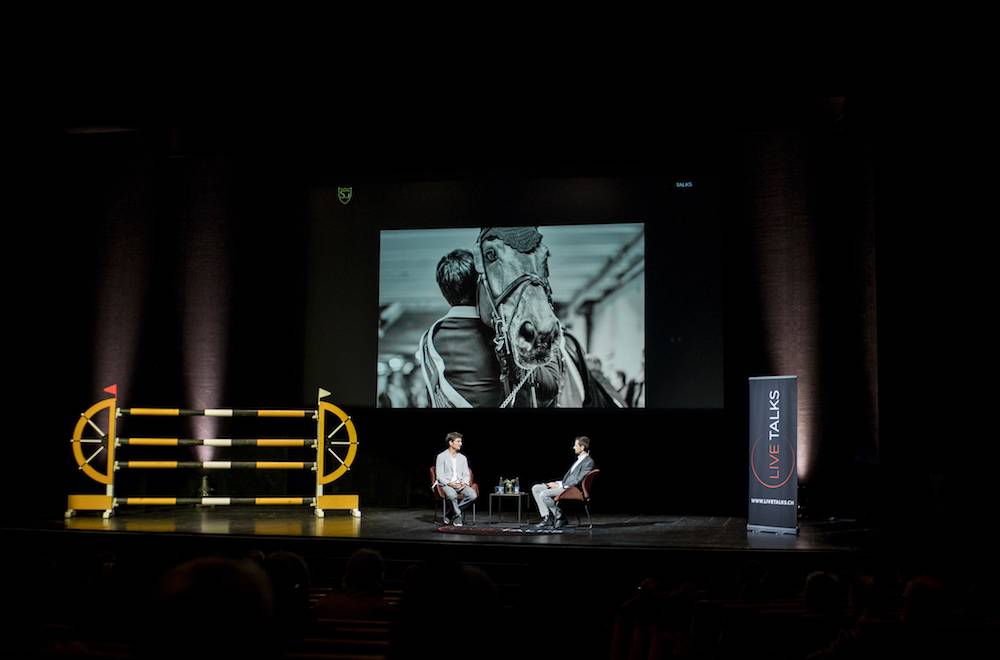 28 November 2019
November 26, 8pm. The curtain opens. The Olympic champion comes out on to the stage. For one evening he has swapped his rider's outfit for the official suit of a conference speaker. For 2 hours in front of more than 500 people, Steve Guerdat recalled his career at the Bâtiment des Forces Motrices in Geneva. Interviewed by his friend Michel Sorg, Assistant Director of the Geneva CHI, Steve Guerdat revealed the man behind the rider.
CHILDHOOD
The evening began with Steve Guerdat's debut in Bassecourt, in his native region of Jura. This was a time when as a young boy he played football and rode horses. "My parents didn't want me to do two sports at 50% so they asked me to choose between the two. I didn't hesitate. "The junior and young rider years followed: "I didn't really have much success," said Steve Guerdat. "I never won individual medals at the European Championships. They said I was talented, but I didn't achieve the expected results." His first great success was his bronze medal at the Swiss Elite Championships when he was only 17, behind Hansueli Sprunger and Markus Fuchs. "And ahead of Willi Melliger, 4th with Calvaro," added the champion.
TAKEOFF
Guided by Michel Sorg's questions, Steve Guerdat told his story without any embarrassment, with sincerity, and occasional timidity. He spoke of his time in the Tops stables without any taboos, "When Jan invited me to replace Rolf-Göran Bengtsson, I thought it was an opportunity too good to be missed. I just wasn't making it to the top rungs and I needed to reach the top level. ", or the stables owned by Oleksander Onyschenko who promised him money and horses in return for taking Ukrainian nationality. "I took the money and the horses and settled down to his stables. My friend Gregory Wathelet was also riding for him. My family and friends wanted me to be happy, so they knew I had to seize this opportunity. Alban Poudret and Ludger Beerbaum called me on the phone and tried to dissuade me. When Onyschenko came with the contract, I couldn't sign it. I had to return the horses, the money, and leave the next day with my stuff. But I never regretted it."
A champion's career has its ups and downs, opportunities and decisions. If he never gave up, it's because Steve Guerdat has two passions: "I love horses and I love sport," he said. And when the two passions are combined, then that's something even better for a perfectionist like Steve, who admits that he is sometimes difficult to live with, especially when he feels he has not given the best of himself. Like the time at the Rio Games, when he would have liked so much to give Nino a second medal. "I will have other opportunities to participate in the Olympics, but not him."
BOUNCING BACK
In his typically modest way, the Swiss rider was careful to thank those who reached out to him. His relatives, his trainers, his owners, so many essential figures on the chessboard of a sports career. He talked about organization, training, but also values. "I am happy to be number one, it's great recognition for me and a huge achievement, but I also hope that it proves that you can become number one while espousing values that I respect." Steve Guerdat is regularly to be seen speaking at the governing bodies of world equestrianism to defend his discipline, and this time he didn't fail to raise the issue of the Nations Cup circuit: "If there are no more Nations Cups, we are no longer an Olympic sport. And if we are no longer an Olympic sport, we are no longer a sport."
EXPLOSION
Most of all, Steve Guerdat talked about his horses. From Jalisca Solier, who gave him victory in the Rolex Grand Prix of Geneva – "the highlight of my career" – to the Olympic champion, Nino des Buissonnets, who is now in a peaceful retirement in Elgg. When the time came for him to talk about his companions, there was no trace of shyness in Steve Guerdat's voice, who let us into a few confidences: "When we had the chance of acquiring Nino, I told all my riding friends about the new star horse I had in my stables," he said. "Obviously, they all came to see us during our first competition together, in Amsterdam. ... And I couldn't even pass No 1! I really hadn't shown him off. A friend told me, - At least it couldn't get any worse."
Aware of his image as a role model, the Olympic champion willingly said that the most beautiful compliment we can pay him is when young riders tell him that they dream one day of being like him. Steve Guerdat lives his dreams every day. "What more could you ask for? I'm living the life I've always dreamed of. Success, fantastic horses, my fiancée at my side, a wonderful team, an incredible family... I am the happiest man in the world. The only thing I want is not to disappoint all these people."
The format of a discussion on stage is something new for the Olympic champion, but it was a success. Steve Guerdat answered the audience's many questions during an evening which raised donations for the "Regard2moi" foundation chosen by the Swiss rider. Laughter, emotion, humor, sharing, a feeling of closeness with a great champion... the audience was won over. A successful first, which proves that we can always innovate, and share and bring to life the great stories of equestrian sport.