Steve Guerdat won with his spouse's mount in Italy!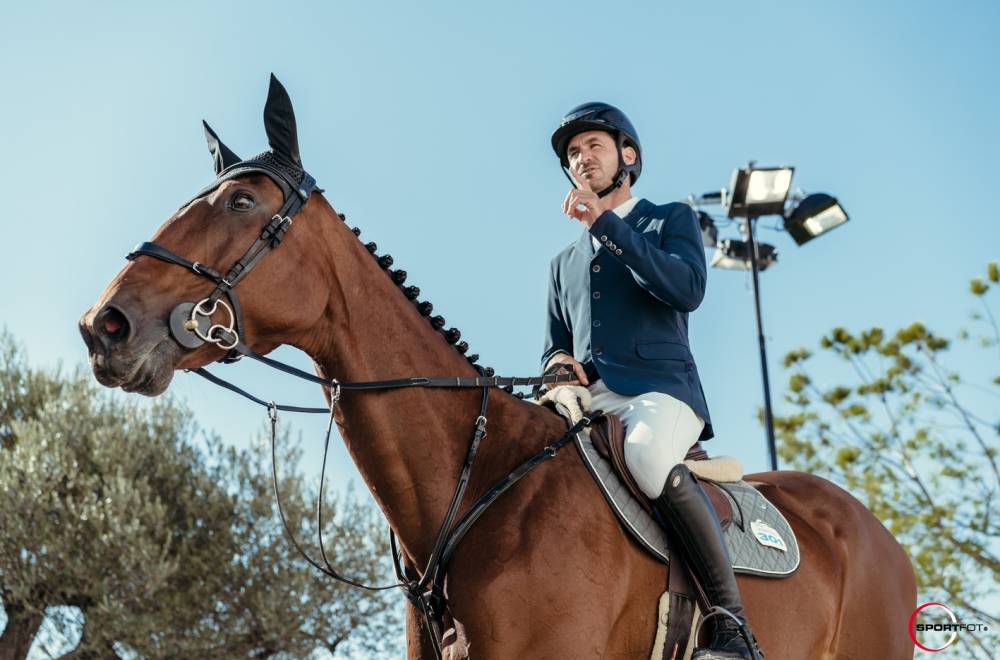 23 November 2020
Vilamoura CSIO3*
Earlier in the week, the Nations Cup and then the Grand Prix event took place at the Vilamoura CSIO3*. While Germany won Tuesday's team event (read here), it was Belgium, thanks to Grégory Wathelet, who won Thursday's Grand Prix. Riding his lead stallion Nevados S (Calvados Z), the Belgian rider finished his tour in the sun with a victory, coming in ahead of Germany's Richard Vogel on Floyo VDL (Baltic VDL), and David Will with C Vier 2 (Cardento). The Belgian rider continues his tour beneath the Spanish sun with the winter version of the Sunshine Tour.
Vejer de la Frontera CSI3*
Henrik von Eckermann won the Grand Prix of this winter Sunshine Tour with Little Magic d'Asschaut (Back Gammon x Non Stop). A nice gift for his spouse Janika Sprunger who has just announced her pregnancy. This is the first Grand Prix victory of the 9-year-old BWP stallion which was started by Rachel Steffen. The Swedish rider is ahead of the Dutch Kim Emmen on Jack van't Dennehof (Toulon) and the French Olivier Robert with his Vivaldi des Meneaux (Chippendale Z).
Lier CSI2*
Frenchman Max Thirouin secured a wonderful victory in the 2* Lier Grand Prix. In the saddle on his faithful mount Utopie Villelongue (Mylord Carthago), the French rider came in ahead of the Dutch multi-medalist Jeroen Dubbeldam, riding the powerful Oak Grove Carlyle (Casall), and the double Belgian Champion Jos Verlooy, who rode Luciano van het Geinsteinde (Quinn vd Heffinck).
"This victory is obviously very pleasing. It's pure happiness! I came to Belgium for two weeks of competition, and I will be going to Opglabbeek on Tuesday for my last competition of the year, before taking a break with my mare. This season has not been easy for anyone, but our personal concerns have accumulated and my mare hasn't been ridden very much. So it's all the more pleasant to be able to enjoy such a victory. I really like the Lier and Opglabbeek competitions because the facilities are splendid. There are good course designers, good grounds, good material and it is not too far for me. We have some good outdoor competitions in France, but apart from Le Mans and Mâcon, we lack indoor facilities. When I left for this competition, I told my friends that I was going to a five-star, because the competition is so tough. It's obviously a difficult period and the riders are suffering like restaurant owners who opened their kitchens for take-aways, knowing they will only make 20% of their usual turnover. The prize-pool of these two-star competitions compared to those of a five-star is the same thing. The most important thing is to take advantage of the good results. Utopia won the Grand National stage in Le Mans. She was second in the big one here on Friday and she won the Grand Prix, so it's been great. I will have to find other horses to go with her after I sold my other star, Jewel de Kwakenbeek (Cicero Z) in the US last year, but I don't regret anything because it was just before the lockdown. He was a gelding… That's part of our job. Today, I have some very good youngsters at home, but they are very young! I have just acquired L'Amici de Kwakenbeek who is a son of Luigi d'Eclipse and a sister of Jewel by Iron Man vd Padenborre... but he is only two years old! I also have some very good three and four year old horses, but they are like candies to be unwrapped in three, four years' time! My goal today is to win a five-star with Utopia. We already won a four-star last year. I'd really like to win a five-star with her, she deserves it. I also hope to get a chance to compete in Nations Cups. My dream is that Utopia can stay with me for her entire career. The only thing that could make me reconsider that goal would be the Olympics! She's a mare that deserves it and I know that won't be the case for me. We have talented riders in France who have a lot of experience in this type of event and that's not really my case. I'm aware of this hierarchy, and if I was offered the chance of allowing my mare to participate, then I would take it into consideration, but it would really be the only reason! For the moment, I really want to take advantage of these beautiful moments together", Max Thirouin explained on the phone.
Gorla Minore CSI2*
Two Swiss riders were on the podium in Italy, and another Grand Prix victory went to Steve Guerdat, who this time ride his spouse Fanny Skally's top mare, Jonka A (Cardento x Chin Chin). He came in ahead of the Frenchman Nicolas Deseuzes, that you can read all about this week on Studforlife; he was in the saddle on Stella du Preuilly (Baloubet du Rouet), while Alain Jufer accompanied his Swiss partner on the podium by taking third place with Cornet MM (Cornet Obolensky).
Riyadh CSI-W3*
Abdullah Al Sharbatly won the World Cup stage on Special One (Stakkato), ahead of his compatriot Ramzy Al Duhami on High Quality (Quadrillo). Janakabhorn Karunayadhaj completed the podium with Maxwin Hoepala vh Daalhof (Kashmir van 't Schuttershof).
Featured photo: Christophe Tanière / Sportfot.com