Steve Guerdat wins at Spruce Meadows!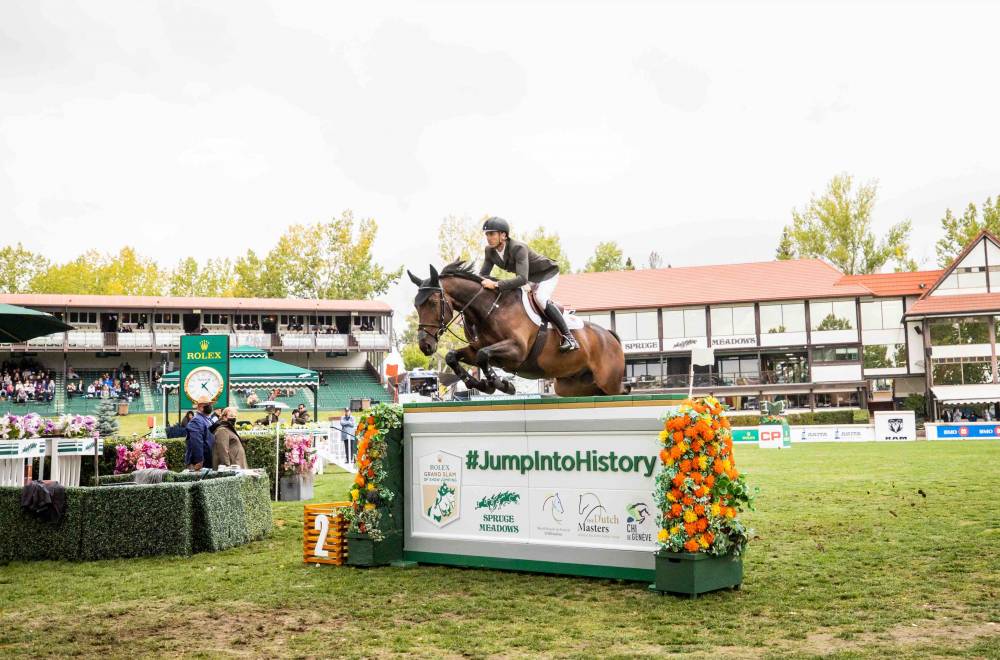 13 September 2021
A look back at the results of the weekend which included no less than two CSI5*: Spruce Meadows and Rome.
Spruce Meadows CSIO5*
He's one of those riders who rarely fail at their objectives and yet some have tried to blame him for missing the mark at the Games in Tokyo where he didn't fail, with each of his courses being punctuated by just a small fault... but as always, Steve Guerdat responded where he feels best: in the arena! He was one of the few Europeans to have gone to Spruce Meadows only a week before Aachen with a very precise objective in mind. As a result, Venard de Cerisy (Open Up Sémilly) was the only double clear round of the event and allowed his rider to win for the first time in the most endowed Grand Prix in the world, ahead of Kent Farrington on Gazelle (Kashmir van Schuttershof) and Mclain Ward on Kasper van't Hellehof (Emerald vh Rytershof), who was still being competed by Ben Maher last year, and is none other than the brother to the Stal de Muze's stallion, Mosito van't Hellehof.
Steve Guerdat, the only rider to have competed in every major event since the inception of the Rolex Grand Slam of Show Jumping, commented, "I have dreamed of winning these events since I was a child. For as long as I can remember, Spruce Meadows and Aachen have always been the events I wanted to win. I have been lucky enough to win Geneva a few times, but I've missed out on those other ones. I won't give up until I win them all - I have one now, and I'm going for the other one very soon. That's what motivates us riders, I guess."

"Venard is a very strong, brave and powerful horse. He has a lot of blood and energy in his jumping. He doesn't have the best technique, but because of his power and his willingness to do well all the time, we've been lucky enough to come to understand each other over the years. He's a very sensitive horse - he's very difficult to get on and off, you can't move him, and he's a little shy with everything. But as soon as he sees an obstacle, he wants to jump it."
Steve Guerdat's two courses can be watched here:
Rome CSI5*
The Swedish wave continues. This time, it's Malin Baryard Johnsson who won in Rome in the 12th stage of a Global Champions Tour that has been strongly reshuffled regarding the schedule, because of the COVID-19 pandemic. On H&M Indiana (Kashmir van't Schuttershof), the rider won in an 11-rider jump-off ahead of Christian Ahlmann and another BWP, Mandato van de Neerheide (Emerald vh Ruytershof), while Harrie Smolders completed the podium on Monaco (Cassini II), ahead of the neo-Belgian Abdel Said on the Selle Français Bandit de Savoie (Qlassic Bois Margot).
Ascona CSI4*
Back at the 4* level, Ascona welcomed a very nice line-up, which was dominated on Sunday by Dutch rider Léon Thijssen on Faithless Mvdl (Ukato), who won the Grand Prix ahead of Switzerland's Barbara Schnieper on Escoffier (Lord Z), and the young Belgian Gilles Thomas on Konak (Nabab de Rêve).
Hagen CSI3*
In parallel with the European Dressage Championships, an international jumping competition was also held, with the Grand Prix being won by Belgium's Dominique Hendrickx on the Selle Français Vintadge de la Roque (Kannan), ahead of Janne Friederike Meyer and Messi van't Ruytershof (Plot Blue), who is a grandson of the famous Diamanthina van't Ruytershof! It was a Grand Prix which highlighted the in vogue Belgian lines, since Felix Hassman took third place with Captain America (Captain Fire), and the Ahlmann stables' rider, Angélique Rusen, took 4th place with Arac du Seigneur (Ogano Sitte), who is none other than the son of Quasibelle du Seigneur, a half-sister to London.
Peelbergen CSI2*
Germany's Annika Ebert won the Grand Prix with Chacco Charlie (Chacco Blue) ahead of two Selles Français. Dutch rider Léopold van Asten took second place with a granddaughter of Karla de Toscane, Urane de Talma (Argentinus), ahead of America's Zazou Hoffman on the daughter of Orient Express, Bloom du Plessis, who is also the full sister to the stallion Cash du Plessis and a maternal half-sister to O'Brion du Plessis.
Macon Chaintré CSI2*
Harold Boisset won this Grand Prix on Verone de la Roque (Kannan), who is out of a sister to the stallion Hockey Bleus d'Amaury, ahead of Thomas Leveque on Dzara Dorchival (Qlassic Bois Margot) and Victor Laudet on Damzelle du Brèche (Dalton v/h Lindehof). There were eventually no less than 8 French riders in the first 8 places of a Grand Prix that was so international that there were 9 foreign riders among the 53 participants of the event.