Steve Guerdat wins in Chantilly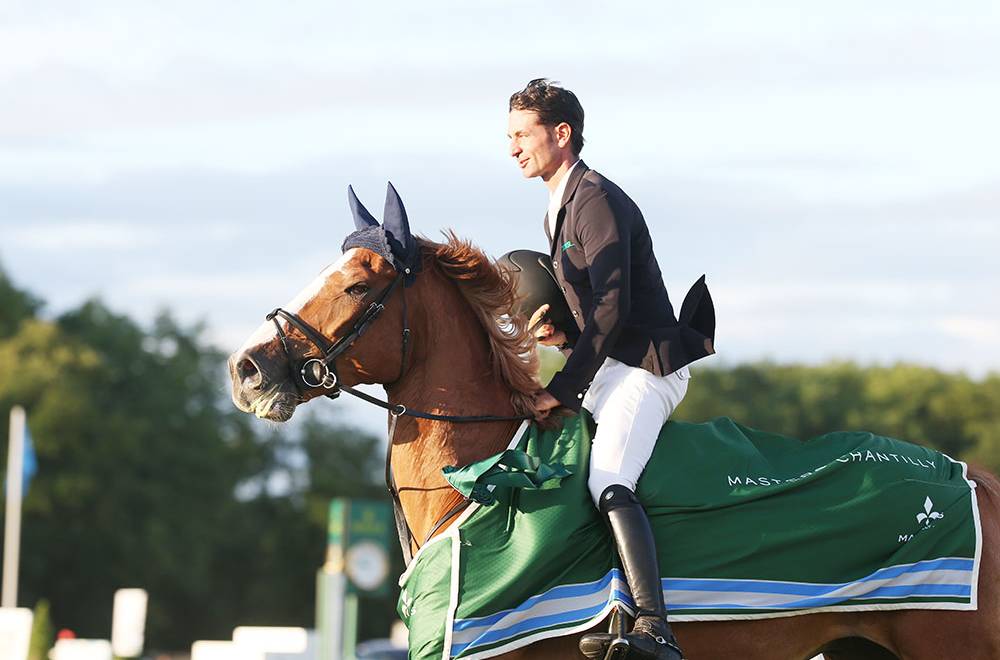 11 July 2021
As usual, Steve Guerdat had a goal... and he reached it! This Saturday, by the end of the day, the Masters of Chantilly had held the Prix Ducati event with a starting list of 42 combinations... though it was a rather fault heavy event. Edward Levy had a good feeling about the matter. The Normandy native had a clear round and didn't take too many risks with the stallion from the Haras de Brullemail, Catchar Mail (Diamant de Sémilly). The son of Katchina Mail managed to secure a nice fourth place... because after him, only three riders managed to get a clear round!
Julien Gonin was the first to go and when he left the arena he announced: "I'm very happy with Valou du Lys (Calvaro), but I spoke about it with my entourage before the start; I didn't give it everything because she will be jumping in the Grand Prix again tomorrow."
Even the World No. 2, Martin Fuchs, didn't manage to beat the Frenchman. Wearing the Laiterie de Montaigu colors, the rider knocked a rail hard. Martin Fuchs and Conner 70 (Connor) missed out on second place by 19 hundredths of a second!
There were still some serious candidates to come, but in the end only the former World No. 1 Steve Guerdat found the key and improved the time by more than three seconds with 9-year-old Pb Maserati van Orti (Emerald van't Ruytershof x Cum Laude Z).
"I'm very proud of my wife Fanny for her second place in the previous event, I would have been just as happy if she had won but she had a very nice round. However, there is no doubt that my victory is my greatest satisfaction of the day! I compete to have these moments. For my horses, for my owners, it's important to win too. I really did aim for this event with Maserati.
I made him do yesterday's 1.45m event quietly, where he went clear but wasn't placed. I went slowly because I really wanted to prepare him for today. He's a very respectful horse, the event today wasn't particularly big, but it was very delicate. The track is quite difficult, and the colour of the obstacles is quite monotone; there aren't many colors. A Table A event against the clock is quite difficult under those circumstances. So, you really need horses that are respectful of the obstacles. I rode the course the way that I had walked it, except for the first line where I thought I was going to do 9 strides, but Martin (Fuchs, editor's note) did eight and told me that it was going very well, so that put me in a good rhythm for the rest of the course. Afterwards, I thought that I could have taken a little more time over the water because I was ahead by quite a lot in the last line... but when I had my round, there were still some very serious combinations to go such as Mark Mcauley and Penelope Leprévost who had very fast horses that had more experience.
I thought when I left the arena that I might be in the Top 3, telling myself that by trying to keep up with my pace, it was possible that they would make a mistake and that's what happened. I'm happy. I've been riding Maserati for a year. When he came to me, he had great potential, but he had only jumped 1.40m classes and wasn't competitive. Today, we can see that he has really progressed. This is his best victory so far, but he has the potential to do much more. Tomorrow we will see what happens in the Grand Prix. Victorio des Frotards just had a big event yesterday and had 8 faults. It was really a warm-up class and I hope he will be ready for tomorrow," explained Steve Guerdat.
All the events can be followed in full and for free on Studforlife.TV!