Steve Guerdat, again and again!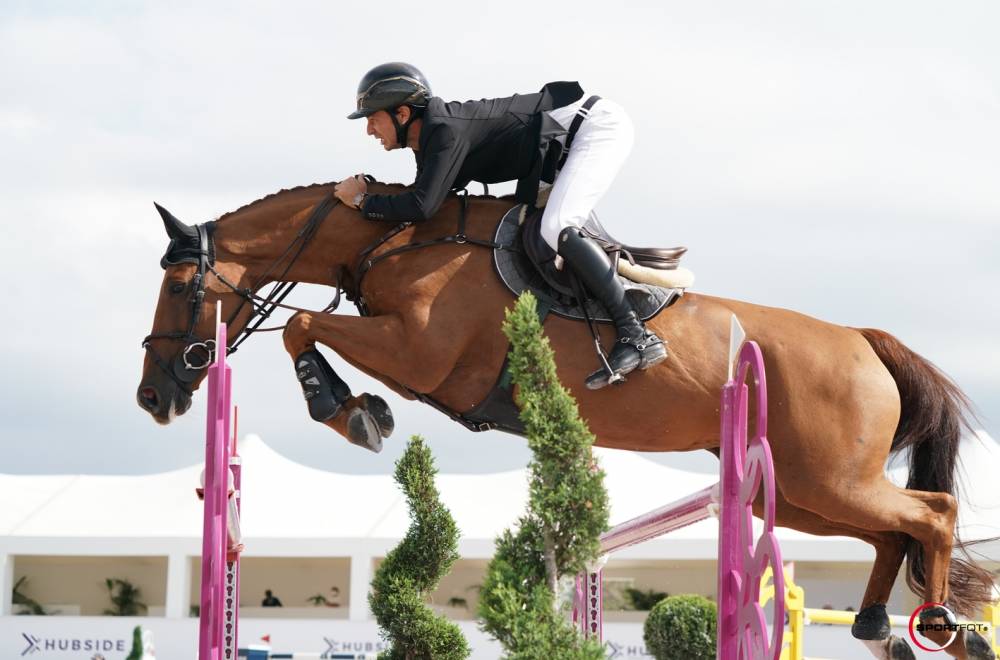 17 May 2021
The weekends pass and all look the same for the No. 1 show jumper in the world... After a victory in the CSI5* in Grimaud last week, the new father is once again victorious in the biggest Grand Prix of the weekend! Back to all the results of the international Grand Prix!
Gorla Minore CSI4*
The Gorla Minore competition welcomed the best of European show jumpers for a new CSI4* event, the biggest competition of the weekend. No surprise: World No. 1 Steve Guerdat won again with Uranie de Belcour (Flipper d'Elle). With the fastest double clear round of this 1.55m Grand Prix, the pair came in ahead of the hopeful Harry Allen, who achieved one of the best performances of his life here! Riding Guinness (Nabab de Rêve), the young Irishman held his nerve to beat Moroccan rider Abdelkebir Ouaddar on Istanbull vh Ooievaarshof (Casall).
Lexington CSI3*
Off to the United States now, where the sport is still in full swing. It's in Lexington that many riders met this weekend for a CSI3* event. After a victory in the big event on Thursday, Irish rider Daniel Coyle also won the $137,000 1.50m Grand Prix riding Legacy (Chippendale Z). The young Colombian, Camilo Rueda, took second place with Indus van het Keysereyck. Kent Farrington completed the podium with his daughter of Casall, Austria 2.
New York CSI2*
Still in the United States, and still with a line-up of exceptional riders, but this time we're at the gates to New York in Old Salem for a CSI2* event. In the $73,000 Grand Prix, American rider Adrienne Sternlicht rode Bennys Legacy (Lupicor) to beat two renowned riders, Mario Deslauriers on Bardolina 2 (Clarimo), and Rodrigo Pessoa on Quality FZ (Quintender 2).
Nancy CSI2*
Youth riders were in the spotlight at this new competition, the CSI2* of Nancy, in Eastern France. The promising Mégane Moissonnier indeed won the 2* Grand Prix, riding Aramusse (Elan de la Cour). The rider precedes another French equitation hopeful, Alexis Goulet (portrait here) who was accompanied by Utah Beach du Banco (Tlaloc M). Eugenie Angot completed this 100% French podium with Ceres van hit Moeshof (Ogano Sitte). The champion of the day, Mégane Moissonnier, reflects on her victory: "I'm very happy with this victory with Aramusse. He's a horse that I've only ridden since the beginning of the season. We already had several placings at the 1.45m and 1.50m level and this time, we managed to win the 2* Grand Prix and I'm delighted! The Grand Prix was good on the slopes, a more delicate and technical ride than last week's Grand Prix here. It's the first time I have participated in a competition in Rosières-aux-Salines, near Nancy, it was very well organized even if the weather wasn't on our side. Everything was set up for the comfort of the horses. A real effort was also made in terms of dressing the arena, which is always nice."
Opglabbeek CSI2*
Let's go to Opglabbeek now, where the Easter Tour III took place! In the 2* Grand Prix, the promising German rider Kendra Claricia Brinkop, a member of the Stephex stable, won on De Flipper (Flipper d'Elle). She came in ahead of another young rider, the Brit Lily Attwood on Karibou Horta (Landor S). Belgian rider Jérôme Guery completed this international podium with Great Britain V (Nabab de Rêve).
Samorin CSI2*
Slovenia's Urh Bauman won the 2* Grand Prix of Samorin in the Czech Republic. Accompanied by Larisal (Larimar 7), he placed ahead of Zoltán Czékus and Disco. The international podium was completed by local rider Nikola Bielikova and her son of Campbel Czech, Carison.
A youth CSIO was also held there; you can find all the results in the link below.
San Miguel de Allende CSI2*
It was a 100% Mexican podium in the beautiful city of San Miguel de Allende which hosted the 2* Grand Prix that took place this Saturday. Over a 1.45m/1.50m course, Alejandro Eugenio Mills Topete won with Chataga (Chacco Blue). Andres Azcarraga Rivera Torres took second place with Contendros 2 (Contendro 1), while Nicolas Pizarro Suarez Martinez closed out the podium with Kentucky Van't Laerhof.
Montefalco CSI2*
Luca Marziani won at home in the Italian Montefalco CSI2* Grand Prix. Riding Don't Worry B (Numero Uno), he beat Pasquale Datena on Folkert (Chello III), and Gianni Govoni on Hervesther (Elvis Ter Putte).
Kunkiai CSI2*
Lithuanian rider Andrius Petrovas won the CSI2* Grand Prix in Kunkiai. Riding Linkolns (Louis J), he came in ahead of Russian rider Egor Shchibrik and Cornet's Spirit (Cornet Obolensky), who himself came in ahead of Estonia's Paul-Richard Argus with Renessin (Laurissin).
Exloo CSI2*
Off to the Netherlands now, where the CSI2* in Exloo took place, with a great line-up of riders. It was a 100% Dutch podium that settled at the top of the placings, with the victory going to Gerben Morsink riding Navarone Z (Nabab de Rêve). Marc Houtzager and Holy Moley (Verdi Tn) placed second, just ahead of Doron Kuipers and Gabri (Voltaire). The latter spoke to Studforlife about this 1.45m Grand Prix: "It was a very good competition, with a large arena in which we jumped some very nice courses throughout the weekend. This is my first time here; I'm delighted that I got to participate with my horses. My Grand Prix horse, Gabri, is progressing very well. This was only his third Grand Prix here, and in the previous two, he was only one point over time. Both of my competitors in this Grand Prix had very fast horses that were more experienced, so I'm very happy with my third-place finish."
Herzlake CSI2*
It was also a 100% German national podium! In the CSI2* Grand Prix in Herzlake, Germany, Andre Thieme won with Conacco (Conoglio), beating young rider Laura Klaphake who rode Davenport VDL (Diamant de Semilly). The podium was completed by Marco Kutscher and Lacasino (Lordanos).
Olsza CSI2*
In Poland, it was once again a 100% Polish national podium in the 1.45m 2* Grand Prix. The victory went to Mściwoj Kiecoń on Digisport Codeina, followed by Tomasz Miśkiewicz and Velvet Lazar (Verdi Tn), and Tomasz Miśkiewicz and Number One 28 (Numero Uno).
Featured photo: Sportfot.com