Ste Hermelle powered by Ekestrian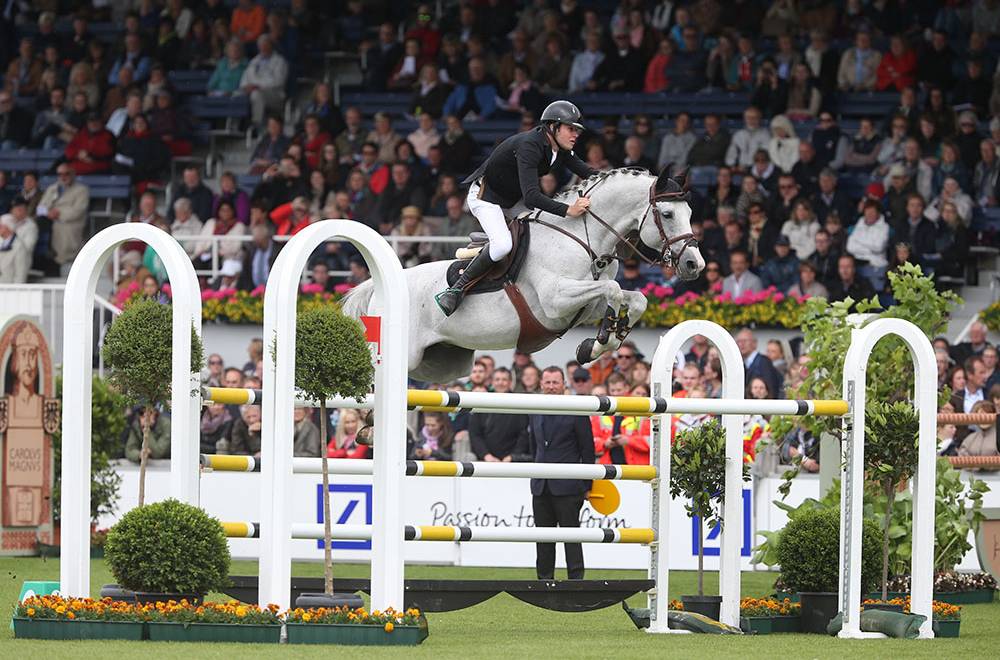 16 May 2019
A 5* professional alliance
The Stud Sainte Hermelle chose Ekestrian to present in the auction 12 of its best 3, 4 & 5 yo as well as 2 foals with exceptional genetics for sport! Discover a unique catalog combining the savoir-faire of Elevage Sainte Hermelle and the 5* expertise of Ekestrian auctions.
Auction 100% online at www.ekestrian.com
Elevage Sainte Hermelle : the house of champions!
Many times champion of Belgium in models and paces, the products of Sainte Hermelle are also presented on the French circuit for young horses where they perform like stars. Regularly ranked best breeder and owner at the finale in Fontainebleau over the past 10 years, Raymond Lefèvre, a true horseman and passionate breeder, continues to prove the quality of his breeding by the facts. Thanks to an unrelenting selection and improvement policy, Raymond Lefèvre has built an impressive track record, including:
- Best breeder in 2007, 2008, 2014, 2015, 2016 and 2017!
- Best owner in 2009, 2013, 2016 and 2017!
- 2nd best breeder in 2009
- 2nd best owner in 2007, 2014 and 2018
- 3rd best breeder in 2012 and 2018
- 3rd best owner in 2015
-10 products in the finale of Fontainebleau 2018!
Renown ambassadors
- Anaya Ste Hermelle (Andiamo): Anaya won her 29th ranking class in April 2019 with top rider Pedro Veniss!
- Citizenguard Toscan Ste Hermelle (Surcouf de Revel): he was for a while the star horse of Constant Van Paesschen. Toscan has won at the highest level and was named Horse of the Year 2014.
- Eras Ste Hermelle (Vargas de Ste Hermelle): worthy son of Vargas and the champion Anaya, Eras is about to become one of the best stallion of his generation!
- Vargas Ste Hermelle (Ogano Sitte) : thanks to the top quality of his production, Vargas was elected best producer of young horses as a percentage of births in Fontainebleau in 2017.
An overview of the auction catalog
From the amateur horse to the GP champion, get yourself a unique horse, bred for sport with exceptional genetic for breeding, proved on the field since 1977.
- Stallion – 3yo - Vigo d'Arsouilles x Ujade Ste Hermelle (Diamant de Semilly)
- Ujade herself ranked in CSI5* with the Mexican rider Alberto Michan. She is the sister of Anaya, riden by Pedro Veniss in CSI5* 1.50.
- Ujade already produced Bingo Ste Hermelle, 3rd in CSI4*W 1.45
- Mare – 3yo - Eras Ste Hermelle x Crazy Ste Hermelle (Nabab de Rêve)
- Crazy is the niece of 9 horses all performing in 1.35/1.45 classes !
- Mare – 3yo - Eras Ste Hermelle x Nancy (Hemmingway)
- Nancy jumped herself in 1.40 classes and has produced in particular Chance Ste Hermelle CSI5* 1.60 with Michael MORRISSEY but also several horses performing in CSI 1.40 as well as a BWP approved stallion!
- Filly – 2019 - Balou du Rouet x Phylisse de Ste Hermelle (Dollar de la Pierre)
- Phylisse jumped herself in 1.30 classes and is the sister of 2 horses performing in CSI 1.50!
- Phylisse has produced Veneur Ste Hermelle performing in CSI1* 1.35.
You don't want to miss those future stars!
What can we do for you?
You wish to receive the full catalog of the exclusive auction Sainte Hermelle? Plan a trial or a visit at the stud?
Contact the Ekestrian team at +33.7.86.32.75.17 or [email protected]
To be able to bid
- 100% online auction at www.ekestrian.com the 4th and 5th of June 2019.
- Don't forget to register on the website and to fill in your bank card information to be able to bid in total security: https://www.ekestrian.com/en/register
Don't miss the Ekestrian Elite Auction on the next 18th and 19th of June: young horses of 2 and 3 years old, foals of the year and broodmares with top origins for showjumping!