"The sporting significance of the Olympic Games is facing a loss of credibility" Pierre Durand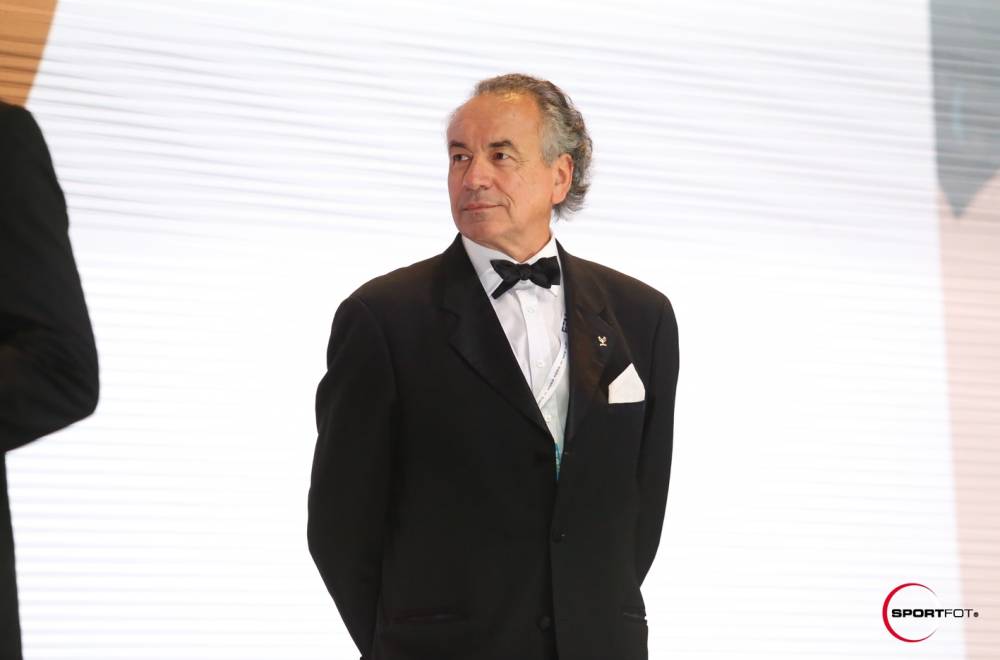 15 April 2020
Pierre Durand, with his faithful little black horse Jappeloup, is a legend in show jumping and French sport in general. The individual gold medalist of the 1988 Seoul Olympic Games looks back on his career at the top of the world and gives us his analysis of the discipline, as well as his fears concerning its evolution.
THANK YOU FOR ACCEPTING TO ANSWER OUR QUESTIONS AT THIS TROUBLED TIME
"At a time when the world has been turned upside down by a terrible virus, it might seem futile to give an interview. The priority should be everyone's health and solidarity especially with the healthcare personnel and all those who are working so hard to preserve a minimum level of subsistence. Still I'll gladly answer your questions in the hope that during this demanding lockdown period, your readers will find some distraction and matter for debate."
DO THE MEMORIES OF YOUR SPORTING CORONATION STILL EVOKE A CERTAIN EUPHORIA DESPITE THE YEARS THAT HAVE PASSED? HOW DO YOU LOOK BACK ON THIS PERIOD OF YOUR LIFE AT THE HIGHEST LEVEL?
"Euphoria is not the word. Let's just say that I still inwardly savor the entire journey that led me from my teenage dream to the Olympic title. It's more nostalgia, but isn't being unhappy in itself a sort of happiness? I tell myself that there was a time before and after the Olympic title. The twenty-year climb towards this goal was the best stage in my life. It is the feeling of having invoked my destiny and reaching a perfect accomplishment. Since then, I have felt more of the weight of this title and there has been less elation in my life."
WHEN DID YOU DECIDE TO HANG UP YOUR BOOTS? WHAT WAS YOUR LIFE LIKE AFTERWARDS?
"I first changed my mind about quitting the day after my victory at the Seoul Olympics. The pressure from my relatives dissuaded me from doing so. It was probably a good thing that I postponed this decision for four years because I was still able to experience some of the most memorable sports moments: in 1990 the title of Team World Champion and in the same year a second place in the World Cup final. However, in my own mind, my sporting career came to an end on October 2, 1988. I had achieved what I wanted most. I had come to the end of my journey. However, to stop competing is to accept tedium..."
YOU HAVE BEEN ABLE TO OBSERVE THE ENTIRE EVOLUTION OF SHOW JUMPING FROM YOUR BEGINNINGS TO TODAY. WHAT CONCLUSIONS CAN YOU DRAW FROM THIS?
"Like other sports, over the past ten years of so horse riding has been faced with the multiplication of powerful private circuits. In my opinion, the frequencies, rules, sports programs, and competitor selection methods are challenge the founding values of the sport.
Equestrian sports are no longer evolving under the influence of federal institutions. It is the professional players who organize the sport for financial profit. It is the economy that organizes our sport, as it sees fit. I am not a fan of this evolution, even if it brings more comfort to certain riders and generates business for the whole sector. I see it even as a danger, even though animal welfare is at the heart of our concerns today. In this global organization of the sport more and more demands are being put on horses, especially since riders are bound by their commitments to large stables and subjected to the tyranny of world rankings."
IS THE MULTIPLICATION OF NEW CIRCUITS LIKELY TO LOWER THE VALUE OF MAJOR CHAMPIONSHIPS OR NATIONS CUP EVENTS?
"The current evolution contradicts the logic of sports hierarchy. What is the most important thing? A victory every weekend in one of these countless Grand Prix which all look the same, or a performance in one of these rare events which bring together the best in national selection during the major championships or the Olympics? For how much longer will these major events continue to have an added value on sport? Sporting circles have always complained about a lack of media visibility. However, it is not by standardizing the competition and sliding towards socially elitist and not purely sporting criteria that this question will be resolved. As you may have noticed, this evolution is taking me away from the meaning of my involvement in sport. I think that the current crisis will bring everything back to its place, but in a different way. We need to restart the software.
I will still end on a positive note! Today, there are more and more good horses and good riders. Horse care has improved, training is more methodical even if they are not given enough recovery time. Equipment is better studied and almost all the riders have a coach by their side. This is a guarantee of progress."
DO YOU THINK LIFE AS A RIDER WAS EASIER IN THE 80'S THAN IN 2020?
"Let's just say that in the 80's there was room for more people to dream. Today, the hope of getting into the 'great sport' has been forgotten by many, despite their talent. From what I hear from my former teammates and who are still on the circuit, Patrice Delaveau, Roger-Yves Bost, Philippe Rozier or Rodrigo Pessoa, they all say that period was the most enjoyable."
HAVE YOU TAKEN ON THE ROLE OF COACH?
"I took on the role of a volunteer leader very early on when I became President of the French Equestrian Federation, and then by taking other institutional players into the sport in France, such as the CREPS in Bordeaux and the INSEP in Paris. These mandates did not allow me to really dedicate myself to coaching. However, I took a number of young people onto the podiums of the French championships, including my daughter Lisa. I have always responded to requests from riders, such as Olivier Robert in his debut at the top level. It's always a pleasure to hold master classes, in France and abroad. On the other hand, I would have liked to be a chef d'équipe, which is a different role. Finally, I would say that for me a good coach should create an autonomous rider, since you're alone in the arena!"
ARE YOU ON THE LOOK OUT FOR YOUNG TALENTED AND PROMISING HORSES?
"Not really, even if I am one of the co-owners of the very promising stallion Ze Carioca (sire Canturo and dam by Kannan) of the syndicate created by the Pessoa, father and son.
Investing in young horses has always been the right choice, especially today when mature horses are worth fortunes. Having a young horse allows you to set up a solid foundation, to gradually manage your career and to build up confidence. I had Jappeloup at the age of five. We knew each other by heart!"
WHAT VALUE DO YOU PLACE ON TRANSMISSION?
"The transmission of success, of equestrian cultural heritage is essential to me. However, in French equestrian sports, this is not something that comes naturally to people's minds. I have always wanted to pass things on, if only because I've learned a lot from the principles of French equestrianism, but also because I've learned a lot from my elders. A rider like Hubert Parot has always been kind to me. Jean d'Orgeix trusted me. Pierre Jonquère d'Oriola inspired my vocation as Olympic champion. My federal commitment has always been a mission."
THE FRENCH TEAM WAS PHENOMENAL AT THE RIO GAMES IN 2016. UNFORTUNATELY, THE TOKYO GAMES FOR THIS SUMMER HAVE BEEN POSTPONED FOR A YEAR...
"Alas! The Covid-19 crisis took its toll here. We will have to wait to evaluate our chances. The cards have been reshuffled, even if manage to keep our team qualification in show jumping as in the two other disciplines. We will have to see how the horses have fared in a period without competition. Then we'll see how the riders managed them during this unprecedented period. Where will everyone's motivations be? Let's talk about it again in a few months. One thing is sure, an Olympic medal takes several years prepare for."
WHAT DO YOU THINK OF THE OLYMPIC EVENTS' NEW FORMAT?
"It fits in well with this idea of globalization. The criterion of universality has taken precedence over the sporting value of the Olympic selections. The choice is political. The risk is that this unique event, held every four years, will be devalued. That it may no longer be the long-awaited summit of sporting achievement. By limiting national selections to three riders per team, the new format has opened access to the Olympic Games to many more countries at a weaker level, while at the same time nations from stronger continents such as Europe, will stay at home. Many high performance riders will not be invited to this party. This is a pity! The sporting significance of the Olympic Games is facing a loss of credibility. Up to now, one sporting event stood out above the rest: the Olympic confrontation organized every four years, where the best riders determined to be the best, competed against each other on courses with a level of difficulty that was often never reached. It was a moment of truth for athletes with a big heart. That's why it was my ultimate quest. Will it still be the case? I doubt it."
Pierre Durand and Jappeloup facing another legendary pair, John Whitaker, and Milton at the Europes in St. Gallen in 1987 © Private Collection
WHAT ARE THE SECRETS OF FRENCH HORSE RIDING?
"Can we talk about secrets? The French doctrine has been published all over the world for many years and the practices are known to everyone. Our strengths lay in the long and brilliant equestrian history created as a theory by the great squires of the Cadre Noir of Saumur and who were able to rely for many years on a state-run organization for the breeding of sport horses. Even if this model eventually became a barrier due to a lack of open-mindedness. This rich heritage still carries us today, but it is not enough without the strength of a champion's mind to go for Olympic medals."
WHAT DO YOU SEE AS THE FUTURE OF SHOW JUMPING AND MORE BROADLY THE THREE OLYMPIC EQUESTRIAN DISCIPLINES?
"Earlier, I pointed out two dangers for the future of equestrian sports. The first is animal abuse. Many people have already taken on board the use and misuse of the sport horse, and the scourge of doping in all its forms, as something contrary to animal welfare and respect. The second risk is that, whether it is aimed at wealthy riders (for example with the purchase of Beezie Madden's Darry Lou by Jennifer Gates, the heiress of the second richest man in the world) or supported by patrons with large financial resources, or at the children of performers, equestrian sports is becoming an activity of social castes. It does not allow the same opportunities for all. This exclusive segregation can only harm us in the long run."
Interview by Pauline ARNAL. Featured photo: © Sportfot.com