Spencer Smith to Make Team USA Debut at CSIO5* Nations Cup of Rome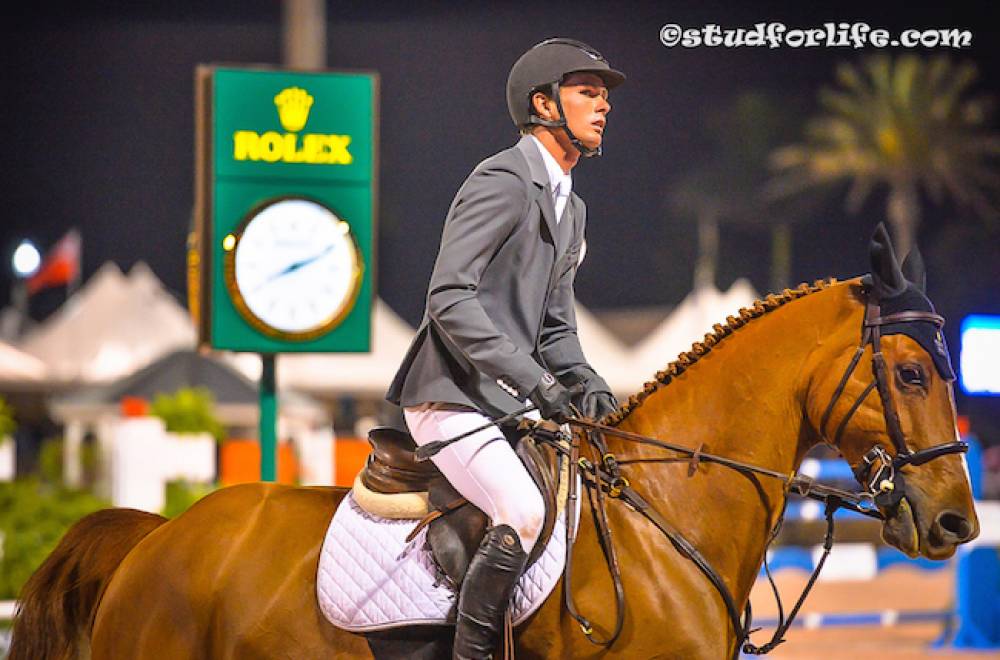 24 May 2018
"My goal is to jump on a Nations Cup team for sure. Hopefully by the end of the year, maybe. If there is a Nations Cup I can be a part of—that is what I really want to do."

Little did Spencer Smith know that less than two weeks after he spoke those words in a friendly interview, he would receive the call-up to represent his country in one of the world's most prestigious Nations Cup competitions.

Twenty-one-year-old Smith will compete in the CSIO5* FEI Nations Cup of Rome on Friday, marking his first appearance on a USA team. Veteran riders Kent Farrington and Lauren Hough were planned to ride on the team, but withdrew at the last minute.

The young American rider, whose parents are well-known trainers Ken and Emily Smith, is in the middle of a planned semester away from his studies at University of Miami, Florida. With the opportunity to work for Eric Lamaze from his European base at Ecurie D'Ecaussines in Belgium, Smith relocated with Torrey Pines Stable at the end of this past winter season.

Smith has been competing at three and four star shows in Europe this spring as he juggles riding duties with his job working for Eric Lamaze's Torrey Pines Stables. Over the winter season in Wellington, he made headlines when he picked up his first, career Grand Prix victory in the CSI3* Horseware Grand Prix with the 13-year-old Selle Francias gelding Theodore Mancais (Kashmir Van Schuttershof). Smith likely didn't expect that win any more than he expected to wear the Team USA colors this weekend. Now, on the eve of his debut Nations Cup appearance, get to know America's newest breakout rider.

Q: When did you start training with Eric Lamaze? How did that connection come about?

That connection came about through my parents. When I was a junior, Eric sent a lot of horses to me. When they were finished with the big sport they would come to me, and my parents would sell them, but in the meantime I would ride them and be able to jump the high juniors, the U25 and classes like that. He sent me horses from when I was 14, up until now. He's really helped me a lot.

Two years ago, Eric called and invited me to ride a horse in Gijon in the five star in Spain. That was my first show really with him, and that's how it all started. It was a big shock, but it was awesome.

Q: And now that you're working for Eric full time in Europe, what do your days look like? At the beginning of the week I come back from the show, I ride all morning. We school horses, or jump horses that didn't go to the show, and then in the afternoons I drive all over the place and scout horses and try a bunch of horses. There are literally four small shows within 30 minutes of where I am in Belgium, all the time. So no matter what, I can always be looking at horses. A lot of them are not tapped, whereas in America, everything is covered, nothing slides through a crack. And here there are still some cracks.

So I do that every afternoon basically until about Wednesday and Thursday every week, depending on the show. Then I leave to the show, and show my horses and Eric's horses. And then I come back and do it all again.

Q: What kind of horses do you look for, and what's the toughest part of scouting?

I've found a bunch of equitation horses that we've sold to the States. We have some partners in Germany that we do a lot together and they find and scout for me. We are starting to get more into young jumpers, finding some jumpers that are prospects for the big classes.

The hardest part is just being at the right place at the right time and noticing something a bit different. That's the biggest thing; being able to look through whatever is going on and seeing the picture that it will be in the end, which I can't say that I really know how to do, but I'm working on it.

Q: What's it like working with Eric Lamaze?

It's awesome. It's an opportunity that I think that very, very few people ever get to do and will ever get to do. I'm super lucky that he let me be a part of his team.

In everything Eric says, you just keep your ears open because you're learning something all the time, 100% of the time. You pick up on this or that, he'll tell you one little thing and it's like, wow, it's crazy. Basically being with someone who is at the absolute top of the sport, getting to see the sport from their perspective is really cool.

Q: Can you pinpoint one thing in particular that's changed in your riding since you went to work for Eric?

He's made me a change a lot of my riding. He's made me more competitive for sure, and hungrier to go fast and try. He never gets mad at me if I mess up trying. As long as I'm trying to win, or trying to go for it, he doesn't discourage me if I have a rail in a jumpoff from going fast. He wants me to do try, it doesn't matter about the rail. It's all about the trying and competitiveness.

Q: Can you describe your development with that Theodore Manicais since you started riding him last fall?

It's a horse that Eric found. Eric had gotten me into the Spruce Meadows Masters , so I was super excited. He got Theodore in the week that we were flying to Canada and I jumped it at home. Eric said that I should just bring it to the show because it's nice to have another horse there. So I brought it there and jumped the first day in the 1.50m, he had the last down— which was my fault. And then he jumped in the 1.50m the day after and was clear, and jumped the 1.60m the next day and was 11th, and it just kind of took off from there. He's an absolutely unreal horse. For sure, he's the best horse I've ever had, no question.

Q: What are some of your goals

I just want to stay consistent at the higher level, jumping these international grand prix classes. And just try to be competitive and get some results.

Q: What are some of the skills you're learning to help achieve your goals?

When I really started doing real grands prix two three years ago, I'd go in the ring and be super tense. I'd really want to jump clear, and I was just nervous. You're not thinking your way around the course yet. Now, I'm able to go into the ring, and I can think my way through it. The more you can go in and do it, the more you're able to think your way around the course instead of just riding and attacking whatever you see. Being able to pass up distances and choose, while you're on course, what's going to work later in the course, and being able to see a bunch of steps ahead is what I'm starting to learn how to do.

Q: What advice would you give to someone your age or younger who wants to get to where you are?

Any way that you can, try to make a connection with someone who can bring you to the next level or who is willing to help you. If you have someone, like I do, then you're already a step ahead but if you don't, you have to find someone. I'm lucky because my parents make sure I always have opportunities. Without them I would really have nothing.

It's just about working hard and being picked up by the right people. Keeping your head down and working hard but still being able to talk to people and ask for advice and ask for help. Not being afraid to ask for advice is always super important.