Simon Delestre achieves the double!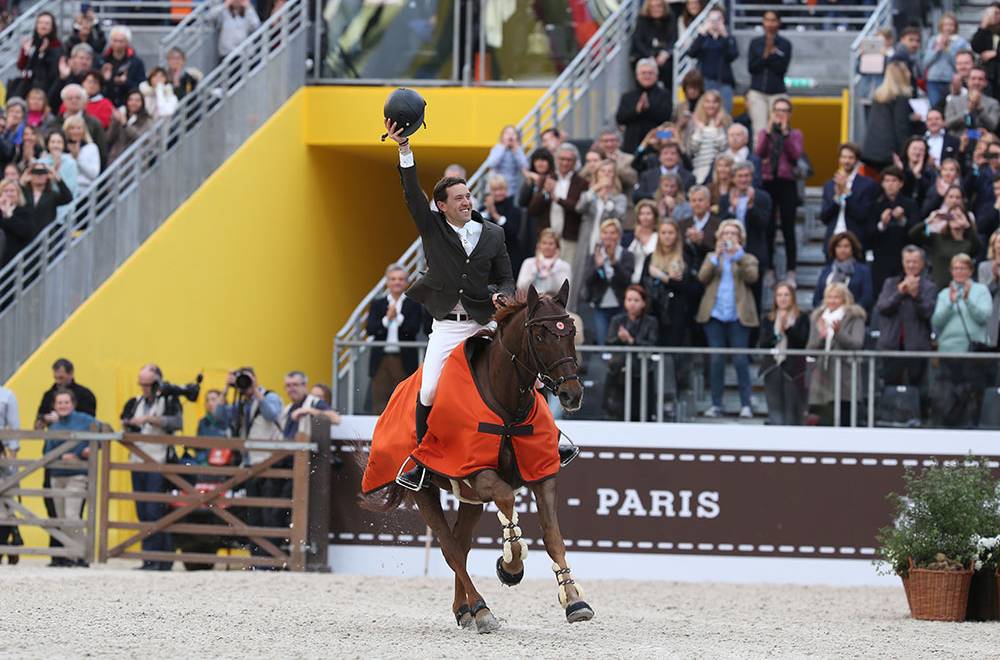 25 March 2019
Organizers weren't blessed with favorable conditions for the tenth anniversary of the Saut Hermès, due to major security challenges after last weekend's unfortunate events in Paris. Nevertheless, they undertook the challenge successfully. The riders turned up, as did the spectators!
The large Grand Prix jump-off had no less than 15 combinations. Gregory Wathelet was the first rider out and set the fastest time, but unfortunately MJT Nevados (Calvados Z) knocked a pole down.
That's all it took for Simon Delestre – who asked Hermes Ryan (aka Ryan des Hayettes) (Hugo Gesmeray) to give it his all... which the little chestnut did brilliantly – winning the Saut Hermès Grand Prix for the second consecutive time under the glass roof of the Grand Palais.
"It's a superb victory. Ryan jumped wonderfully. We had a difficult year between the two victories as Ryan contracted Lyme disease, which took us a while to detect. Then he had to get back into shape. We've had a difficult six months, but since the beginning of the year he has won the Amsterdam Grand Prix, placed in Bordeaux and he has won here... out of three Grand Prix runs! Ryan now has experience at the top level, he's at the top of his game," Simon Delestre said.
Just behind him was Christian Ahlmann, who was just as happy with the incredible performance of his young protégé Dominator 2000 Z (Diamant de Sémilly) who, at 9 years old, gave a dazzling performance for his first Grand Prix at this level!
"Dominator will return to Lanaken tomorrow for the breeding season where he'll be available for two months. In January, he competed in his first Grand Prix** then we quickly climbed the levels and here he is today for his first 5* Grand Prix! It was an unexpected performance. We have known for a while that he had tremendous ability and he proved it today. He jumped the small event as a warm-up on Friday, did the 150 yesterday... and the Grand Prix today. It's not an easy place to be, but he was fantastic. He will slowly resume competition by the end of the summer and be ready for the next indoor season. After this, it's clear we'll have to think about the future. So far, we have made breeding a priority and that will continue this year, but I think he deserves a chance to compete, so we will have to make a decision next year. I would also like to congratulate the organizers because this year has been particularly difficult for them, but we have been welcomed warmly and we felt safe all weekend," said the German.
Eduardo Alvarez Aznar, who started in second place, took third place with Seringat (Chef Rouge): "I was lucky enough to go at the beginning of the class because I don't have the fastest horse and so I wanted to ensure a clear round, which proved to be a good strategy".
Steve Guerdat didn't dare take any unnecessary risks either and ended up with a beautiful double clear round for 4th: "I've been preparing Alamo for the World Cup final for several months... so when you're here of course you want to do more but you have to remain reasonable. I am very happy with his performance and that's what matters."
Former winner Edwina Tops-Alexander and California (L'esprit) also had a double clear and took out fifth place.