Show Hunters: a school for excelling in show jumping?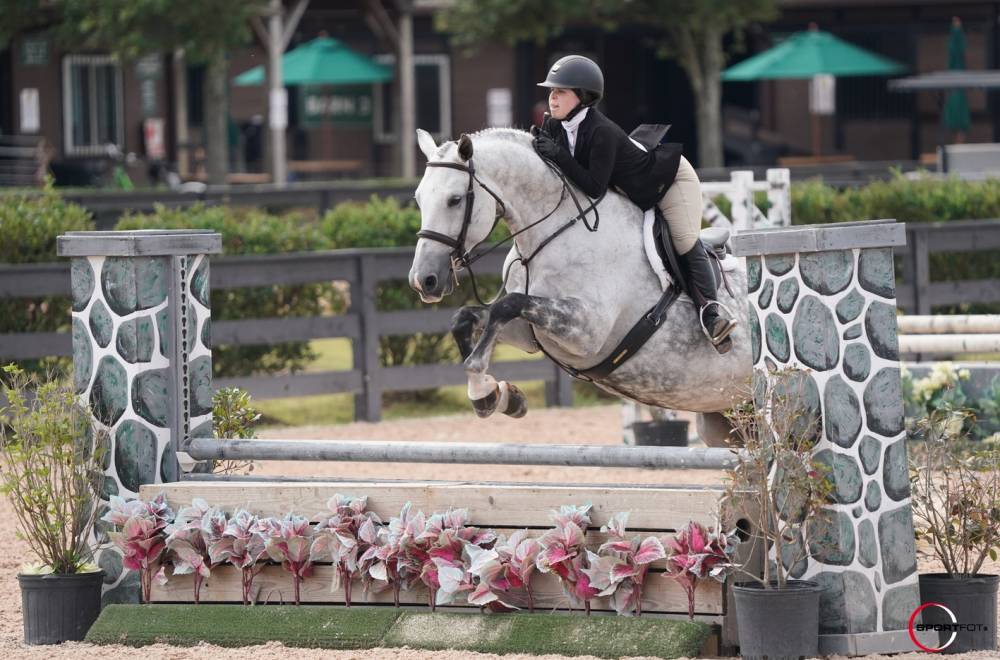 11 June 2020
The show hunter discipline, which consists of jumping a course of obstacles with the greatest possible harmony, is very widespread on the American continent whereas it is much less frequently seen in Europe. This is partly what gives American riding its great precision, which is aesthetically more standardized than French riding. Is it nevertheless one of the keys to success in show jumping at a high level?
Laura Kraut, a great American rider and Claude Lanchais, Show Hunter's National Technical Advisor to the French Equestrian Federation, answer this question of the month!
Laura Kraut: "In the United States, in the 70s, doing the show hunter circuit was a must. Doing the hunter's (or hunter-jumpers) on a pony and then a horse was a prerequisite when we were riders. That's because this discipline is very deeply rooted in the history of American horseback riding and has many benefits. In particular, it allows you to learn how to ride well, to have beautifully ridden courses, to have a beautiful seat. It's necessary to ride with a lot of finesse and feeling, to go with the horse. Show hunter teaches you to work with the animal, without constraint. It teaches you understanding of the horse and allows you to develop the necessary sensitivity to understand it and make an ally of it. I learned to work with horses so that they are with me and not working against me, because a rider who has a horse that is working against him cannot win. Show hunter is also a test of precision and anticipation. You learn to be consistent, to see how your strides from early on and to adjust if necessary. But the show hunter discipline also has some disadvantages. This discipline can make some riders ineffective. Some develop a certain passivity when riding; they don't make any decisions, and this makes them weak.
Until the turn of the 2000s, show hunter was very popular in my country. Today, mindsets have evolved, and much less people are taking up this discipline. This is, I think, one of the reasons for its decline. Faced with this reality, show hunter has tried to adapt and evolve. For example, the hunter derby was created with more technical courses and larger obstacles, with the possibility of riding a little faster. This is a little closer to what is required in show jumping. The prizes have also evolved and are more important than before. However, these evolutions have not been able to stop this discipline's ongoing decline. The show hunter discipline isn't in danger of disappearing because it's part of American equestrian heritage. However, I don't know how popular it will be in the future.
The differences between the United States and Europe are now smaller. In Europe, in recent years, practices have become more Americanized concerning this discipline. There are many more coaches nowadays at the events, starting with the ponies. More and more riders are being trained by renowned riders. Today, Europeans ride much less wildly and aggressively than in the past. They continue to ride forward but with more style. They are much more civilized. I see many more riders with style in the Junior and Young Riders categories than ten years ago. There isn't really an American and European riding style now."
Claude Lanchais: "Whether for riders or horses, the show hunter discipline should be a prerequisite for the preparation of disciplines based around jumping, as well as for show jumping and eventing. Its requirements and values are indispensable assets that contribute to a rider's performance. In order to achieve excellence, it's important to have the right attitude and good form over an obstacle that is as efficient as possible. The requirements on course are above all technical. The requirements of the rider include getting the horses rhythm right and fitting in the correct number of strides, which make it possible to optimize the performance on course. Knowing how to manage the lines by choosing the right number of strides to put in, knowing how to make the best use of the curves and approaches are examples that allow the riders to have sober and adapted behaviors and actions by highlighting their technical abilities. In order to correctly carry out the requirements of a course, it's essential to have horses that respond correctly to the rider's aids, which means that they need to work on the flat in a fair and regular manner. This is just as important as working over jumps. Beyond the technical aspect, show hunter helps with mental preparation and concentration. The obligation to have horses groomed and maintained helps give particular attention to the horse's well-being, which is another important criterion.
For a long time, the discipline suffered from prejudices that gave an image of focusing on appearance, where the rider was judged on their outfit and a certain attitude, where above all, nothing out of turn was to be done. Show hunter is quite the opposite: one must be able to be efficient while acting soberly and wisely. It is also well known that many do not like to be judged, whereas, since we are in a valued discipline, the rider must accept the judgment. Today, this discipline is attracting more and more riders and attracting other disciplines. It is more and more appreciated; its interest and benefits are being recognized. The number of teachers who use the fundamentals of the show hunter discipline in their teaching is increasing every year. Some are even beginning to require show hunter results before students start competing in show jumping events.
It is obvious to say that the discipline has exploded in the world of French horse riding. The French Equestrian Federation is mobilizing itself by creating different actions intended for education and training while bringing new projects to competitions. We can cite the implementation of tools intended for both riders and teachers, such as the creation of a show hunter track master guide, judging grids that change regularly, or a bank of exercises in jumping and dressage in a dedicated document. For competition, an original idea has been proposed at the Parc fédéral équestre which, for the past five years, has brought together all those involved in the discipline in an event called the "Printemps du Style et de l'Equitation" (Spring of Style and Equitation). In view of its success, the Federation has created the "National Style et Equitation" (National Style and Equitation) circuit, a national circuit of excellence for the best show hunters, with stages spread over the most beautiful grounds in France, including having the final at Equita'Lyon.
In the United States as well as in some European countries, the show hunter discipline is a must for showjumpers. The homogeneity of American riders' riding at a high level comes from this prerequisite. It's true that we are different from the Americans. For them, it is a standalone discipline, with very specific horses. In France and in Europe, it is considered to be a preparatory discipline for show jumping. We must not oppose this; we must accept the differences and above all not try to copy the Americans at all costs. We have our French style of riding and our French horses that we can enhance with our know-how. Most of our best French show hunter riders systematically combine Show Hunter and show jumping, or show hunter and eventing. They use the hunter's to prepare themselves but also to prepare their horses. The somewhat specific construction of the obstacles improves the horses' technique and style while promoting their confidence and honesty.
Where we still have room to progress is in the young horses' competitions. Too few riders and owners use the show hunter events that are designed specifically for them. They're not yet aware of the importance of these events and what they bring to a young horse's education. However, the regularity of the rhythm, the straightness, the quality of the contact, the repetition of the symmetry of raising the knees and shoulders, always stretching over the back... choosing good routes and therefore good jumps. This repetition is the basis of the young jumping horse's training. One could progress in the evolution of young horses by enforcing 4-year-old show hunter tests. The French Equestrian Society is also working to steer riders toward the discipline. Since 2019, there has been a bonus for young horses that participate in show hunter events for jumping qualifications at the Fontainebleau final. This is an additional asset for the discipline.
For the future, the show hunter discipline will continue to progress if we mobilize ourselves on different axes such as: making the discipline a prerequisite before moving onto show jumping courses, setting up official competitions, and improving on the quality of competition officials, judges and course designers. I'm optimistic about the rise of this discipline even at the international level. It may take some time, but its fruition is close."
Interview by Manon LE COROLLER and Raphaël GARBOUJ. Featured photo: © Sportfot.com