Shane Sweetnam in Wellington, Jérôme Guery in opening of the Sunshine Tour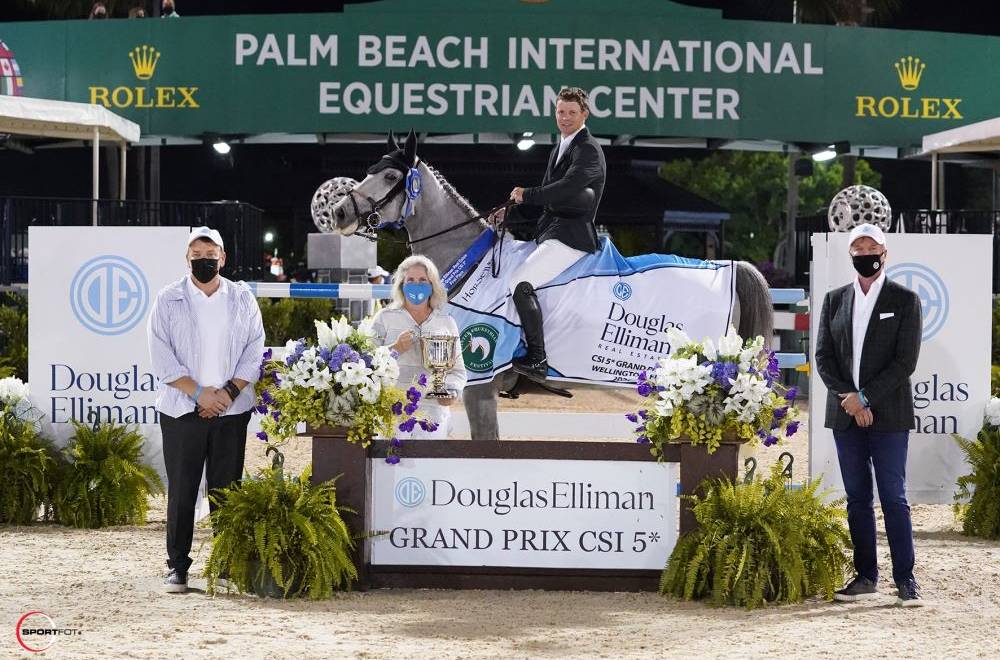 15 February 2021
Yes, this weekend a CSI5* Grand Prix did indeed take place on the planet! It was in Wellington and it was won by the Irish Shane Sweetnam. Back to all the international results.
Wellington CSI5*
Devin Ryan started Saturday night in Wellington with his faithful Eddie Blue (Quamikase des Forêts alias Zirocco Blue) by achieving a great clear round. "I felt that he was really jumping tonight, so I decided to try a little," the rider explained. "He has a long stride, but he's not the fastest horse in the air. Shane's horse is a little faster on the ground, and Martin rode a better course than me. I could perhaps have left out a few strides in some places by doing a slightly tighter turn. I haven't really been in a jump-off for a while or on a regular basis, and I think we've got a bit rusty."
World No. 2 Martin Fuchs brought out his star Clooney 51 (Cornet Obolensky). "I had an extra stride from third to fourth in the jump-off, which was the initial one-two, and that's when I lost to Shane, who rode a very good jump-off," Fuchs recalls. "He didn't seem to take that many risks. He just let his horse gallop and he beat us all today. When you have a year without any big shows or events, everything looks like new again. I was quite nervous today with Clooney, even though he did everything. I wasn't sure how he was going to perform on the first night, and his first time in a big event against the best horses in the world. It's really satisfying to see that everything is still in place and that, as a rider, I'm still making the right choices and my horse is still competing the way he did 14 months ago."
Ahead of them was another happy man. Shane Sweetnam won the 5* Grand Prix of Wellington with Alejandro (Acorado's Ass). "Obviously Clooney is one of the best horses in the world, and I watched Devin riding at the beginning. So I just focused on getting into a good rhythm from the start and tried to ride like Devin," said Sweetnam about his jump plan. "I have a fast horse and he's fast in the air. It was very tight at the end, so I needed to have a bit of luck to get there, and that's what happened today. When I started riding Alejandro, he was very green and raw, and we built a great relationship. The Covid-19 break was good for him because it gave him some time to relax a little bit, without traveling and doing more training. Since then, he's been in really good shape and has placed in the top three or four in every Grand Prix he's ridden".
Wellington 5* Grand Prix Results
Vejer de la Frontera CSI3*
The Sunshine Tour organizers held their ground regarding political pressure in Spain and the competition did indeed start in Vejer de la Frontera. This was a departure from the norm that did not really bother Jérôme Guery who won the first Grand Prix of the tour here, designed by Louis Koninckx. He was riding his faithful Quel Homme de Hus (Quidam de Revel). He even beat his compatriot Gudrun Patteet riding Sea Coast Monalisa van't Paradijs (Bamako de Muze). "I saw that Gudrun had gone quickly and well, and I tried to do better! I know my horse very well and these big arenas suit him perfectly. I think I turned tighter than Gudrun to come back to the double and I made up a stride in the second row. In the last part of the course, I was able to gallop forward and I think I also took one stride less than her," said Jérôme Guery. "I like to start my season here at the Sunshine Tour. It's the best place in the world and I'm delighted with this victory. It's a great start to the year. It was a good Grand Prix. We all know that at the Sunshine Tour the arenas are always big and difficult, but it suits my horse. It's his favorite type of courses. I was very confident it would suit us when I walked the course." Danish rider Andreas Schou, riding the Quadrosson Ask (Quadros) gelding, finished third in the Grand Prix.

Vejer de la Frontera 3* Grand Prix Results
Vilamoura CSI3*
Slovenia's Urh Bauman won the Vilamoura 3* Grand Prix on Larisal (Larimar), ahead of the young and brilliant Irishman, Michael Pender, on Calais (Cavalier Royale). The French rider Alexa Ferrer mounted the third step of the podium with Encantado C'SG (Verdi) after a jump-off that included only four of the forty-five Grand Prix participants.
Vilamoura 3* Grand Prix Results
Oliva CSI2*
Julien Epaillard continued his host of victories in Oliva, even though his best horses returned to their stables for the season-opener of the Global Champions Tour in Doha. It was an opportunity for the Frenchman to test his new recruits, including the very promising stallion from the Chev'el stables, Kosmo Van Hof Ter Boone (Arko III). This was another winning bet since he beat his compatriot Harold Boisset on Divine de la Roque (For Hero) while the Belgian rider, Emilie Conter, took third place in the Grand Prix with Catokia (Catoki).
"Kosmo is a new horse for me, I started riding him this year," explained the lucky winner. "He took a break for over a year due to an injury. He broke his jaw in an accident. We started him up slowly last September and made him jump in small events. He jumped in the Silver Tour at MET I and this week he did his first Gold Tour and Grand Prix. I think he's a superstar! He's already had some good results with Maëlle Martin, so we knew what he could do. I'm very happy, I think he's a future 5* Grand Prix horse".
Lier CSI2*
The German rider, Guido Klatte, won with Qinghai (Quidam de Revel) in the Lier 2* Grand Prix, ahead of Brazil's Thiago Ribas da Costa on his inimitable Kassandra van't Heike (Epleasure van't Heike). The Dutchman, Bart Bles, completed the podium with Fernando H (Calvino Z).
Valencia CSI2*
In Valencia, Guillaume Batillat won the 2* Grand Prix on Baby Love (Lupicor), ahead of Alexa Stais accompanied by Kurly V/D Gorten (Thunder vd Zuuthoeve). Belgium's Bart Jay Junior Vandecasteele, on Entreprise JT Z (Eldorado vh Zeshoek), completed this international podium.
Valencia 2* Grand Prix Results
Ornago CSI2*
There was some sport in Ornago, Italy, as well. Here it was Pius Schwizer who added a new line to his prize list by winning this 2* Grand Prix with Balou's Rubin! The Austrian rider, Christoph Obernauer, with Kleons Cocario (Carrico) and Germany's Thomas Mang on Arko junior (Arko III) completed the podium. Another noteworthy achievement was Mélanie Cloarec's fourth place with the latest recruit from the Pléville stud farm, Fais Toi Belle du Seigneur (Baltic Sitte).
Featured photo: Sportfot.com