Second Speed Challenge win for Nayel Nassar!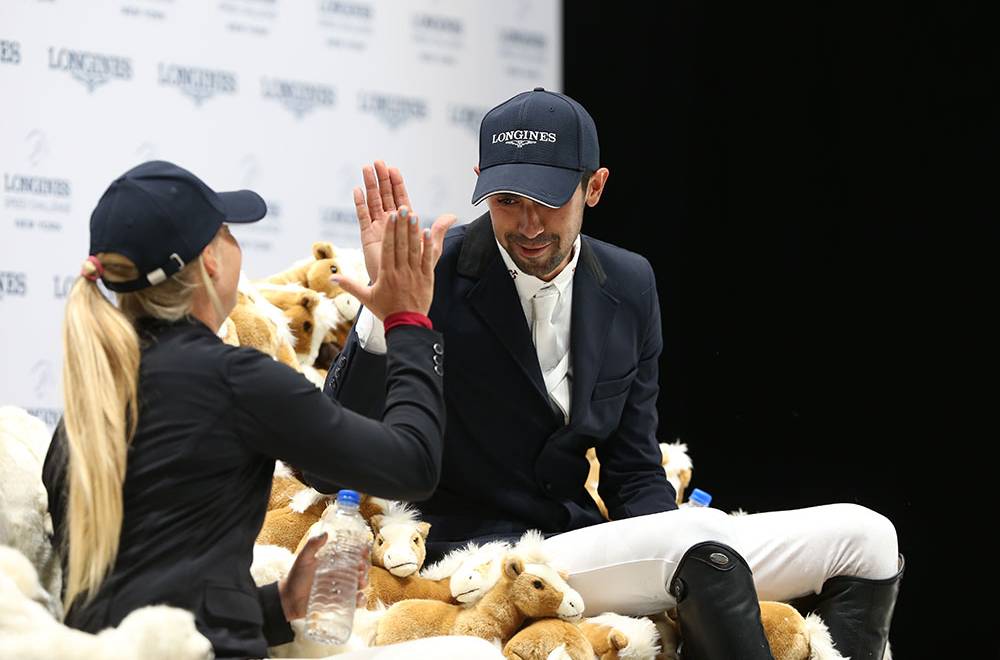 27 April 2019
In the weekend's first big competition, we expected a victory for Beezie Madden, having ridden a great round with Breitling LS (Quintero). She managed to rein in the Belgians enthusiasm, beating the on form Olivier Philippaerts on Cue Channa (Cardento), who was just ahead of his cousin Pieter Clemens, after riding a very good round with Icarus (Querlybet Hero).
Belgian Wilm Vermeir also took 5th place in the event with DM Jacqmotte (Toulon). But before that, another American came out to surprise everyone. Already a winner the day before in the opening event with Fantast (Toulon), Adrienne Sternlicht won the event with Toulago (Toulon) in great form, under the watchful eye of Pius Schwizzer, who came to pat his old mount to congratulate him.
"I'm very happy, what an extraordinary weekend for me. I changed all my plans because originally, I had planned to jump yesterday's event with Toulago... and at the last moment, I changed all my plans and it seems to have worked well. I injured my shoulder in Wellington and chose not to have surgery. It's taken time, I've followed up a physiotherapist and today I can say that I am operational again. This competition was additional motivation because it's important for me to jump in front of my home crowd. We just finished our stables, right next to my mom's house. It's wonderful for me because I don't come from a family of riders and having the horses at home is really wonderful for me. It's still brand new so I don't know how we're going to organize everything yet exactly, but I plan to keep training with McLain Ward as much as he wants me to. I really get a lot out of it. Today, being ranked is no longer enough, I'm really trying to win. It's clear that the relationship I have with Cristalline is a very special one, I always say she's my best friend... but winning with Toulago is so great for me. It gives me almost more satisfaction, because with Cristalline, it's is normal. This victory is really rewarding for us."
But the evening had just begun because the main event of the day, the Speed Challenge, was still to come. Beat Mandli was the first to shine with a clean and faultless round on Galan S (Indoctro); setting a baseline time of 61.70 seconds.
But Nayel Nassar rode right after the Swiss man. The winner of the Los Angeles Speed Challenge came to New York to win and he quickly managed to do it by giving it his all and, despite Lucifer V (Lord Pezi) taking a pole at jump n°10, they stopped the stopwatch nearly six seconds faster, but with a two-second penalty: the new baseline time was 58.45.
We then thought that the stopwatch would continue to fall with each rider but in fact, the Egyptian had set the bar too high, for, as many started fast, they weren't able to keep their horses' effort up throughout the whole course.
We had to wait to see if Daniel Bluman's fault-free ride with a Cartouche was enough to for them to scrape onto the podium with a time of 61.88.
However, it was American Kirsten Vanderveen who made the Egyptian quake in his boots the most with a very good run from Faustino de Tili (Berlin). Third in the same event last year, the son of Trevor Coyle's former horse Coyle Bijou vd Vijfheide finished second this time despite a pole at the last oxer of the course which penalized him by two seconds... but wouldn't change anything, at 61.07.
"Luckily, I wasn't able to win against the clock after making a mistake over the last jump of the course, and an oxer at that, it's unforgivable. I would have felt really bad about it! Otherwise I'm really happy with my horse's ride. He was third last year and second today, it's beautiful especially since the footing is nothing like it was last year; it was rather slippery. The ground is perfect today, and we were able to have a top level event, whereas the ground last year forced the organizers to go a little softer on us. This is all the more rewarding for us. Last year, I had the chance to participate in the Longines Masters of Paris, which was my first experience in Europe... I really hope to repeat that experience this summer."
Belgian Olivier Philippaerts was the spoilsport at the very end of the event, reaching the podium for the second time of the day with Insolente des Dix Bonniers (Winningmood vd Arenberg).
"I'm happy. Insolente is a fantastic mare. She joined my string a year ago, but she had very little experience and she's such an easy mare that I've let my little brother ride her a little this year to help her progress. She performed very well today. I think it was a difficult event where you had to be very in tune with your horse, not to start too fast to avoid losing control and putting your horse in a bad spot or you'd pay for it. I'll now count on her tomorrow for the Riders Masters Cup and then on Cue Channa for the Grand Prix on Sunday." says the Belgian.
The day's winner was obviously delighted: "I am as surprised as I was when I won my first event in Los Angeles... even if the context is very different. Today, I came with a horse that I knew was very fast and with the ambition to win, which was not the case in 2016. Today is my partner Jennifer Gates' birthday and I promised her I would win... but when I came out with 2 faults, I thought it was going to be difficult... but I'm happy when it's like that. As in 2016, I'm riding the same horse in the Grand Prix as in the Speed Challenge. I hope he didn't do too much today... but it worked well in Los Angeles. I'm really happy because this is my first time in New York. I participated in the competition in Los Angeles and I was lucky enough to be able to participate in Paris. I really hope to participate more frequently in this Longines Masters series, it's so wonderful."