A second 4* Grand Prix victory in Grimaud for Scott Brash!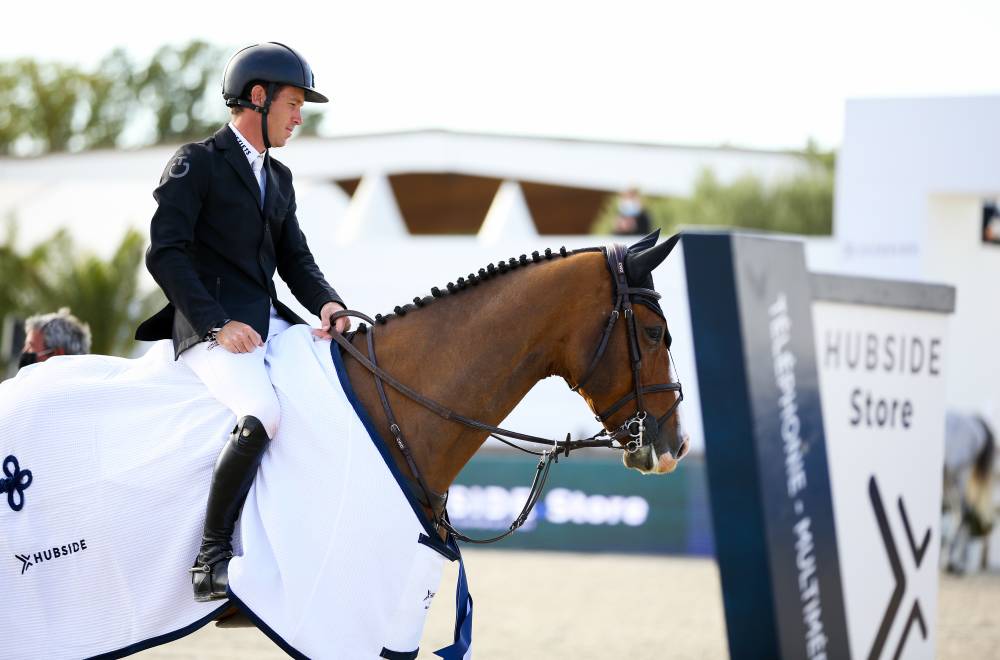 12 October 2020
Grimaud's stories had twists and turns and needs to be told in various steps. After the double victories of Dutchman Maikel van der Vleuten and Belgian Niels Bruynseels, it was the turn of the Scotsman Scott Brash to win a second 4* Grand Prix in 2020, here in Grimaud. Except that the Briton had a wee bit of a lead over his competitors on the honor roll: he has already won a 2* Grand Prix this year, and had already won a 4* Grand Prix here last year!
The announcer had warned before the start of the competition: the 4* Grand Prix of Grimaud had all the makings of a Grand Prix... 5*! And indeed, Italian course designer Andrea Colombo had revised his line-up and the quality of the starters before handing in his course plan: out of the 46 starters, eight found the key to the first round. Perfect! First to start in the jump-off (which is never an easy position), Simon Delestre, one of the two French riders who was back for this timed second round, rode his fast and experienced mount, Chesall Zimequest (Casall). The duo from Lorraine achieved a second clear round, in a good tempo. Their time was nevertheless immediately beaten by one of the most consistent pairs at this level of competition: Italian Emanuele Gaudiano and his unique mount, Chalou (Chacco-Blue), as they also turned in a double clear round, and come in faster than the Tricolor rider. Third to start, Belgian rider Pieter Devos and Jade vd Bisschop (Ogano Sitte) didn't hit a rail either, but they weren't as fast.
German rider Daniel Deusser, the World No. 3, wasn't as lucky as his predecessors and scored four faults with Casallvano (Casall). The fifth rider to start in this jump-off, and perhaps the most exciting Hubside has offered to its audience this year, Scottish rider Scott Brash on his mount Hello Jefferson (former Jerenmias van het Hulstenhof, by Cooper vd Heffinck) relegated the provisional leader Gaudiano to 2nd place: he posted a clear round; forty hundredths of a second quicker for the World No. 10! "Just" Julien Epaillard, recognized as one of the fastest riders in the world, Belgian Niels Bruynseels, whose name will undoubtedly remain associated with this second season in St Tropez after his double victory in the Grand Prix, and the World No. 2 and reigning European Champion, Swiss rider Martin Fuchs, were left to start. The first two, who rode Alibi de la Roque and Delux Van T & L respectively, both hit a rail each; two rails down for the Swiss combination of Martin/Silver Shine (Califax). The die was cast. For the third time this season in a Grand Prix, Scott Brash stood on the podium for the anthem God Save The Queen on the closing day of this 10th week of the Hubside Jumping competition.
Scott Brash (GBR): "It was a great Grand Prix! Running an eight-man jump-off, with 46 starters in the first round, really corresponds to the perfect number of qualifiers: course designer Andrea Colombo did a great job, despite a starting line-up that had to give him pause. Of course, it's easier for me to point it out, being one of those eight riders, but really, the design and the level of this Grand Prix were exceptional! The jump-off was really hectic, very fast, with a long canter to the last obstacle where I think I managed to save time. My horse Hello Jefferson is very fast over ground, and very fast over jumps. He's so respectful that I trusted him blindly when it came to giving it my all in the last line, measuring the distance he needed: I trust his eye completely. I'll be back next week for the final date of the season at Hubside Jumping. In two years of competition here in Grimaud, I've already won two 4* Grands Prix and one 2* Grand Prix. For sure, I'll give it my all next weekend. The best horses and riders will of course be there, as usual, it won't be easy, but I'll try a 4th win!"
In the 2* Grand Prix, Denis Lynch won again, but this time on the Selle Français mare Spring Dark (Jazz Band Courcelle x Palestro II). The pair came in ahead of two French riders: Marc Dilasser on Corona Z (Crown Z), and Alexis Deroubaix on Carmen du Plessis (Padock du Plessis).
"Spring Dark, the mare with whom I won this 2* Grand Prix, was fantastic. This weekend was our first competition together, she has only been in my stables for two months, but at 14 years old, she's already very experienced. I'm delighted with what she gave today, and I thank Andrea and Kevin Murphy for their trust. We'll see what the next steps are for her and me. She'll be back next week for the final weekend of competition here and then we'll see. We'll take it one step at a time. This Grand Prix was a really enjoyable event, the course designer did a great job. Of course, there were 13 riders in the jump-off, which may seem important, but with such a line-up, it's hard to do any less. This afternoon I'll be competing in the 4* Grand Prix with Rubens LS La Silla. Of course, we'll give it everything we've got to win the double! Rubens has already won some great events, including a 5* Grand Prix last year, so I'm keeping my fingers crossed!" said the Irish rider to Blizko communication.
In the Autumn version of the Sunshine Tour, it was Henk van de Pol who won the 3* Grand Prix with Looyman Z (Numero Uno), ahead of Luis Sabino on Argan de Beliard (Mylord Carthago) and Laura Kraut on Goldwin (Emerald vh Ruytershof) at the end of a jump-off made up of 9 candidates.
Vejer de la Frontera 3* Grand Prix results
The British were everywhere in the Vilamoura 3* Grand Prix. There were no less than seven of them in the Top 10, and they secured the entire podium! Guy Williams secured a new victory with the unbeatable Rouge de Ravel (Ultimo van Ter Moude), ahead of Laura Renwick on Dublin V (Vigaro) and Jack Whitaker on Valmy de la Lande (Mylord Carthago).
Vilamoura 3* Grand Prix results
In Tryon, victory in the 3* Grand Prix went to Beat Mandli on Vic des Cerisiers, one of the rare offspring by Olympic d'Anguerny (Le Tot de Sémilly). He came in ahead of Mario Deslaurier on Amsterdam (Catoki), and Alex Granato on Carlchen (Chacco-Blue).
Harold Boisset won the Oliva Nova 2* Grand Prix with Divine de la Roque (For Hero), who is none other than the daughter of the international performer, Aranja (Kannan). The Frenchman precedes German rider Janne Friederike Meyer-Zimmermann on Leotie KJ (Lord Pezi), and Carlos Lopez on one of the mares bred by French commentator Kamel Boudra, Ashaane Villa Rose (Utrillo vd Heffinck).
Rolf Goran Bengtsson won the Bonheiden 2* Grand Prix with Ermindo W (Singapore x Carinjo), ahead of a Belgian trio led by Wilm Vermeir on Hotshot (Carembar de Muze aka London). Christophe Vanderhasselt took 3rd place with Happydam (Quidam de Revel), while Andres Vereecker was back on the scene with Amour du Bois (Rock and Roll Sémilly).