Scott Brash wins again in Grimaud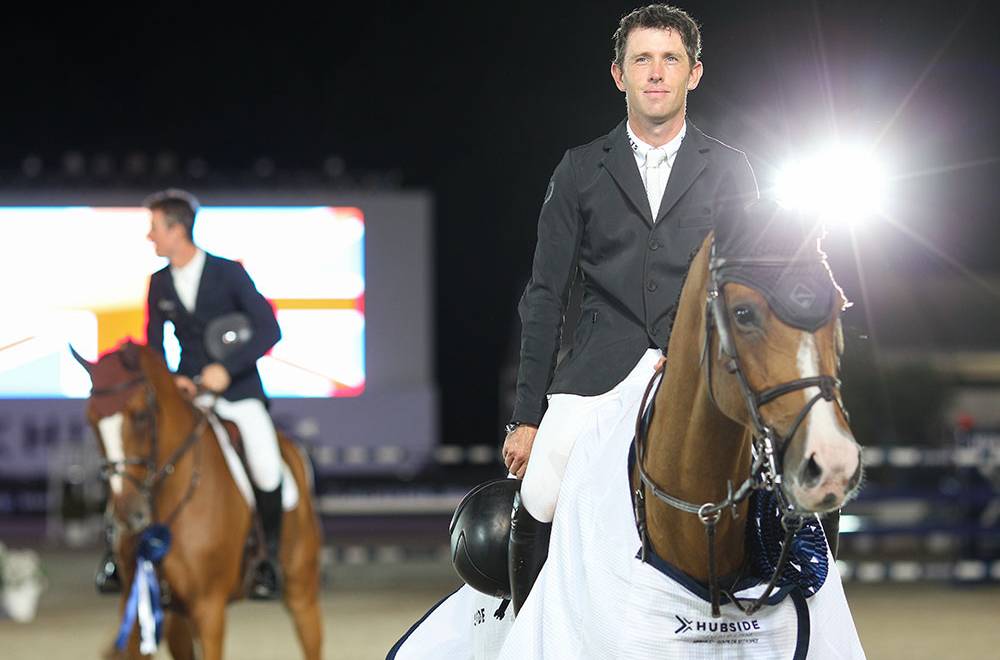 23 August 2020
For a second time, after he first won in Grimaud last October on Hello Senator, Scotsman Scott Brash, who is currently ranked the tenth best rider in the world, won the Grimaud CSI4* HUBSIDE JUMPING Grand Prix tonight, riding Hello Jefferson. He came in ahead of French rider Edward Levy, who is doing particularly well at the moment, and Belgian rider Jos Verlooy.
A first round full of 5* combinations
The lineup was no joke, packed with champions and stars of the showjumping world! The Grimaud CSI4* HUBSIDE JUMPING Grand Prix course, designed by Italian course designer Andrea Colombo, was demanding... but not insane! Out of the forty-four starters, a good third of the riders didn't find the key to the course, despite some clear rounds (Nicola Philippaerts, Grégory Wathelet, Jessica Springsteen, Alexandra Thornton, Laurent Goffinet), but in too slow a tempo compared to the one imposed by Colombo. The first rider to open the way for the clear rounds, Frenchman Edward Levy, who is definitely on a roll, rode Rebeca LS (Rebozo La Silla), confirming the excellent form of his string. He came second twice yesterday in the 1.40m (with Starlette de la Roque) and the 1.45m (with Mormoulin's Broadway) events, and he was already back winning again in the afternoon on Confidence d'Ass (Diamant De Semilly) in the 1.40m event, after winning the CSI3* Longines Deauville Classic Grand Prix last week, with Sirius Black (Calisaco Du Pitray). Quite a string, indeed! Halfway through the Grand Prix, only two riders had qualified for the jump-off, as the young 25-year-old Levy was joined in the clear round group by his elder, the reigning Olympic Team Champion, Roger-Yves Bost from Ile-de-France, who managed to qualify thanks to his perfect round with Castleforbes Vladimir (Vivaldo Van Het Costersveld). There were two more clear rounds before the break... The second part of this first round would fortunately qualify five other combinations. Ireland was to be represented in the jump-off by Darragh Kenny, who is currently the seventh best rider in the world, riding Balou du Reventon (Cornet Obolensky). And it was the same for Belgium, as Jos Verlooy and his mount Igor (Emerald), the reigning European Team Champions, also achieved a perfect first round. Currently the best female European rider in the world rankings and the Olympic Champion with the French team in Rio, Pénélope Leprévost, also made it through on Excalibur de la Tour Vidal (Ugano Sitte). Just like her compatriot Simon Delestre on Berlux Z (Eurocommerce Berlin). The last to set off, and the last combination to qualify: the current tenth best rider in the world, and 2012 Team Olympic Champion, Scott Brash, also won his ticket for the jump-off, with Hello Jefferson (Cooper Vd Heffinck). In the end, seven riders qualified for the jump-off.
Scott Brash, 26 hundredths of a second quicker than Levy!
First to start, Edward Levy achieved the first double-clear round, in an impressive tempo that will be referenced for a long time to come. The Olympic Champion Bosty, in his inimitable style, undoubtedly took too many risks with a daring turn and knocked a rail down; but no regrets for the rider from Barbizon, as his horse had a refusal at the penultimate obstacle… Irishman Kenny didn't manage to scare Levy: he clocked up four penalty points. The second double clear round, from Belgian Jos Verlooy couldn't manage to lower the Frenchman's time; at this stage of the jump-off, the victory had a good chance of going to the French! Pénélope Leprévost and Simon Delestre also notched up double clear rounds but failed to catch up with Levy and Verlooy, who were both still at the top of the provisional rankings. Last to start, Scott Brash was able to count on the powerful stride of his mount, Hello Jefferson. Bingo! With a perfect second round and a time that was twenty-six hundredths of a second quicker, he stopped the clock just ahead of the young Frenchman, winning his second 4* Grand Prix in Grimaud. Scott Brash (GBR): "I'm delighted with Jefferson's work. He really is an exceptional horse. I've taken some time to get to know him; he is particularly powerful. But now I think the relationship has really solidified and is working well. We've been together for two years, but it took us several months before we really became a team. He's brilliant, very smart. There were only seven jump-off competitors tonight, but I really want to congratulate the course designer who did a great job. His job wasn't easy, with the extraordinary set of riders he had to deal with: there were basically only horses and riders that you usually come across at the CSI5* level. So really, he had to offer us a 5* level course, otherwise there would have been twenty clear rounds in round one, which is not advisable. So really, congratulations to Andrea Colombo: his courses were fair, there were faults at every obstacle. I watched Edward Levy's jump-off, as he was the first to go. His mare has a very quick stride, but it seemed shorter than Jefferson's. So I relied on my horse's power to take off a stride before the last obstacle. I might've also left out other strides throughout the course. This is the second 4* Grand Prix that I've won here at HUBSIDE JUMPING. I would love to add the CSI5* Grand Prix next week to my prize list! Sadri Fegaier has done an exceptional job as the organizer; that opinion is unanimous among the riders and we are all very grateful. Tonight's Grand Prix reminded us all of that special atmosphere that we all love. It was really nice. I think we needed it."
Blizko release