Insurance available for frozen embryos and foals to be born for the next Ekestrian January auctions!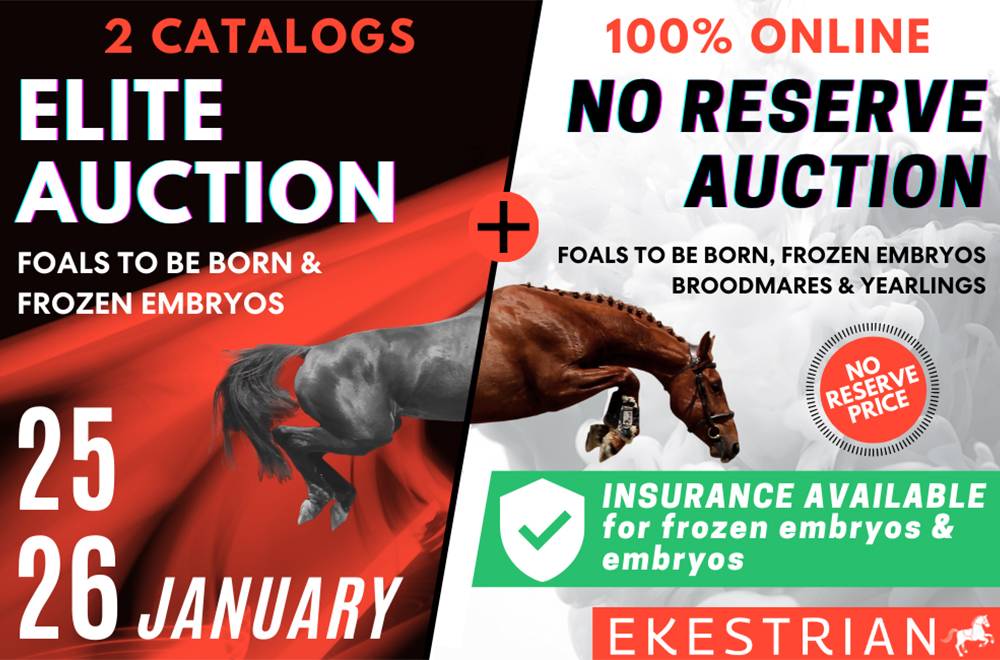 21 January 2022
The first two Ekestrian auctions of the year will be held simultaneously on January 25th and 26th! The lots are presented in two separate catalogs:
- 30 foals to be born and frozen embryos are presented in the Elite Auction https://bit.ly/3Iozz0v
- 14 unborn foals and frozen embryos as well as 3 yearlings and 2 broodmares in the No Reserve Auction https://bit.ly/3ImtJgc
Ekestrian is pleased to inform you that insurance is available at the end of the auctions for all the lots in the catalogs. In particular, all frozen embryos and foals to be born can be insured by the buyer.
Both auctions will take place 100% online and will start on Tuesday, January 25th at 11am (French time) and will end lot by lot, minute by minute on Wednesday, January 26th at 9pm (French time).
Don't forget to create your account and/or update your contact information on the website to be able to access the catalog and bid during the auction: https://bit.ly/3rDowKb
For more information and price estimates, please contact the Ekestrian team: +33.7.86.32.75.17 or [email protected].
See you soon on ekestrian.com !