Rowan Willis Goes from Strength to Strength
Photos & Vidéos (1)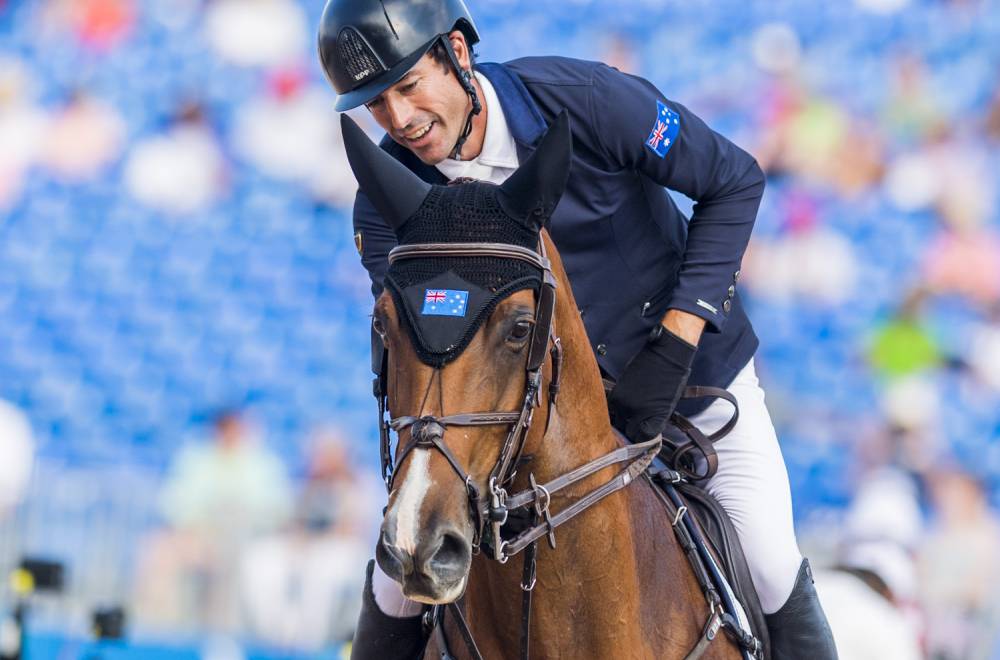 26 July 2019
By Jo McKinnon
Australian jumping rider Rowan Willis is riding in career-best form and could not have asked for a better end to the recent Spruce Meadows Summer Series winning the Derby there for the second year in a row on Everse W.
"It was a great way to finish off, there was a really good crowd there and my horse felt fantastic.
"It was nice to be going last in the jump off so I knew exactly what I had to do.
"The Derby always suits a bold horse and he's very game, so I think that suits him perfectly. It takes a little bit of different riding from a normal show jumping class," said Rowan.
Everse W, a 10YO Warmblood by Lexicon (NED), is a key member of Rowan's current team of horses which he believes is the best and strongest group he's worked with since becoming a professional jumping rider.
"He has already exceeded our expectations as a jumper and provided the owner (Dinah Posford) and myself with some good fun over the years.
"He's won in Europe and Africa and now America and Canada so he's given us a fair bit of fun all over the world."
Rowan's success at Spruce Meadows caps off what has been a stellar 12 months on the international competition circuit for him.
A major highlight for 39YO Rowan, who hails from Armidale, a small country town in Northern NSW, was the opportunity to represent Australia at last year's FEI World Equestrian Games in Tryon, USA.
Riding his top-class mare Blue Movie (Chacco Blue) he finished 12th in the individual jumping final at WEG and was part of the Australian team that finished in sixth placing overall and qualified for the 2020 Tokyo Olympics.
With just one year until Tokyo 2020, Rowan's preparations from hereon in are largely centred around his Olympic ambitions for Australia with Blue Movie being his leading mount.
"She's jumping well and I feel she's getting better and better with a bit of age and I am learning more about her.
"I am aiming towards the Spruce Meadows Masters and later on in the year we will try and do a few FEI World Cup qualifiers. It's a nice aim to try and qualify for the World Cup Final final next year and use that as good preparation for Tokyo," he said.
"I like to think I have a good plan already in place for Tokyo and I will use Spruce Meadows as my preparation for that, it seemed to work well before WEG. If everything keeps going to according to plan she should be in the best form of her life next year," he said.
Rowan has a soft spot for Blue Movie but admits she can be a challenge at times.
"She's taken a lot of time and patience to get where she is. We are still improving. She has taught me a lot about horses and management but she's worth it when you get to ride her in the ring.
"You can't ride her on the flat at home or warm her up which makes it difficult. We lead her off another most days, and do mostly walking and hill work."
Interestingly, he was drawn to her when she was just a foal and identified her at that very young age as a potential future star.
"She was very strong and very alert and so aware of everything and everything going on around her and I just thought that she would have to be extremely careful with that kind of attitude."
That early connection to the aptly named 'Carrots' because of her bright chestnut coat, came through his working relationship with Fred and Sue Welch in England.
"When I left Australia I went to work for them. Sue bred Carrots and owned her dam Showtime which Nick Skelton took to Atlanta Olympics.
"Sue bred five foals out of Showtime and I ended up with three of them. I sold one early and I had a horse out of her called Shark that I jumped all last year.
"Right from when Carrots was a foal I wanted to buy her off Sue. She had something about her and when she was five I bought her with the help of my parents and sister Renee, Michael and Wendy Jackson and Warren Coventry. We all chipped in and have enjoyed it the last couple of years with her."
Given her quirks, at one stage they rightly wondered if that investment was worthwhile.
"There were plenty of times when a lot of people wondered if she would actually make it because she was so difficult.
In one year's time that "difficult" mare will likely be on the biggest sporting stage and not only fly the flag for Australia but continue her faithful rider's ascent through the ranks.
"It's taken a long time and up until a few years ago I have always sold my horses to make a living but then I decided to try and keep them and get to the higher level and enjoy the sport.
"Obviously it has helped to have a horse like Carrots that has been competing at the top level which gives you the confidence that goes into all the other horses.
"She's my advertising and been key in getting my name out there and exposing me to the whole world of show jumping," said Rowan.