Quinta W, the 5-year-old Belgian Champion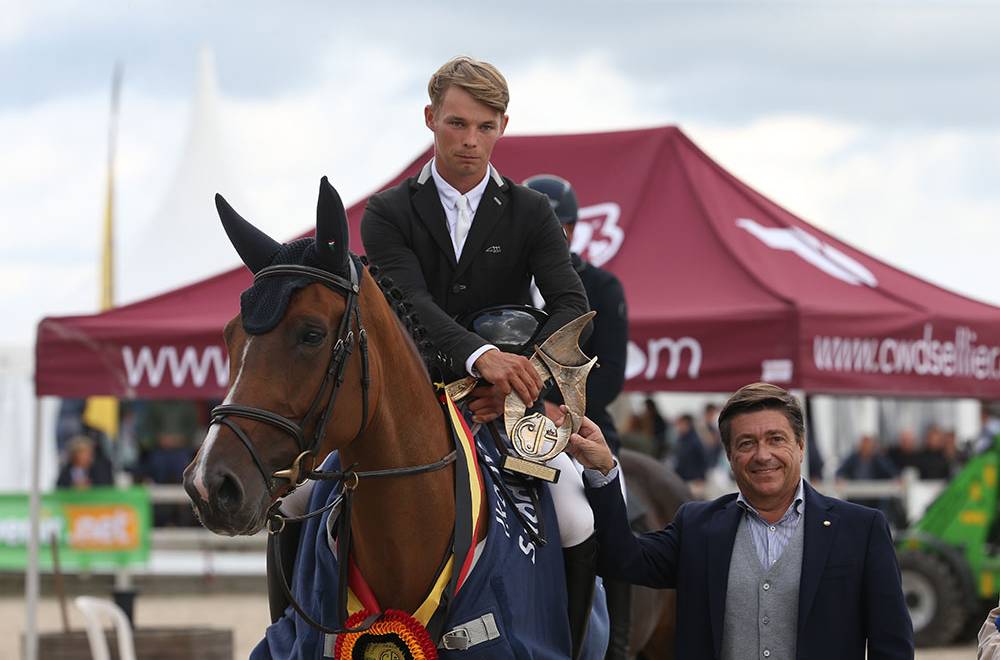 28 August 2021
With 67 finalists in the 5-year-old Championship class, you could expect a difficult and very selective final. In the end, we witnessed a great event which once again demonstrated the quality of the horses present at these finals, with no less than 17 runners-up.
Joris de Brabander's Stal de Muze was the big winner of this final even before the start, with no less than 24 offspring from the stallions distributed by the Antwerp breeding station, including no less than 9 descendants of Mosito vh Hellof (Elvis Ter Putte x Nabab de Rêve), from the Action Breaker and Quasimodo vd Molendreef line.
It was a jump-off that proved to be very tricky. It must be said that Charlotte Bossrez very quickly put the pressure on her pursuers. She had two magnificent rounds with one of the great revelations of this championship: Kamarelle de Vy (Emerald vh Ruytershof x Schilling) who showed enormous ability and impressive ease. She is out of the 4th generation of the Grand Prix mare, Kali de l'Espinette.
Manuel Thiry chose to be cautious with Daylight EM (Diamant de Sémilly x Chellano) who is a full brother to the former 5* Grand Prix winner, Cas de Liberté Z. With two time faults, he couldn't claim anything other than a good performance with a horse that isn't very experienced.
Katrijn van Hoecke and Stranger du B&A Z (Singular Joter x Diamant de Sémilly), and Virginie Thonon and the very nice Gstar des Trois Croix (Cornet Obolensky x Quidam de Revel) also had to settle for a nice double clear round each without giving the rounds everything, especially as the Liège-based rider had rushed with her first mount, but the result wasn't up to her expectations.
But the jump-off was getting livelier as Thomas Mertens went hard with a Dalton van het Eelshof (Dallas VDL x Lys de Darmen) who took the lead in the championship, but he didn't stir up any dreams either.
Wim Vinckx attacked the course and achieved an identical time with Uri van de Kattevennen Z (Uricas vd Kattevennen x Canturo), bred by the late Leon Spronken, known as one of the Philippaerts family's faithful owners. Uricas' dam is a maternal half-sister to Chopin du Château Hollogne Z, from the Vangelo des Hazalles, Kismett and the famous Good Luck line!
But an event is never over till the end and Arnaud Gaublomme lowered the time by almost half a second with Quabriolet van het Bildeken (Anakin van't Schuttershof x Burggraaf): 36.55 seconds; a new reference time.
Present with three horses in this final, Frenchman Clément Fortin, who just moved to Fabien Schreiber's place a month ago, started with Quinta W (Eristoff van de Zuuthoeve x Parco). She went very fast, and the clock stopped at 36.48 seconds! The 22-year-old rider has just won his first title in Belgium.
"I bought this mare at the end of this winter when she was doing her first courses because she had had a foal last year. She is still very green because she has only done the young horse cycle courses. She progressed very well during the season and again here, during this championship, she became more and more at ease. She's been walking around all week. Obviously, when you look at her breeding, you can't say that her sire is well-known, you could even call him average, but I really liked the mare the first time I saw her. Then we did the job as we have been doing it for years. I am very happy with my rider who started with me only a month ago and who hardly knows her and the other horses. Last week we were third in the LEWB Championship, and we have already won quite a few events. He is brilliant and we're having a lot of fun. Robinson Maupiler's girlfriend told me about him while he was in Normandy looking for work. I am definitely a trader, and everything is always for sale, but horses of this quality are rare, she has a lot of potential and is extremely easy too, so we will try to let her get a bit older and join our string of horses. I have often had star mounts but no star jockeys at home. Today I have one, and I will try to do everything to get him stay with me for as long as possible by going on a journey and building something with him. In the short term, we will now aim for Lanaken since our stables will be represented there with this mare as well as another one who won the cycle with Virginie Thonon," explained Fabien Schreiber.
Despite the victory, Clément Fortin remained unmoved, or almost: "I'm obviously delighted, but it's true that I'm not very emotional. Since the beginning, I've gotten along well with the horses, and we get along well with Fabien. I am competitive and I don't like to lose. Today, I was last to go in the jump-off, so I wanted to try my luck. I think that this week in Gesves is very similar to the one in Fontainebleau, except that the final is decided by the clock, which we don't have in France. Here, there are no style notes and it's true that in France, I wouldn't have been able to win the championship whereas here, it's really merit-based. In France, you can end up 10th or 15th even though you have a series of clear rounds, just because there are style notes. I think this system is better. Before coming here, I worked in various stables in France such as at Romain Bourdoncle's, and then I wanted to gain experience elsewhere. You must see things from a long term point of view. My goal is to train young horses and progress with the older ones... and succeed in business."