Quanan Rouge to the Haras des Princes.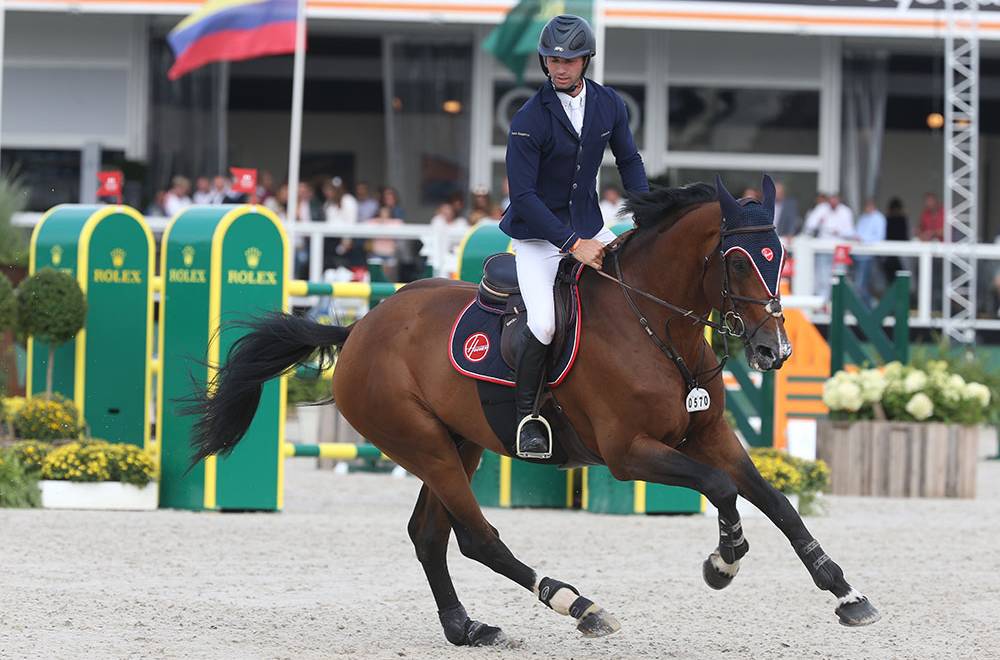 10 January 2020
After helping Julien Anquetin make his mark at the highest level, Quanan Rouge (Kannan x Saphir Rouge II x Jalisco B) is leaving the sporting scene to focus on breeding at the Haras des Princes. A Grand Prix performer himself, he comes from a very rich dam line. His granddam was none other than the full sister to the top stallion, Quidam de Revel. His brother, Pompon Rouge has also performed at the highest level. The lineage contains such horses as Vallon Rouge, Sheyenne de Baugy, Jus des Fontaines, Erenice Horta, Isidoor vd Helle and many others.
While so far the priority had always been on his sporting career, during the 2020 season Quanan Rouge will now focus on breeding at the Haras des Princes.
"My father and I bought a batch of twelve horses from Patrick Bizot. Of these we sold eleven... and kept Quanan. I wanted to buy my first horse, so I bought him back from my father. He was four years old at the time and I knew he had very fine genes. Patrick Bizot was a real reference in terms of origins. I didn't have any plans for him, I was just starting out... and I was lucky enough to see that he was very good. I just have one regret for him, that I met him too early in my career. But on the other hand, it's thanks to him that I am where I am today in my career. He had his own character and wasn't very forgiving, but that's also what helped me evolve and allowed me to reach the highest level. He's had an extraordinarily long career because at the age of eight, he was doing his first three-star Grand Prix and at fourteen, he still had an iron constitution and was jumping at Grand Prix level. He's never limped in his entire career. That's something pretty rare. He gave much more than I could have imagined and if he's still jumping today, that's because he loves to compete so much and I don't want to deprive him of the pleasure. It also allows my rider to gain experience. He's going now to focus on breeding as well, something which hasn't been a priority so far. When we realized he was so good, we had him approved at 7 years old and we produced some foals with friends or with our own mares, but that was more for pleasure than anything else. I don't know what moment I'll remember with him because there were so many of them. We had a lot of victories and there isn't one in particular that I consider more than any other. On the other hand, he is the horse with whom I've had the most firsts. He was the first young horse that I took taken to the highest level and I am very grateful for everything he has done for me." reacted Julien Anquetin.
After the departure of his protégé Number One d'Iso to Saint Lô, Marius Huchin hasn't been inactive and he came back with Quanan Rouge, a horse who has performed at the highest level but who still has everything to prove in breeding. "I always like to have a stallion present at home. When we took the decision to let Number go, I started looking around for a stallion for our stables. I was offered a lot of stallions, but I didn't like any of them until I found Quanan Rouge. He's a successful horse, son of Kannan and from a very good line, so obviously he hasn't produced very much yet and his first offspring are still young, but he has everything he needs to achieve beautiful things. For me, it's important to offer stallions that we like and that we believe in."