"Quality must always prevail over quantity, and be paid for at its fair value" Marie Pellegrin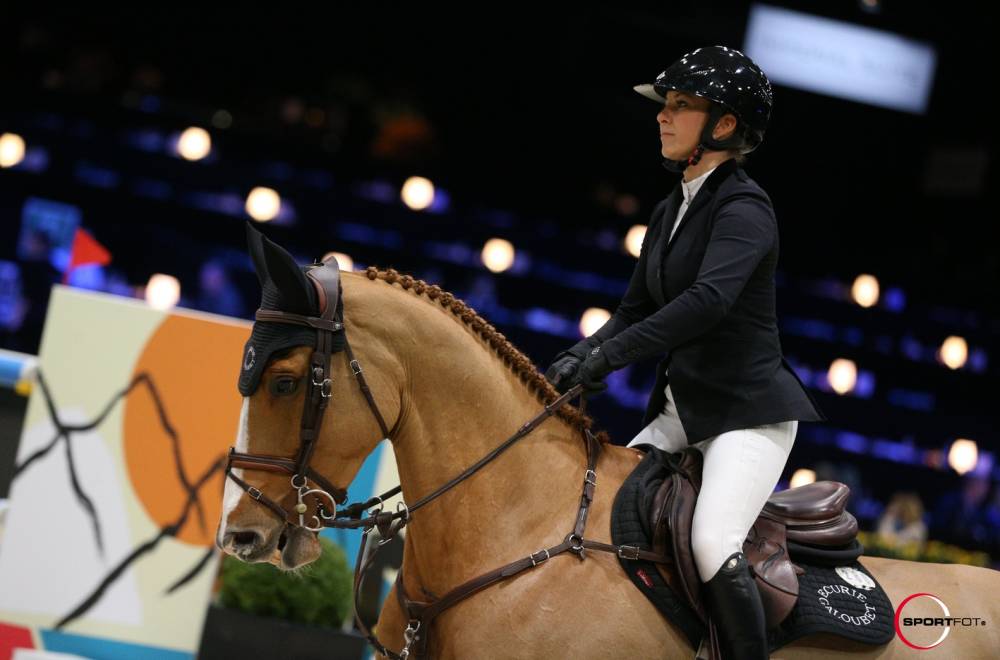 23 May 2020
The equine sector has been affected by the health crisis and strongly impacted by the unprecedented situation we have been experiencing for several months. Many equestrian sports professionals have begun to make their voices heard on this subject. Among them is Marie Pellegrin, a show jumping rider member of the French team. She wanted to make her reaction known and she confided to us her vision of what the "post-pandemic" vision should be.
WHAT DO YOU THINK OF THE CURRENT SITUATION?
"At this very special time, it is good to see all this solidarity on the part of so many people. Aware as I am of my opportunity and responsibility to evolve in the privileged high-level bubble, I have offered my help to the various structures in the region. However, I am still puzzled to see us all trying to pick up the pieces in our sector when all our problems stem primarily from an economy and a policy that has been more than questionable over the past forty years and more. We must now deal with the causes and not the consequences."
HOW DO YOU SEE THE EQUINE INDUSTRY TODAY?
"If our country is doing well, so is our industry. The FFE, IFCE and SHF are doing what they can to alleviate the crisis and emergency while remaining dependent on government decisions. As in all difficult times, we witness unacceptable behavior. Riders have threatened to remove their horses from structures if they are not allowed to ride during containment, and some professionals have taken advantage of the situation to attract new clients by promising them the opportunity to ride (both of which are prohibited during containment). We are only a reflection of our society with a short-term vision. Everyone is concerned with their own unique destiny at the cost of a collective future which will be indispensable in the world to come.
To put matters simply, the industry is currently based on the clubs that provide the funds and the practitioners, breeding that "provides the product", the high level that provides the brand image of the industry, and of course on all the indispensable jobs involved in the proper functioning of this system. Riders, breeders, owners, horse dealers and competition organizers must be better represented and work hand in hand: one man, one voice, for a true expression of democracy. We all depend on each other."
THE HEALTH CRISIS HAS HIGHLIGHTED SEVERAL DYSFUNCTIONS WITHIN THE EQUINE INDUSTRY. WHAT SOLUTIONS DO YOU SUGGEST?
"We need to think about re-professionalizing our industry, in order to protect all of its players and justify their legitimacy. First of all, we need to increase training programs, since our national equestrian heritage is invaluable and is gradually falling into oblivion. In particular, the training of teachers, which is currently at an unacceptable level, should include an understanding of accounting, human and animal management. It is paramount that we train real horsemen and not leisure center instructors. In order to do so, compulsory training must be put in place for all those who want to become professionals. To date, there is no diploma required outside of teaching. Anyone can become a manager of an equestrian structure, breeder or merchant to the detriment of all the professional people who make a living out of it, and of animal welfare.
With regard to competition, which is getting tougher and tougher, it seems to me that it would be good to consider a minimum distance between each structure, based on target clientele. This would be for good and profitability of each one. Pony clubs, also victims of the race for profit, should be managed by competent and qualified people to ensure the quality of the services and animal welfare. Technical learning, a taste for work and effort, and above all respect for the horse – all these things start from childhood.
Our position in the agricultural sector needs to be reviewed on many points. The list is a long one, so I intend to cite only two examples. One is the 20% VAT - even though we pay into the MSA (agricultural social security, editor's note) - which penalizes our sector, and more specifically the horse trade, with a difference in VAT between professionals and amateurs. The other is the difficulty of access to land which is necessary for stability and profitability.
For many breeding is a loss-making business. This is an observation which my knowledge does not allow me to propose sufficiently enlightened solutions, except perhaps for two which concern top-level sport: a real distribution of profits, if any, between the breeder, the rider and the owner and the introduction of a real bonus to the breeder inspired by the world of horse racing."
WHAT LESSONS DO YOU THINK SHOULD BE LEARNED FROM THIS HEALTH CRISIS?
"Horse riding is much more than a sport or a hobby. It is above all a profession, a passion, a vocation. This crisis only highlights the large number of dysfunctions and the general malaise that existed before. A large number of people use particular professional statuses to survive in their daily lives, which today do not entitle them to partial unemployment. Some actors in the sector are out of breath, discouraged and powerless. They are unable to work any better due to a lack of time and means. They are the collateral victims of the extreme democratization of horse riding, the levelling down of requirements and the harsh competition in terms of prices. They forget what they started this profession for: the love of horses.
To the owners who complain about the post-containment condition of their horses, I will answer: "At more or less three hundred euros of boarding per month, what did you expect?". Taking the time to do things right is no longer profitable. A horse requires human and financial resources, specific skills and knowledge, but above all time, a lot of time. Let's not forget that animal abuse is born out of ignorance. There is an urgent need to raise awareness and thus change mentalities. And to do this, we must repeat and repeat again the following message: quality must always prevail over quantity, and be paid for at its fair value. A vast agenda..."
Interview by Manon LE COROLLER. Featured photo: © Sportfot.com