Pros' advice – Pieter Devos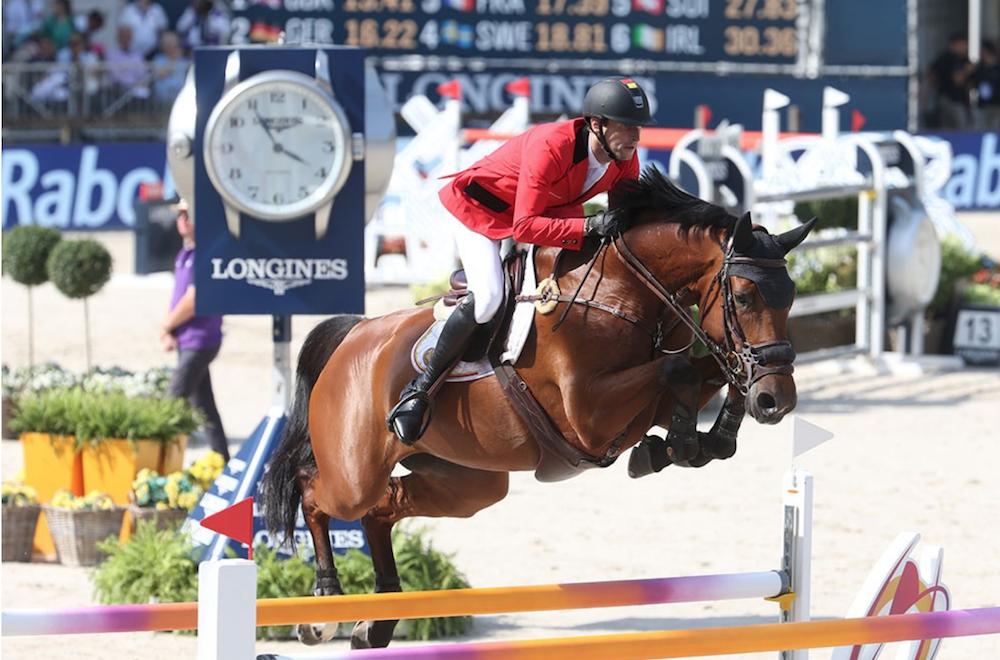 30 March 2020
In these uncertain times due to the Covid-19 pandemic, Studforlife offers you a tour of the different methods and techniques riders are using to keep their horses in shape.
In this fourth episode, World No. 6 Pieter Devos explains his daily life, which has been turned upside down, particularly regarding the family fruit and vegetable business. In order to meet the massive demand, the work is substantial. Not to mention that the European Team Champion broke his hand in Doha and is therefore riding less than usual.
With the postponement of the Olympic Games having been announced, the pressure has obviously eased up on riders: "The horses are worked every day and as we've been lucky with the good weather these days, they go to the field every day. They also do a lot of riding, especially in our fruit tree plantations. We continue to work them on the flat. In my opinion, this break will last a while, so it's important that they stay in a good routine by jumping regularly. We plan to have jumping sessions about once a week. We prefer small gymnastic exercises, because for the moment, we won't be asking for a lot of effort. For me, it's very important for their morale that they go for a hack, but not only during this period. It has always been a point of honor for me that my horses go outside a lot."
Pieter Devos on Apart (Larino)
The management of the star horses of the Devos stable is therefore a little lighter: "Usually, Grand Prix horses are ridden on the flat in the morning and go for a hack in the afternoon. But right now we aren't riding them twice a day. They are ridden alternately on a hack or on the flat and they go to the field in the afternoon. We also let them rest. "I never jump high at home; I think it's important to keep the horses fresh and in a good mindset. Don't ask them to do exercises that are too difficult, don't complicate things unnecessarily."
This forced break will also allow the Belgian rider to devote more time to the young horses in his stable, although he still only rides a little at the moment as he broke his hand at the CSI in Doha: "I didn't know my hand was broken, I just thought my fingers were bent, but after a week it hurt more and more, so we took an X-ray and discovered the fracture. Since there is no pressure, I don't ride a lot to help it to heal properly. I started riding three horses again a few days ago, but my hand still hurts, so I'm not going to hurry. I'm taking advantage of helping my riders, especially with the young horses, because we have a good bunch of young ones. It's my wife and my stable riders who ride them, but I'm fortunate that I'm able to help them more than usual and to evaluate the quality of our young horses."
Pieter Devos & Clair Z (Cleaway)
And how does he envisage competition resuming? "In my opinion, it's not going to start again soon. I think that 2* events at set competitions will be able to start again as soon as normal life has resumed. But for the 5* competitions, it's going to take time. I'm not going to make any plans until I know exactly when we can start again. However, as soon as we know, we'll draw up a schedule so that the horses are back in shape when the events and deadlines start up again. They'll probably do one or two small 2* events again. But we have to wait and see how the situation evolves."
The postponement of the Olympic Games is also a new factor for the young father to consider: "Of course there's less pressure, but I'm an athlete, I'd rather have that pressure. Nevertheless, I think the IOC has made the best decision. On a personal level, I'm obviously disappointed, because I had a very specific program for Claire, who I thought I would be taking to the Olympics. After Geneva, she had a three-month break so that she could come back in top form. I think she would have been in good shape for this season, but I have no doubt that she'll also be very competitive next year. And it's the same for everyone. For now, the most important thing is people's health, it has to come first, before sport and before the economy."
Pieter Devos also reminds us that sport isn't the only one impacted by these decisions, but the entire equestrian sector: "In this period, there is no financial income. In my stable's case, the financial income comes from competition winnings. We can no longer sell horses either, while I still have a lot of staff and many fixed costs. It's a difficult situation. But let's not forget that we're privileged because we can still train our horses and continue to train the young ones. Others face a much worse situation. There is less trade, but the horses don't lose their value. There are other businesses that, when the crisis is over, will no longer be valuable."
Pieter Devos at home in 2008
The family-run fruit company takes up almost all of the European Team Champion's time: "I'm drowning in work. In the food business, you also have a responsibility to the people. We do everything we can to keep the company running, to supply supermarkets and to keep people eating. We work with Polish workers, who wanted to go home, so we had to work hard to keep them. I'm not going to complain, because we can still work when there are many sectors that are more affected than we are. But these are difficult circumstances. As a sales manager, I'm trying to manage this crisis as best I can. Fortunately, I can count on a very good team around me." Important health measures have been taken to guarantee the safety of everyone working in the company: "Only employees can enter, and we no longer hold meetings."
There is also a shortage of labor, as on all farms: "If you don't have workers, the business doesn't work. It's difficult to manage, you try to find solutions to having enough people. For now, it's still Winter, so it's fine, but in a few weeks, the work on the crops will start and we'll have to find labor. A lot of people have gone back home and those who were supposed to come back are not coming back for the moment. They are staying in their home countries, which is normal, but there is a labor shortage. We have yet to find a solution. We're seeing if we can mobilize people from the region, to form a team to work outside. We don't want people to mix and mingle to avoid putting our employees at risk.
These are the challenges and uncertainties facing Pieter Devos and his staff.