Pros' advice – Martin Fuchs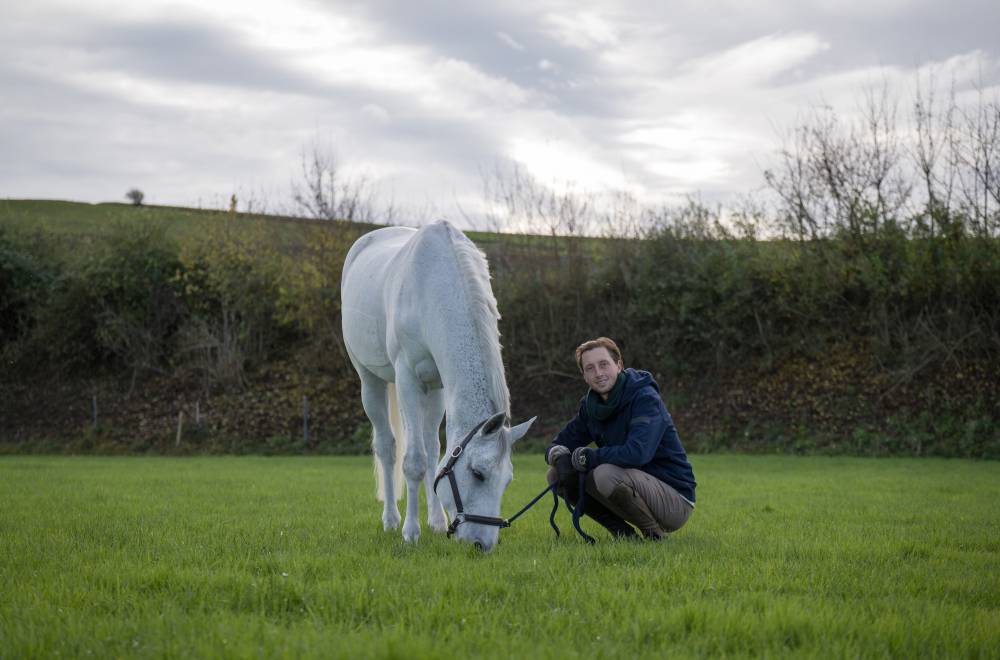 24 April 2020
In these uncertain times due to the Covid-19 pandemic, Studforlife offers you a tour of the different methods and techniques riders are using to keep their horses in shape.
For this 6th interview, let's meet Martin Fuchs. The World No. 2 talks about his training program, his philosophy on the current situation, the new recruit in his stable, and his strategy for the resumption of competitions.
Martin Fuchs and Clooney 51 at the Rotterdam Europeans
Martin Fuchs, who is based in Wängi near Zurich, explains his horses' program: "My horses jump once a week, but not very high. I alternate between gymnastic exercises and courses. The rest of the time, they're worked on the flat or lunged. I ride in the morning until 1 to 2p.m., and then I take the opportunity to do everything I don't usually have time to do, such as going for hiking, cycling, reading, playing Playstation, going to the sauna... or paperwork." It might seem like a relaxing time for the European Champion, but as he points out, "it would be a nice time if it wasn't so financially stressful." As for most top riders, the costs are still there, but the financial income from competition winnings no longer exists.
Martin Fuchs and Clooney 51 winning Gold in Rotterdam
The stable star is obviously Clooney 51 (Cornet Obolensky), his partner and silver medalist at the 2018 World Championships and his European Champion winning mount in 2019. The talented Swiss rider describes his star mounts' typical training program: "This Monday he was ridden on the sand and grass by my rider Steffi. On Tuesday, he had a lunge and was jumped. On Wednesday, he had a hack and a gallop on the sand. On Thursday, he did gymnastics. On Friday and Saturday, he hacked, and he had Sunday off. And he goes to the park and the field every day. All my horses have the same program, whether it's Chaplin or The Sinner. This non-competitive period seems to suit the horses well. However, most of them had already had a break from February to March when I was in Wellington."
So it was in March that Martin Fuchs and his friend Paris Sellon returned to Switzerland. "The return from the United States went well. Of course, it was a bit difficult to find a flight, but we made it."
This non-competitive period could have been an opportunity to devote more time to young horses, but Fuchs doesn't have any in his stable. "I have my 8 top horses and I ride 4 per day, alternating which of them that I ride." One of his star mounts is a new recruit, Stalando (Stakkatol): "He's 12 years old. I brought him over from Wellington where he was winning a lot. He belongs to some Polish clients who asked me to ride him a bit. He proved to have the ability to win at 5* level, and as a result, he joined my string."
Can we get any advice from the World No. 2 on keeping horses in shape during this period? "Nothing special, but for my part, I take this opportunity to improve their dressage work and enhance my canter pirouettes."
Martin Fuchs and Clooney 51 in Rotterdam
And what does he think a return to competition will look like? "I hope we can get back to competition soon. I think we'll be able to start with national competitions. I'm also in contact with several organizers in Switzerland who, as soon as competitions resume, will be ready to organize events up to the national Grand Prix level. It will therefore be a question of doing several national competitions to get the horses back in the game before getting back on the road to the 5* level."
The Olympic Games postponement doesn't fundamentally change Martin Fuchs' plans. "That remains the number one goal with Clooney. Of course, I'm disappointed about the cancellation of the CHIO Aachen, where I wanted to try to continue my attempt at the grand slam after my victory in Geneva." It's only a rain check for Martin Fuchs.