Pros' advice - Gudrun Patteet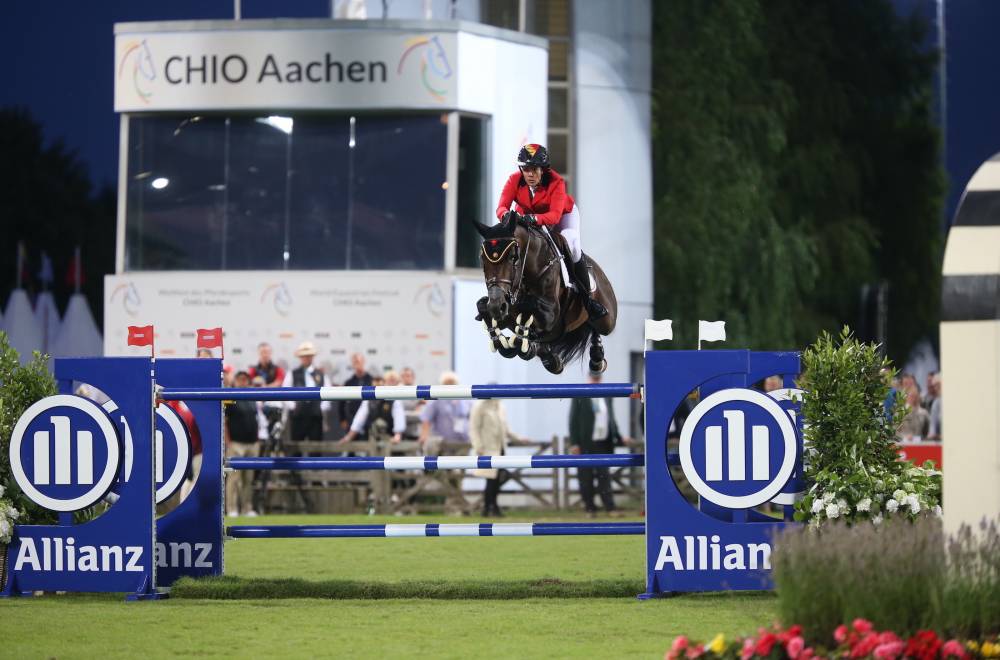 06 April 2020
In these uncertain times due to the Covid-19 pandemic, Studforlife offers you a tour of the different methods and techniques riders are using to keep their horses in shape.
For this 5th interview, we'll look for answers from Gudrun Patteet. The Belgian rider explains that the current situation is allowing her to do some embryo transfers with her leading mares.
Sea Coast Pebbles Z (Picasso Zx Flamenco de Sémilly x Féo), is a maternal half-brother to Ben Maher's great winner: Aristo Z, Andiamo Z'son and Pebbles' father.
At the beginning of the year, Gudrun Patteet achieved a series of good performances, winning several Grands Prix on the Sunshine Tour. Some of her horses were already very competitive: "The horses that jumped in Spain are working a little more quietly at this time, and the others, which should normally be in competition by now, are being trained normally. I try to jump a line of gymnastics or a course once a week. If they're good, they jump only once, and if I feel it's necessary, I do a second session."
As with many riders, the key to this special period is to vary the horses' program as much as possible: "They go to the field and I try to alternate work as much as possible. I'm lucky to be able to take advantage of the well-laid-out facilities here that offer me a lot of options. As soon as the weather is nice, I do a lot of outdoor work. I take advantage of the grass and gallop tracks. I can change up what we're doing all the time, and it's good for my morale too."
Last June, Gudrun Patteet brilliantly won the Longines Masters of Lausanne Grand Prix, but this year, many 5* events are cancelled: "I understand that the competitions are cancelled, because it represents a lot of risk for them. For us riders, we don't even know if we're going to be able to compete. When it does start up again, we can't jump into 5* events right away because both the horses and us need a certain routine to get to that point. We'll start with national competitions then 2* events before doing big courses again. I hope that there will still be some nice competitions this season, because it is not easy for the organizers to set up competitions of this level."
No competition also means no financial income, so it's a delicate situation to manage: "The costs remain the same even though we have no income. Horse sales are also at a standstill. It's going to be complicated for people if the situation lasts much longer. Not to mention that we can't give lessons. If you don't have a big sponsor behind you, it's not easy."
And when the competitions resume, what's on the agenda? "Right now, I'm not jumping big obstacles at home, but if the situation persists, I might jump higher with my top horses, because they have to stay in the swing of things. A one-month break is not an issue, but if it goes any longer, we'll have to think about it."
Sea Coast Valdelamadre Clooney (Centauer Z x Quatum x Nimmerdor)
In this exceptional situation however, the rider highlights a few positive points: "There are also advantages, such as having more time to work with the young horses and assess their potential for the top level. I can devote more time to them. "But that's not all, this break also changes the breeding situation: "If this situation continues, we'll do embryo transfers with our top mares. Usually we don't do that, because as soon as they are 7 or 8 years old and they're competing at the top level, I don't want to disturb their cycles. Now, being at home, why not try to experiment? It would be nice to have an embryo from each of these mares. Normally, sport is the priority, but the current situation would allow for the transfers. We also have stallions ourselves so it's interesting."
For those who are lucky enough to still be able to ride and train her horses, Gudrun Patteet shared one of the exercises she likes to do (video below): "These are several small exercises that we put together to make a small course. I like gymnastics, but to make it not too repetitive for the horses, you must vary them. By setting up several different ones in a row, it allows the horses to concentrate."