Pius Schwizer – experience and passion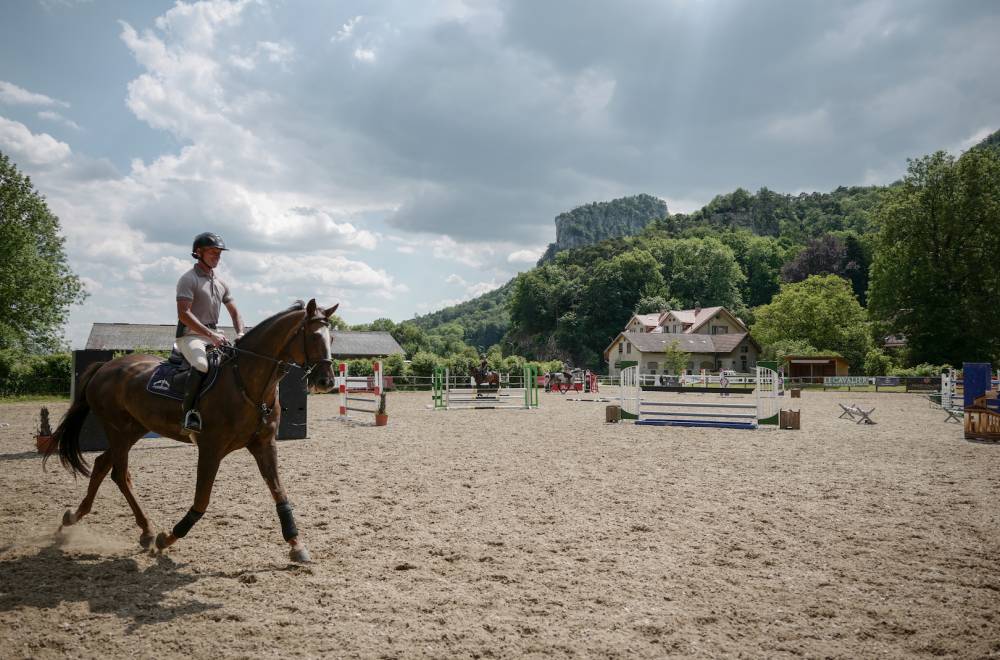 24 June 2020
In this third part, Pius Schwizer explains his organization in Oensingen.
How many boxes do you have here in Oensingen?
Nearly 70, and we have about 60 horses. I wish I had a little less, but being a trader and a rider, there's always a lot of movement. Some leave, some arrive. I don't just have clients who jump in competitions, but also riders who just want to go for a ride. In fact, I just sold a good jumping horse to clients who are going to use it for vaulting!
Tell us about your staff...
There's Alexis Goulet and Florence, my wife, as well as our stable riders and grooms. Alexis Goulet, who has been with me for a year, has a lot of potential. He's an outstanding rider... although he still needs to learn a little bit of the Swiss mentality so that he can progress! Joking aside, I'm convinced he's got a great career ahead of him. He has a lot of talent, a lot of feeling. As a trader, it is extremely important to have good riders at home, because I cannot ride all the horses myself and I must be able to count on a solid team, especially for taking the youngest horses to competitions. Alexis can also jump a lot here, which gives him a routine, an essential element to work on. He has to keep on learning and not believe that if he wins a national Grand Prix, that he is the world champion... The next morning, he'll have to start at 6am instead of 7am! Then there are the grooms, the competition ones and those who stay at home.
And how did you do during the break due to COVID-19?
I did quite well, I must say. I've been able to do more business than I have ever imagined. Many former riders who have worked with me have come to me with clients, such as Marcel Wolf, winner of the Humlikon Grand Prix last year, Jason Smith, Elian Baumann, Simon Bürki and Jane Richard Philips. I think it's a great mark of trust when they come back to me with customers! The other advantage is that I promised myself that if I won gold at the Olympics, I'd hang up my boots... Therefore, their postponement gives me another year! That said, this is not a virus to be taken lightly. A bunch of people I know ended up in the hospital because of Covid.
What does a typical day at Pius Schwizer's look like?
We start by feeding the horses at 6:30am, then we all clean the boxes, there are no exceptions. Then we have breakfast and afterwards we start riding at 9 o'clock. Sometimes I teach a few classes before I get in the saddle. Then we ride until we're done. The days can be long!
Do you like teaching?
Yes, a lot! I like to develop talented horses, but also talented riders. On the other hand, there are people who have no talent, and we have to tell them, because they are putting themselves in danger. Even the wealthy can't buy talent! You have to have that extra something in you to succeed. I started jumping when I was 5 years old, started riding courses when I was 8, and that's the reality. It's not something you can buy!
To be continued tomorrow...