Pius Schwizer – experience and passion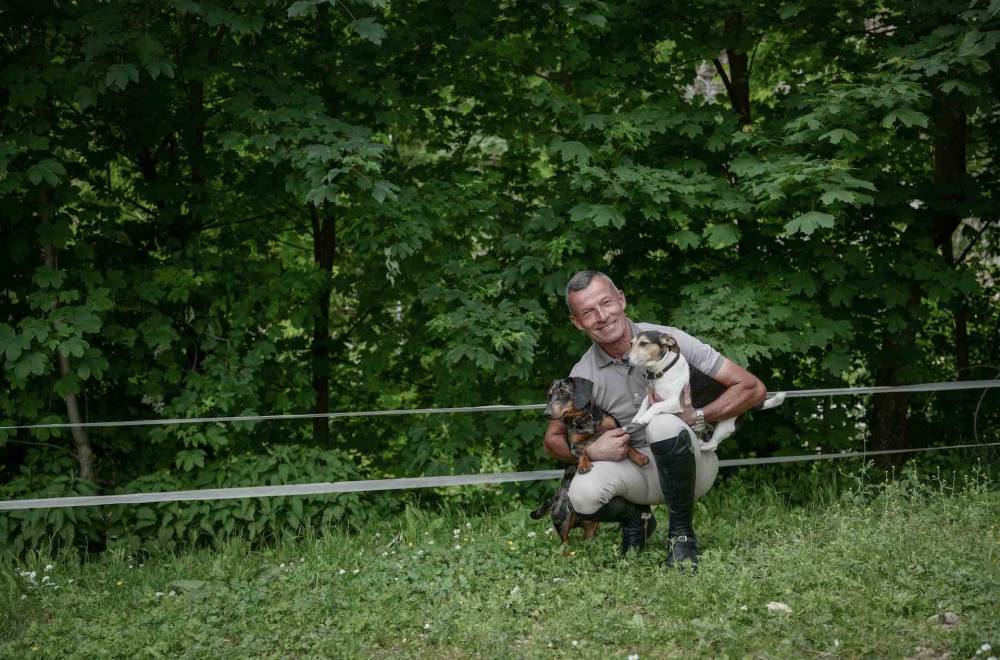 23 June 2020
Second part of our meeting with Pius Schwizer. The Swiss rider talks about the horses that have impacted his life, like the fabulous Carlina.
Where does the Schwizer method come from?
Pius Schwizer: I've always been very observant of other riders. That's how I learned. That's where my riding style and my system came from. I've also watched countless course videos. It is important that the ride is neat, but it's not the most important thing, it must also be fair. If I had to name just one, Willi Melliger has always been an idol to me, he had incredible talent on course.
Do you have a coach?
I trained with Achaz von Buchwaldt a lot. I think he's the perfect coach. And above all, he's a fundamentally nice person. He doesn't say much, but what he says makes you think a lot. He knows how to motivate you, he's very strong mentally. I've also had the chance to work with other good coaches, such as Henk Nooren and Thomas Fuchs, but I have to admit that Achaz von Buchwaldt taught me a lot. In fact, even today, I send him videos of my rounds to get his opinion.
In Switzerland, people often talk about the need to go abroad to improve their knowledge, but that has not been the case for you…
No, it hasn't. I've never left the country. That said, for me it was primarily a financial issue: my parents simply couldn't afford to send me abroad. I feel like it's become a bit of a trend now, but back then it wasn't like that. I also find that among today's youth, there are riders who get everything too quickly and take it for granted. Moreover, it is not uncommon to see them at a high level for a short time before they disappear from the radar, because they no longer have the horse that allowed them to perform those feats. They didn't have the necessary talent, but they had an exceptional horse. My philosophy has always been that you have to know how to prepare to move ahead. When I was World No. 1, someone told me, "Do you remember all the steps you took to get to this point? Don't forget them because you're going to go through them again on the way down." You have to accept that you will go back down the rankings. Nothing lasts forever.
Which horse has made the biggest impression on your career?
Carlina, without hesitation. She was an exceptional mare. She had all of the ability, was a real phenomenon on course, was easy to ride, and she didn't look at anything. I spotted her when she was 7 years old in a young horse event where she was being ridden by Philippe Lejeune. We had the same owner, François Leiser, who then entrusted me with the mare. I was very lucky to be able to ride such a horse. I may have missed out on an individual title with her, but Carlina taught me a lot. In hindsight, I realize I may have been trying to move too fast. At the age of 8 she was racing around the Aachen Grand Prix as if it were a walk in the park. It was a little too soon. She should have been given a little more time, done easier things, especially at 8 years old, and the rest might have been different. But she never had any health issues. When Carlina left my stables, she was in great shape. I won't make the same mistake again. I know I can wait if I get a star mount with that mare's temperament and give them time.
Ulysse is also one of the horses that also had an impact...
Of course! He was a very difficult horse. He was a little wild when he came into my stables. But I've always believed in him. I knew he could become a Grand Prix horse. He was already 11 years old when he came to me, but since he hadn't been ridden much before, I was convinced that he could still improve, which he did. When he arrived, he had caused problems with his previous riders. My groom was getting picked up, she couldn't stop him doing it! But through hard work, I managed to teach him how to stay calm, and he kept progressing.
And the story doesn't end there, as he ended his career with your wife, Florence...
Yes! François Leiser, Ulysse's owner, wanted to get him back for his spouse. But I wanted him to stay with me, because he had given me so much. I had to pay quite a bit of money for a 17-year-old horse, but he deserved it. Florence was thus able to have some good rounds and learn how to ride him, as he wasn't easy. Although she made her debut at the highest level late in life, having first attended university, Florence has a lot of talent. She works hard, she listens to me… Contradicts me sometimes... Coming back to Ulysse, he is now enjoying a peaceful retirement in Sevaz, at a stud where he is enjoying the large fields there. I went to see him a few weeks ago. He's still in charge!
You have a reputation for bringing many horses up to a high level. What's your secret?
I just like to train horses a lot, that's all. I don't find it very interesting to buy horses that are already competitive at a high level. I couldn't afford multimillion-dollar horses anyway. Nevertheless, I think I'm good enough at assessing a horse's potential and bringing it up to the top if I think that's possible. People have to learn how to train horses. Some people buy horses that cost a fortune, but are unable to ride them and that, for me, is a real disaster.
To be continued tomorrow...