Pius Schwizer – experience and passion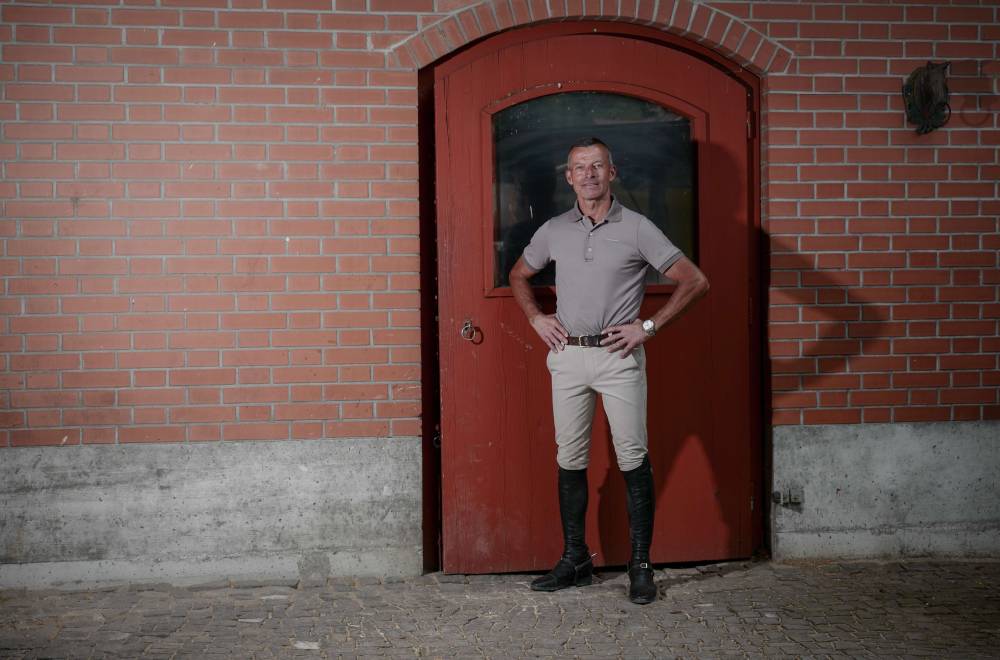 22 June 2020
Pius Schwizer seems to have always been part of the Swiss equestrian landscape. However, his road to the top has been a long one. He who - as he himself says - never gives up, has persevered to reach the heights of equestrian sport. And his efforts are paying off: in 2010, he became the World No. 1. The Swiss rider's track record includes a team bronze medal at the 2008 Olympic Games, a gold medal at the European Championships in Windsor in 2009 and two World Cup podiums with Ulysses and the phenomenal Carlina. We're taking a look back at the career of the reigning Swiss Champion, who opened the doors of his Oensingen stables to us. The 57-year-old rider speaks frankly about his vision for top-level sport and his philosophy on life.
Tell us how you started horseback riding. Do you come from an equestrian family?
No, not at all. My father was a farmer and cattle merchant. I grew up on a farm in Eich, near Luzern, where I was soon put to work on the farm. My father had never ridden a horse, because my grandfather used to say that horses were there to work in the fields, not to be ridden. I don't know if he was frustrated by this, but when I showed an interest in horses, he gave me the opportunity to learn to ride, especially from good riders like Willi Melliger. My brother and three sisters also rode when they were young, but they didn't pursue a sporting career.
When did you first make it to the top level?
Very late! We didn't have the money to buy quality horses. So I had no choice but to find cheap horses and try to improve them, because I didn't have the means to reach the highest level: I have never participated in European Junior or Young Rider championships. I just rode at the regional level, in 1.20 and 1.30m classes. I had to make do with the horses I had, and I rode a lot of difficult horses. Looking back, I'm convinced that that helped me as a rider. Since I didn't devote all my time to horseback riding, I also participated in other sports, such as football and running. I even won a half-marathon! Now, you have to choose early on which sport you want to play, but back then you could afford to try everything. When I was 26, I started at the national level because I had better horses. People also noticed that when I was entrusted with horses, I made them progress. I began to be seen as a rider who could handle particularly difficult horses. From then on, my career quietly evolved. I'm convinced that this slow progression has been a good thing because I've been able to ride a range of very different horses. I've learned a lot. Especially to never give up... Even today, that's a principle that is close to my heart.
You became a professional later than many other riders. What profession did you practice first?
I first apprenticed as a butcher. It was a pragmatic choice for me, as I had always been in that world, but wanted to have more freedom than my father had as a farmer. In fact, in our region, many good riders were butchers, like Willi Melliger. It wasn't really my thing, but I was lucky enough to have a very good apprenticeship master, who was also a horse dealer and let me ride. Every day, I was able to perfect my riding skills.
When did you make your international debut?
Not very quickly either. I was quickly successful at the national level, but it was a long stage of my career. You have to remember that at the time, there were some incredible riders on the Swiss team: Willi Melliger, Markus and Thomas Fuchs, Lesley McNaught, Beat Mändli, Urs Fäh... So it was hard to join the team. But I never gave up, because I knew that one day, I'd have a place there. It certainly took me a long time, but I'm still here, a few decades later, and that's something that matters a lot to me. It was a tough start: I travelled thousands of kilometers to ride in competitions that I could enter, all over Europe. I bit my tongue, but it paid off. I built my team up, and success came. I was the World No. 1 in 2010 and that proved to me that I was right to persevere. Being No. 1 in your sport is no small thing, and something that only a few can afford, and there are many good riders who will never become No.1. It's a great source of pride. That is still the best moment of my career. And it could never have happened without the exceptional horses that crossed my path, like Carlina, Ulysse, Nobless and the others.
In a career that has spanned almost 40 years, you have been around many generations of riders and you're still here, still competitive...
To last, you have to stay in shape. I have to say that I am lucky to have always taken care of my body: I play a lot of sport; I never smoked or drank alcohol. I'm not saying that I did everything right, especially with women, but I take care of myself. I don't even talk about drugs: I wouldn't touch them for anything in the world! If you want to break through in top-level sport, you need physical fitness, but also a good ability to withstand pressure. You have to be mentally strong to deal with all this, and I think my education has a lot to do with how I deal with these things. Sponsors, customers, finances, all of them are part of a set of factors that must be controlled, as in any business. Not to mention the owners who call you to tell you that you've ridden badly: in those moments, you have to have strong shoulders and keep going. I've had some great owners and some very complicated ones. You have to deal with it no matter what. You have to move forward and believe in yourself.
Today's elite riders all have physical training programs that are targeted to becoming accomplished athletes. Do you think you were a forerunner of this trend?
I didn't really ask myself that question. There's nothing premeditated in my way of doing things: I work a lot, all day long, and that's all. I never spare any effort, never count my time, never look at my watch because I'm in a hurry to finish the day. But to get back to the fitness issue, I have to say that I have been wondering for some time now whether the weight of the riders should not be debated: the FEI has ultra-strict rules, for example for the control of jump boots or the tightness of the noseband... For me, a guy who is too heavy in the saddle is much more likely to make his horse suffer than is the case with other practices. What if we weigh riders, like we do with jockeys?
To be continued tomorrow…