Pieter Clemens: riding is in his genes!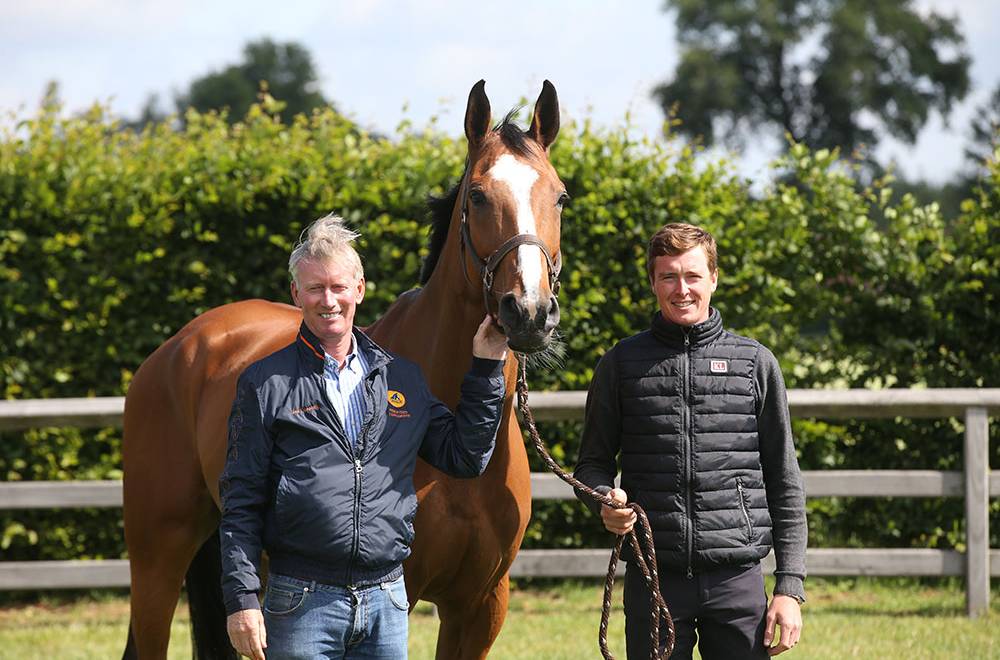 19 June 2019
Second part of our meeting of the week.
When you decided to leave Doperheide, was Ludo a bit disappointed or did he understand your choice?
"I left on good terms. I think he understood that I wanted to go a little higher and he knew that it wasn't possible to keep horses for me to ride while he was still riding, and that his two sons were riding well at the highest level. My parents would have preferred me to stay at home a little longer, but I think it was important to leave, to be on my own a little, to keep my feet on the ground. It allowed me to find my way."
Was it hard being alone at Ashford Farm while you were still young?
"I was 19 years old, but I was so lucky that Marlon Zanotelli was there too... before that, he also rode at Ludo's. So I knew him really well and he helped me a lot. I think if I had arrived somewhere where I really didn't know anyone, it would have been pretty difficult. Enda has always been very good to me too and has also helped me a lot."
In the end, you decided to leave Ashford Farm without really knowing what to do... but very quickly, Jos Lansink invited you to his stables.
"Yes. I was really happy. When I started here, it was not at all with the ambition of having a string of horses, or even really competing. I began small. First, I started doing some National competitions, then one day Jos gave me a horse to ride at two-star level... and so it all began. Things really settled into place, little by little, I trained, then the horses were sold and the next one was kept a little longer, and so on. Now things are really on a roll and it's really nice."
You had to earn Jos Lansink's trust, right?
"Yes, I think that trust had to be established on both sides and above all, I obviously still had a lot to learn, and that's still the case today! Everything also depends on the moment; you have to wait for the right time. It takes a moment of luck to have the right horses at the right time. When you train a horse, you progress until the horse is sold. It's difficult because then you start training another horse and he's sold again... then at some point, you get to keep the horse a little longer and you get to compete. Everyone needs a little luck. This year, the Young Rider Academy helped me to gain access to other competitions, as well as the Longines Masters, which welcomed me to Hong Kong and then New York, and which has now allowed me to go to Lausanne. Being able to plan to go to a competition without waiting until the last minute and thinking, "maybe I could go there or there..." helps a lot. It allows you to have a plan and to be able to be organized."
Was it when you joined Ludo Philippaerts' stables at the age of 13 that you decided to become a professional rider?
"I have always wanted to become a professional rider. However, it's difficult to know which level you'll be able to perform to. Of course, you hope to be able to go to Championships and the highest level but when you're in that situation, you realize that it's much more difficult in reality than when you dreamt of it as a child. The road is very long. My mother is a teacher and my father is an office worker in Hasselt, they weren't able to buy me horses, a big truck, etc. My mother really wanted me to study... but in the end, things didn't really work out that way. I still finished school, but after that, I started working right away."
Have you realized that the basics Johan Philippaerts taught you, have helped you get to where you are today? He's not just any teacher…
"I think the main thing is that he taught me that when I'm on the horse, I have to be focused on my work. Ludo was like that too. On the first day of my Junior Championship, he told me, "You have to be focused", it marked me, I always remembered that. They're details that we don't forget. Both of them had a lot of experience and you can learn a lot from them."
Copyright : Julien Counet