Philippe Le Jeune Jr and the art of seizing the opportunities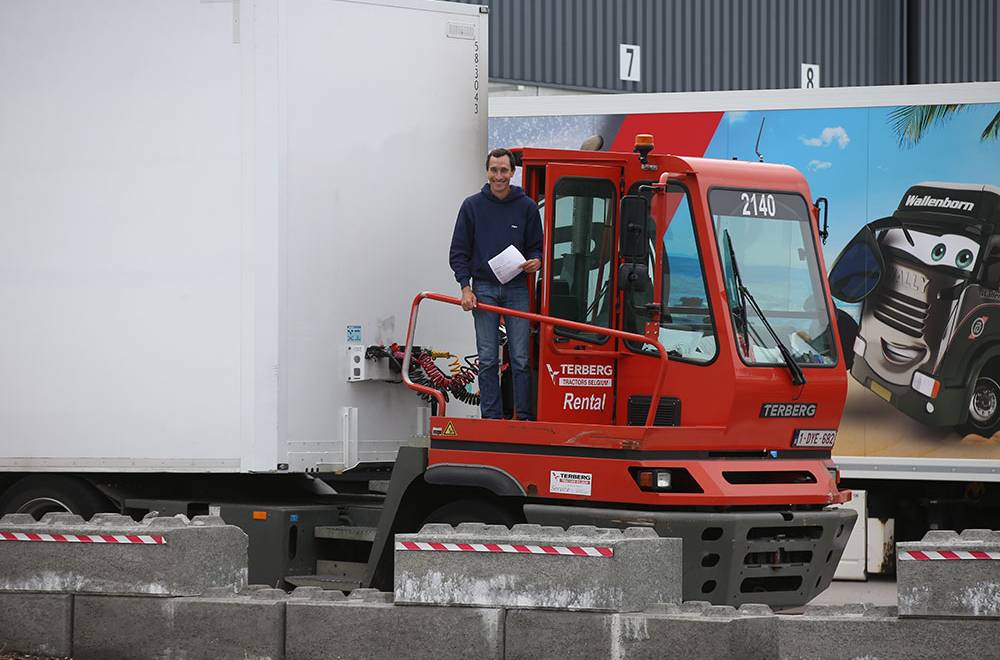 08 July 2020
They are speakers and photographers, they take care of the sound systems, lights, our show jumps and arenas... and from one day to the next, they've found themselves without a job! Today, the circuit is back on track, but in a very progressive way, with a calendar that's missing many competitions.
A man that is very impatient, eternally unsatisfied and always lacking occupation, Philippe Le Jeune Jr. bounced back quickly. The equestrian community also knows how to stick together outside of the stables. Former international rider Christine Vanderschelden, who has now turned to freight transport at Liège airport, in the heights of Liège, quickly reached out to the speaker who was short of work and offered him the chance to come and complete the family business' team as a subcontractor for the transport company Liège Cargo Agency.
Pilou Le Jeune & Christine Vanderschelden
"Sixteen years ago, during our last year at the École d'équitation de Bilzen, we had to organize a small competition as a final exam... and someone asked me to be the speaker. This little event took place shortly after the Jumping de Liège show, so I went and found André Jacques Le Goupil, who only knew me as Philippe Le Jeune's son and was very busy with the competition, but who kindly gave me a CD with my first jingles on it. At the time, André Jacques was the star speaker on the circuit. He was the only French speaker who could make a living out of it. He had reinvented competition entertainment. In the end, I did the entertainment for this tiny contest and one of my teachers came and saw me and told me that I had found my niche and that I should continue on in that direction. I laughed and said that clowning around was not what I wanted to do with my life. At the time, Damien Plume and I were stable riders for my father, and I was also teaching a lot of lessons... but I still went to Sandra Buytaert's Country Riding Club to do a few shows to please them, because they were friends... but in the end, it never stopped. At one point, Dad asked me to choose because I was absent more and more," explains the one who is far better known as Pilou Le Jeune.
Whereas in recent years he could count on a full calendar for at least 45 weeks out of the year, the Covid crisis struck without warning and many people have realized just how very precarious their jobs can be.
"The first month of containment, I was quite calm, but by the third month, I started to panic. When your calendar goes from 40-45 dates... to 5, everything collapses around you. I was able to benefit from the transitional benefit from the government but that was a big first for me because since I'd started working, I had never stopped and I had always been lucky, until now, not to have had to claim unemployment benefits. I come from a modest family where I had a standard education and it is true that by progressing through the five-star event atmosphere, one meets people from all walks of life, but with this, I quickly came back down to earth. I was lucky enough to have all the necessary licenses to drive trucks. I've helped riding friends driving trucks during several Iberian tours. Christine helped me to find work quickly and become part of a good team, along with her spouse, Geoffrey Berger, at Berger transports. I'm grateful to them. It's not a glamorous job. I've changed my coat for a sweater, gotten my hands dirty and I've sometimes had a hard time closing the trailers, but I'm enjoying it so much that I hope to combine this job with that of my speaking duties once everything has resumed. I find the LCA organization to be very professional and worthy of handling the best equestrian events. Of course, I hope to be able to go back to my 'old life' because it is my passion and I love to travel. To be able to make a living from one's passion is a luxury. You realize that even more in times like these... even though you also realize that there are other things in life and that it's just as nice to spend a weekend with your family. My fear now, like that of many people, is that we'll have a second wave. This epidemic has also shown us that we are all equal in the face of this disease.
Pilou Le Jeune, Christine Vanderschelden & Geoffrey Berger.
My nature allows me to always remain positive. This job as a driver is close to home since I am now settled in the heights of Liège, and this will allow me to not accept everything that comes my way from now on. It's very nice to work here, to send your invoice in and get paid in the process. Unfortunately, that's something that happens all too rarely in competitions. It establishes a real relationship of trust and it's very nice," concluded Pilou Le Jeune.
Pilou Le Jeune and his spouse, the amateur rider Sylvie Morrier