Philippe Guerdat's new life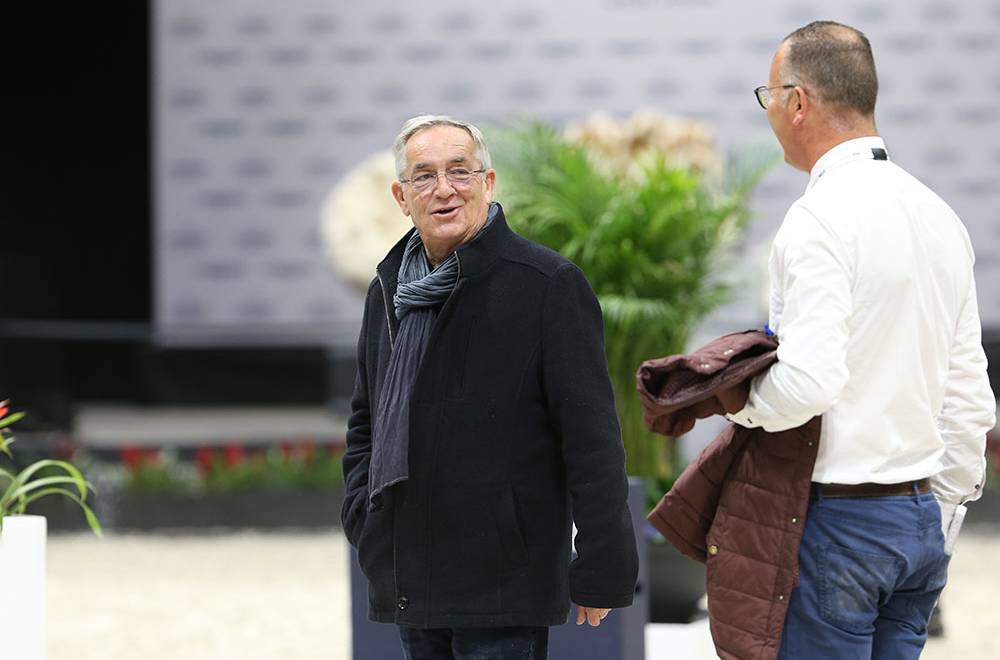 03 May 2019
In mid-December, the French federation dismissed its coach Philippe Guerdat, two years after a historic Olympic gold medal, the whole affair accompanied by disastrous communication and done while the Swiss was still supported by a majority of riders. It didn't take long for the former coach of Spain, Ukraine and Belgium to bounce back and in mid-February, he was back to business with the Brazilian team. We met him in New York as the captain of the still undefeated European team in the Rider Masters Cup.
How are things going out in Brazil?
Philippe Guerdat: "It's a little different from what I've done before. The first contacts were quite easy. I spent ten days in Brazil trying to implement a system because the first objective is to qualify for the Olympic Games. This is the crucial point of the season. We tried to report on everything that was going on, the horses made available... I went to different competitions to see the resources we had at our disposal. We will go to Le Touquet this weekend in preparation for La Baule where I will be present with one team, before going to Saint Gall with a quite different team from the one at La Baule. We will then go to Geesteren before finalizing our preparation for the Pan-American Games."
You are used to regularly visiting competition grounds to see your riders; does it change the story to have riders on different continents?
P.G.: "Yes, of course. Most of the eligible riders are based in Europe but I have two very good eligible riders for the Pan-American Games who are not coming to Europe. I'm going to spend 15 days with them in Calgary to see if we can integrate them into the team, even if they haven't done a Nations Cup with us."
In soccer, dismissed coaches are often advised to take a break before embarking on a new challenge. Do you think that your break was long enough to really disconnect after your ousting from the French team?
P.G.: "Yes, I think so. I hadn't taken a vacation in 10 years and now I've allowed myself two weeks off. It allowed me to clear my mind. Nevertheless, I felt that I needed to bounce back right away. At first, I had an idea that would have kept me in the horse world but was more private and familial... but finally, I was lucky enough to get several offers, which allowed me to choose. I can't say now if I made the right choice, but I made it according to the possibilities and the riders."
Were you already missing the competition?
P.G.: "Yes, I'd already made a fairly clean break, but I certainly missed the competition very much. Watching on the Internet is not the same as living it as I usually do."
Life is made of choices. Do you regret not having made different decisions? I especially think about your gold medal at the Olympic Games when your son Steve asked you to leave your coach position to take care of his work in his new facilities?
P.G.: "No... and I don't want to see it that way. I have always had opportunities to do other things. Even though I always said I didn't want to take care of the Swiss team due to Steve's position... After Rio, I received a concrete proposal from the Swiss federation, but I remain convinced that it is already complicated enough as it is and I don't regret having declined because it would have made things more complicated. I think that in life, we make mistakes, but I have never regretted my choices. I spent six quite extraordinary years in France as a coach, and a foreigner on top of that! I had to learn to think and reflect a little like them, because even though I am a Francophone, there are differences between the Swiss and the French mentalities. I think I had adapted quite a bit, even though I was criticized for being a little too Swiss... but I wasn't going to change my character. In the end, I still had a fantastic adventure with those boys, some of whom will stay close to me."
Compared to your previous experiences with Ukraine, Spain or Belgium, are there always similarities in the way things are going with your former teams?
P.G.: "I think that here, it is above all a very long experience because six years for a foreign coach at the head of a national team is something that you normally never see even if at the start, I had a contract to stay there for eight years. Obviously, in other teams foreign coaches generally do a year or two but rarely more. For me, the most difficult thing remains my departure from Belgium at a time when young talents were emerging. For me, today it's the best team in the world and I'm proud to say today that I was part of their blossoming by launching these young people in the Nations Cup. Then, as I have always said and even if I spent six wonderful years in France, the team closest to my heart has always been and will remain Belgium. That's not going to change because I was Olympic champion with France. It's something different. It was a great time and I have good memories in France... but the team closest to my heart is definitely Belgium."
Do you nevertheless have any regrets about the way this departure happened? Did the messages of support from riders, many owners, the media and also also the French public surprise you by their magnitude?
P.G.: "It's true that with France I discovered the fans. Belgium is much smaller and doesn't have the same media coverage as France. I really felt this support and it is something that warms the heart, even if I was experiencing something personally painful. It made my heart feel better because what I experienced was something difficult to express, something really deep. I've had a bad experience and I'll have to keep living with it because not a day goes by that I do not think about the French team."
Did this support surprise you?
P.G.: "I've never asked for this. I've always been myself. I made mistakes like everyone else, whether in sport or in life. I have always been honest and loyal, I have always followed that line, but in life events can make the roads part. I don't allege at all that I didn't make any mistakes, but I didn't cheat with anyone. It is a world where it is difficult not to make mistakes, especially since there are divergent interests between owners, riders, what riders say to owners, what owners say to managers, who are not always one and the same, and there we are in the middle! Of course, we have to deal with all this and since I am a straight-talker, not always politically correct, it can sometimes hurt. There are often things that seem harmless to me and that I don't even notice, but that can offend some people."
This outspokenness is also found in your son and we have the impression that, as with you, it both attracts great public sympathy but often complicates his life.
P.G.: "I think it's a question of character and education. We are whole people, when we give our friendship, normally it is something unfailing. It may not be easy to do, but when you take the step, it's for life. We remain true to our ideas even if we can make mistakes. It is something I am proud of and I am proud of the way my son defends his own. I think that in today's world, and even more so in the world of horses, there is a lack of people who dare to follow their ideas. There are often people who agree with the principle but who do not apply it in the end. There are still many people who tell you that they agree with you... but when the time comes to step up, there are always fewer of us. Of course, we are exposed to opposition and backlash... but isn't it better to be like that than to be a politician who tailors their opinions according to the day at hand? I think that's our life because Steve and I are natural, we don't play a role, and even in our world there are too many people who play a role."
But this attitude, even if it makes things difficult for you, also creates a buzz around you that is quite rare.
P.G.: "Yes, it's not something we're looking for, nor something we need. I don't think Steve needs recognition and neither do I. I don't want to speak for him, but I think he'll say the same as I do: it's something you can live with just fine. We have always been like that and when we have something to say, we simply say it."
How do you see the future?
P.G.: "I see it with passion, my passion. I will see other riders, other people... even if I will of course also meet familiar faces again. I think we do this because we like it and we always set ourselves goals. My goal was to qualify with the French for the Olympic Games. Now I'm going to try to do it with the Brazilians but without any ulterior motives, hoping that the French team will qualify for the Olympics because there's no reason why they shouldn't... with regret that I'm not the one to carry out this mission, of course, but that's life and that's what they've decided."