Philipp Schulze Topphoff, imperial in La Coruña!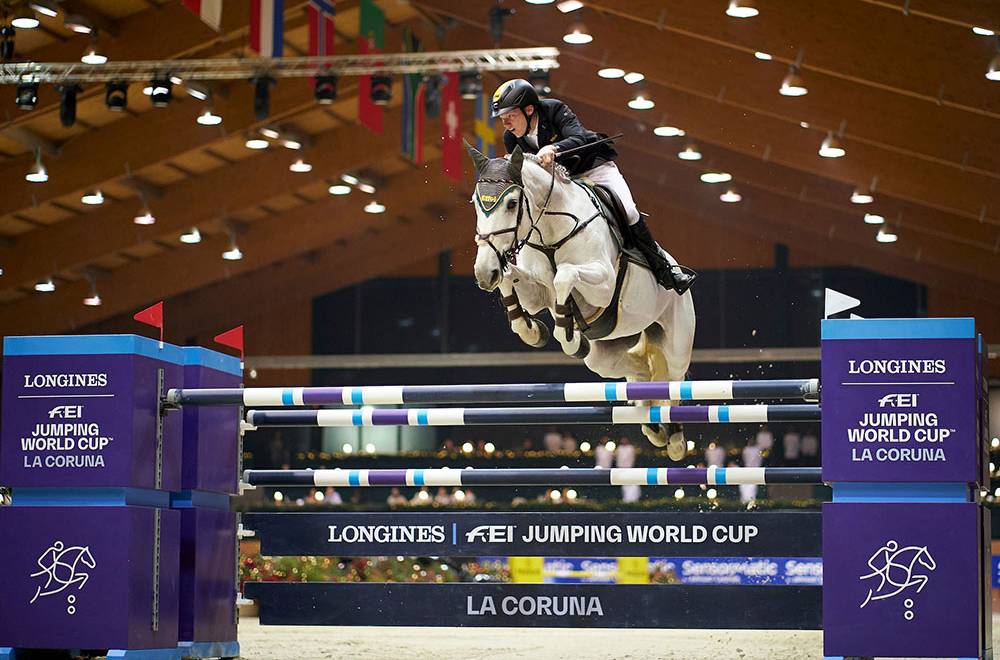 13 December 2021
All eyes may have been on Geneva and the Rolex Grand Slam event where our team was present, but it was still a busy weekend elsewhere!
La Coruña CSI5*W
At the age of 23 years, the German rider, Philipp Schulze Topphoff, created a surprise by winning the World Cup stage of La Coruña on Concordess NRW (Congress). He managed to beat the French rider, Grégory Cottard, and his formidable gray Bibicci (Norman Pré Noir) by nine tenths of a second. The podium was completed by Sweden's Angelica Augustsson with a double clear also, riding Kalinka van de Nachtegaele (Epleasure van't Heike). The young Irishman, Michael Pender, achieved the absolute best time of the jump-off with HHS Calais (Cavalier Royal) by more than a second and a half, but a fault relegated them to fourth place.
Philipp Schulze Topphoff and Concordess NRW ©FEI/Manuel Queimadelos
Thermal CSI5*
For the second week of competition in Thermal, it was Ireland's Jordan Coyle who won the Grand Prix riding the 10-year-old Swedish stallion Ariso (Casall). He is ahead of McLain Ward on Kasper van't Hellehof (Emerald van't Ruytershof) a full brother to the Stal de Muze's stallion Mosito van't Hellehof! The podium was completed by Adrienne Sternlicht with Bennys Legacy (Lupicor) despite a fault in the jump-off.
Riyadh CSI 4*W
There was a Dutch victory in the World Cup stage of Riyadh. Manon Hees won riding Echo vt Gerendal Z (Echo van Spieveld), out of a maternal half-sister to Lilly Keenan's star, Agana vt Gerendal Z. She was ahead of Jordan's Hani Kamal Raji Bsharat on Chatinue (Chacco blue) and Egypt's Mouda Zeyada on Katia (Emerald van't Ruytershof). Zeyada raised the spirits since she also won second place in the 4* Grand Prix the next day with Galanthos Shk (Athos R) behind Edwina Tops Alexander on Hazy Toulana (Toulon)! The ladies truly had the wind in their sails in Saudi Arabia! The only mixed Olympic sport once again reminded us of the necessity of universal values.
Oliva CSI3*
There was a German double in Oliva where Marcel Marschall won with Extra Strong (Diamant de Sémilly) ahead of his compatriot Christoph Könemann on Frederiks (Carambole). The Brazilian rider, Thiago Ribas Da Costa, settled for third place with Kiny van't Heike (Epleasure van't Heike).
Marcel Marschall and Extra Strong © Hervé Bonnaud/1clicphoto.com
Peelbergen CSI2*
Of the Thijssen family, it was Mel's turn to show off! Sister of Sanne and daughter of Léon, the young Dutch girl won the Grand Prix with Cartolana 2 (Catapult 7) ahead of another young Belgian, Alexander Housen, riding the stallion Casillas van de Helle (Casall) and Loewie Joppen on Hantano (Quasimodo Z).
Lier CSI2*
Patrick Spits won the Lier Grand Prix on Virocondo Z (Va-Vite) ahead of the Brazilian Camilla Mazza de Benedicto on Eldorado V (Epilot), while Ann Carton completed the podium with Kai Licha de Carmel (Prince van de Wolfsakker).
Featured photo: FEI/Manuel Queimadelos