Peder Fredricson masters Saint-Tropez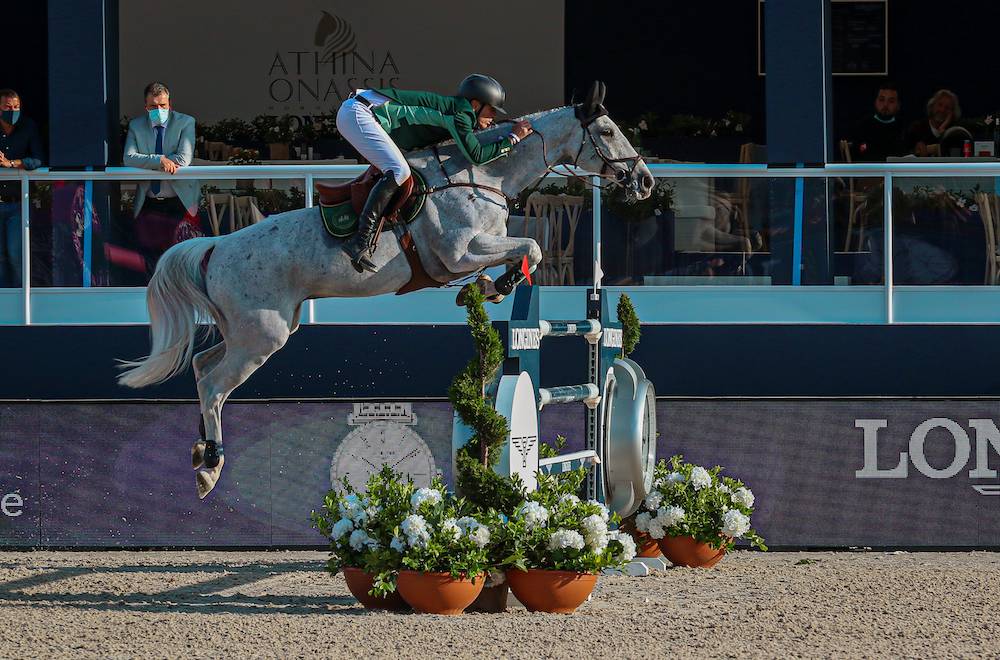 30 May 2021
This weekend, the Global Champions Tour circuit stopped off on the French Riviera in Saint-Tropez, a stone's throw from the fashionable beach of Pampelonne. While a very high level of riders was at the CSIO5* in Rome, there was still some wonderful high-level sport on offer in the South of France!
Having been victorious last week in the Global Champions League in Madrid, the Shanghai Swans, represented by Christian Ahlmann and Max Kühner, wanted a repeat performance in Saint-Tropez. Leading in the first round on Thursday, the riders each knocked a pole down in the second round, which took place yesterday. The victory eventually went to the Valkenswaard United team which also had two rails but a faster time.
Max Kühner and Eic Caleo (Cachas) in the first round of the GCL where they achieved a clear round.
The duo of Edwina Tops-Alexander (Identity Vitseroel) and Peder Fredricson (H&M All In) took the first step on the podium. The Shanghai Swans had nothing to be ashamed of however, as they finished second ahead of the London Knights, a team consisting of Ben Maher (Ginger-Blue) and Nicola Philippaerts (Katanga v/H Dingeshof) in this second round.
Edwina Tops-Alexander and Identity Vitseroel in the second round of the GCL.
This Global Champions League event was also run as an individual event as it was a qualifier for the Grand Prix, which took place afterwards. Thirty-three riders made it to the starting gate. At 5.25pm, the first rider, Titouan Schumacher, started out on the course designed by French course designer Grégory Bodo, a course consisting of 13 obstacles and 16 jumping efforts.
Nicolas Delmotte and Urvoso du Roch (Nervoso)
It was a Grand Prix with a realistic number of clear rounds reaching the jump-off, which totalled six in number. Harrie Smolders was the first to compete in the second round and was penalized by four faults, as were the two French riders Nicolas Delmotte, Simon Delestre and Belgian rider Pieter Devos. The only clear rounds of this jump-off were Swedish! Peder Fredricson achieved the fastest double clear this time with Catch Me Not S (Cardento 933), ahead of his teammate Henrik von Eckermann, who rode King Edward (Edward 28). Third place went to Simon Delestre and Hermes Ryan (Hugo Gesmeray).
It's worth noting that Peder Fredricson had already won the day before in the important 1.50m event with the same mount. Saint-Tropez is really smiling on the Swede this year!
Global Champions League Results
Photo credit: Léa Tchilinguirian