Patrice Delaveau; on his way to new adventures!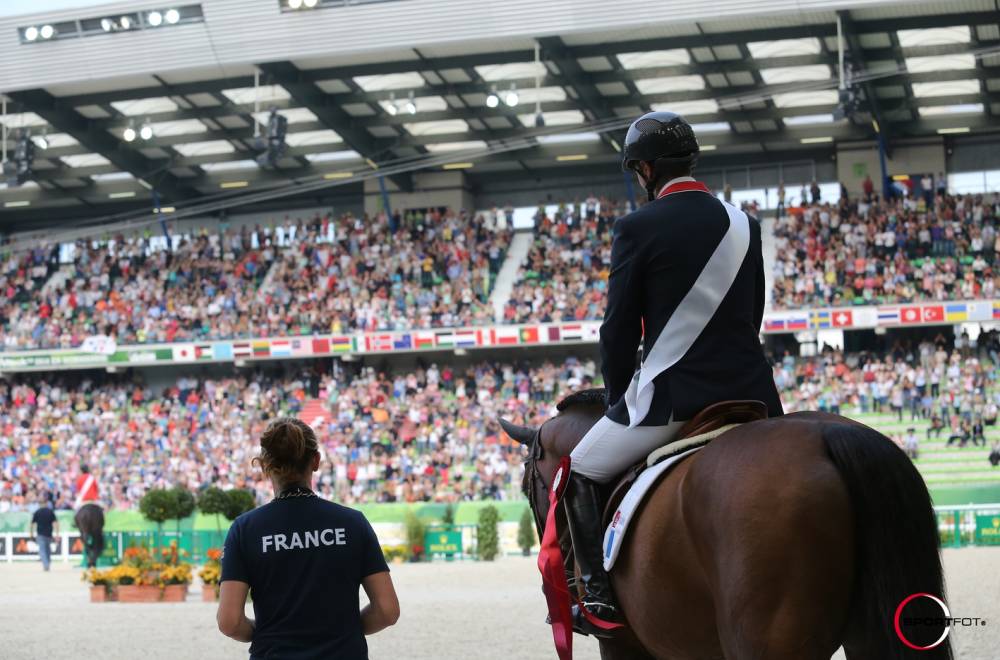 13 May 2021
Patrice Delaveau announced yesterday that he is leaving the Haras de la Forge for new challenges. It's the turning of a new page for the three-time Reserve World Champion, who has lived through the most wonderful moments of his sporting career with HDC affix horses. The rider, who hasn't yet said his last word, granted us an exclusive interview to explain his choice and talk about his professional future.
We've learned through your press release that you're suffering from a shoulder injury. First, how are you?
"I'm doing very well, thank you! I got injured while riding and I had to undergo surgery to reinsert the supra- and infraspinatus tendons of the rotator cuff. I've already started my rehabilitation with a physiotherapist, and I'll be able to ride again in July according to my doctor."
You have just announced your departure from the Haras de la Forge. After 11 years, I imagine that it was not an easy decision to make. Did the containments and the stopping of the sport have something to do with it?
"It did, somehow. It's a reflection that started several months ago, and it comes from a desire to give my sport career some new momentum. I have been present very little at high level lately, and it is still that which drives me more than anything else. I still don't feel capable of living without high level sport. It's my life, my adrenaline... For all these reasons, I felt it was time to look at things differently. The successive containments allowed me time to grow this new project and my decision to leave the Haras de la Forge to set up independently."
What comes to your mind immediately if I ask you to summarize your exclusive 11-year collaboration with HDC?
"Obviously, I immediately think of the World Championships in Caen in 2014, with Orient Express*HDC. Those two silver medals, won at home, in my home region, were an incredible moment to experience, that I wish for every sportsman. However, there were many other moments that I will remember for a long time! The victory with Orient in the Grand Prix of the CSIO 5* in La Baule in 2013 and then the one with Aquila*HDC in 2018, the tremendous epic of Hong Kong in 2013 with Lacrimoso 3*HDC (four victories out of five events run), his victory in the World Cup Grand Prix of Leipzig, the Grand Prix of the CSIO 5* in Rotterdam in 2014 and many others... Eleven years of rare intensity, with several years spent in the World's Top 10 best showjumpers. I also had a couple of passionate owners - Emmanuèle and Armand - who supported me in an incredible way, financially and emotionally."
Let's talk about your new project: where will you settle?
"I'm moving two minutes away from the Haras de la Forge, to Clara Darty's Clairefontaine stables, close to Deauville. I wish to develop and dynamize my competition stable, with the purpose of finding my place at the highest level but also to develop a horses' valorization and marketing department. The Clairefontaine stables are outstanding, in addition to being very functional, and I will be able to carry out my project there."
You also say that you will continue with another non-exclusive endeavor, a collaboration with the Perron-Pette family. How will this take shape?
"The main objective with Emmanuèle and Armand still remains high level sport, and we still want to share great moments of sport together. I will therefore continue to ride the HDC horses they entrust to me for this purpose, whilst also welcoming new owners and investors to the project I wish to lead. I will thus diversify my activities and take back my independence, while still collaborating with the Perron-Pette family."
Your daughter, Valentine, is climbing the ladder to the top level; will she also drive the rest of your sporting career?
"I am, like any high-level French athlete, driven by the Olympic Games in Paris, scheduled for 2024, and I work daily with this objective in mind. My daughter Valentine is progressing in the right direction; I wish to accompany her in her wish to become a professional rider by integrating her in my project. We will work together in the reception of new horses but also in the development and marketing."
In your press release, you mention that you're working on several projects, including coaching pupils. Do you envisage an American-style system with promising riders trained by you daily, that will follow you to and compete in international competitions?
"That is indeed an activity that I wish to develop, especially in partnership with the Delaveau Academy. We're going to set up this accompaniment towards the high level in order to allow young hopefuls to benefit from my experience by following them daily in their ascent towards top level sport. As I did with Edward Levy a few years ago, the transmission between generations is a value I hold dear. I can even give you a little exclusive: it will be called "Le Lab by Académie Delaveau" and will be officially launched soon!"
Photo credit: Sportfot.com