The Paris family: a passion for breeding (2/2)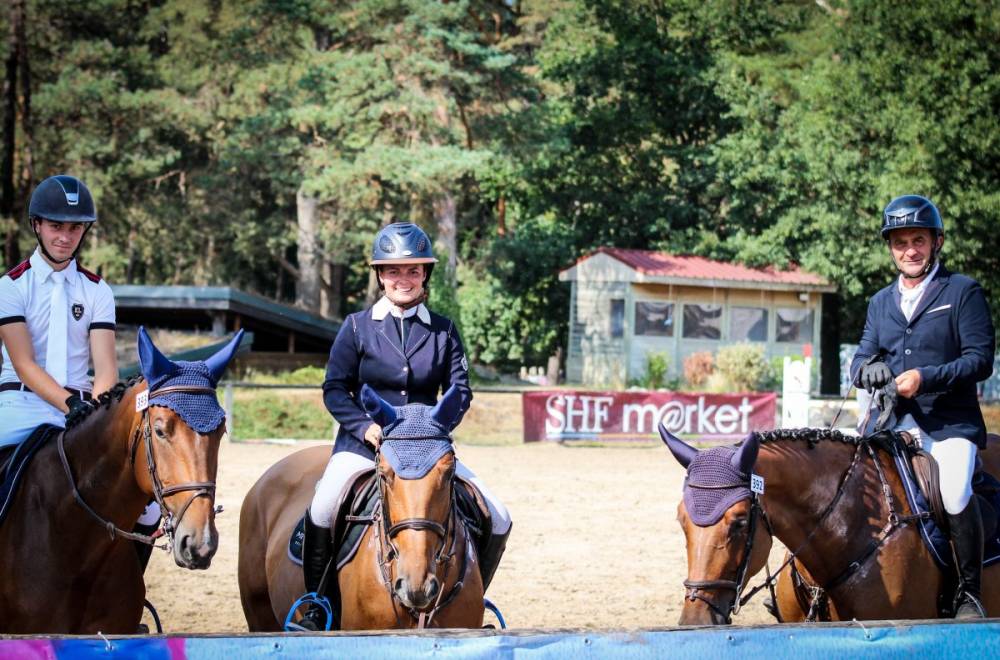 07 May 2020
Having met the founders of the Haras des Forêts (read here), Studforlife.com now invites you to discover the third generation of the Paris family, who seem determined to keep running the family business which was created in 1970.
Pauline Paris, a hard-working student
The eldest of three siblings, Pauline Paris got started at a very young age at the Saint-Lô riding school of which her mother, Pascale, was the director. "I don't even know how old I was at the time, to tell you the truth!" When she was about ten years old, she started riding the horses from the family farm, including a certain Junte des Forêts (Super de Bourriere). Five years later, the young girl had her first taste of success: "In 2007, I finished third at the French Cadet Championships in Fontainebleau with Richebourg, a stallion who had been sent to my parents' place to be ridden. The following year I was crowned the Junior French Champion in Auvers, with Lavande des Forêts." It was with the latter, supported by Licorne des Forêts (Voltaire), that the rider then began her international career with a few Junior Nations Cups.
During these years, Pauline also obtained her bachelor's degree in Economics and Social Sciences and found herself facing the difficult question of where to go in life. "As I did well at school, my father wanted me to study with the dream of becoming a veterinarian; he would have liked me to keep riding as a hobby but I wasn't very keen on that idea." The young woman nevertheless decided to go to a business school in Saint-Lô so that she could continue riding her father's horses. This training gave her the chance to do internships abroad: "I had the opportunity to do a one-month internship with Ben Maher and another two-month internship in Wellington selling saddles."
Once she had her diplomas, her professional plans didn't change: to make her passion her profession! So, Pauline contacted a certain Marcel Delestre to find a job as a rider: "He was coaching young people in France and he told me to come to his place." Pauline then arrived at Simon Delestre's stables during the Summer. "I wasn't even able to attend my graduation because I had already left for work!" she recalls.
The adventure lasted for a year, then Pauline went to England for six months before returning to work with her father, where she mainly rode young horses. "We had to keep the business running and we couldn't afford to keep horses to age. We just allowed ourselves to keep Licorne and Lavande who were our only two mares capable of competing in big events." Then, with very few horses suitable for competition, tensions arose between the two sisters: "We both wanted to ride the best horse and have horses to be able to compete."
After her studies, the young woman turned her attention to trading horses, aware that she had to sell horses in order to run the business. "We sold a lot of horses at the age of three, either at auctions or at home, which we didn't necessarily do before. Today, we have more staff and even though the breeding program has grown, we manage to take better care of the three-year-olds, we are able to get them to jump more freely, notably thanks to the construction of the arena. So, we manage to have horses ready to go to auction at three years old."
Since last November, Pauline has been living near Notre-Dame-d'Estrées with Valentin Besnard, her spouse and Bruno Rocuet's former rider. "It's something that was close to our hearts. Also, working with family is not always easy. I get along very well with my sister except when it comes to horses (laughs). This separation has brought us closer; we call each other every day now!" As soon as they settled in, a large number of owners put their trust in them, such as Groupe France Elevage, Éric Levallois and Nicolas Deseuzes. "We didn't expect to have so many horses so quickly. Our business has gotten off to a good start and we are very happy with how it's going!" The couple hopes to be able to keep a few horses longer than they usually do, in agreement with their owners, "…so that Valentin can find mounts like he was able to get at Bruno's, and why not for me as well?" But some horses, like those owned by Nicolas, are not intended for them to compete. "He entrusted us with his horses to train them with the objective of doing high level competitions with him later on."
Audrey Paris, confident
Audrey, Pauline's younger sister, also remembers that her father Fabrice used to pick her up from the nanny's house on horseback. That's how the young girl started riding, even though Audrey really started riding at about the age of three on the family farm's resident Shetland. After the essential step of attending riding school, it was time for pony competitions. "I was lucky enough to have two to compete: Ithaque du Preuil who was a category C pony and Juan du Boc, a super category D pony." At the age of nine, she started riding horses, but not on a product of the family breeding program, unlike her elder sister: "My father bought me a mare, Idylle d'Aure. She was so smart she could read and write! So, it was with her that I started the Amateur events up to the 1.20m level."
In 2009, Audrey crossed paths with Olympique des Forêts (Rosire) and Licorne des Forêts, two mares from bloodlines that influenced her first great successes. In the same year, she won her first French Champion Minimes title in Fontainebleau with Olympique, and she also placed third at the European Children's Championships, but this time with Licorne. With the latter, the young rider discovered the higher levels of the sport: "At twelve years old I did my first 1.35m event and at fourteen years old I jumped ten centimeters higher!" The following year she was entrusted with Sagamore (Indorado) with whom she took part in the Junior Nations Cup and obtained her first placing at the 1.45m level. Then, she got Major de Coquerie (Ahorn) back, with whom she took part in many Junior Nations Cups and won her second French Champion title in the same category. She continued on with the young horses bred at her father's stud and with whom she collected plenty of rankings at the Young Horse Finals in Fontainebleau year after year.
Concerning her professional future, Audrey never had any doubt: "I always wanted to work with horses!" That's why she continued working towards a professional baccalaureate in the Management of an Equestrian Company as an apprentice. "After the first year of my apprenticeship at Julien Epaillard's, I came back home because there were so many horses to take care of." During her time with the current French No. 1, she had her first victory at the 1.45m level in a ranking event with Major de Coquerie. After her studies, Audrey Paris went to Belgium to train at the Van De Helle breeding farm. "It was a great experience where I had the chance to jump up to the 1.50m level with Isidoor Van De Helle!" she explained. After a year and a half in Belgium, the rider moved on, going on to train with Michael Whitaker, Miguel Faria Leal and René Lopez before coming back to her homeland.
The young woman, who has been working on the family farm for a year and a half now, says she has a passion for young horses. "I love to train them and see them progress." As for the future of the Haras des Forêts, Audrey would like to attract more owners and have more horses entrusted to her. "This year I was lucky enough that Henriette Evain entrusted me with Babycomeback, who I had also ridden when she was a 6-year-old," she explains.
Hugo Paris, passionate and determined
The youngest of the Paris family, Hugo was raised around horses and even though they punctuate his daily life, the young boy has struggled to find his place among them. "I didn't really like them at first, but as time went by, by going to competitions, I eventually got a taste for it." In 2009, the youngest sibling decided to get on a horse, without even starting on ponies, and started with Fidji du Jaquet (Kessel II), who was previously ridden by his sisters. That same year, Hugo rode in his first competition arena and also rode in his first French Championship in Fontainebleau, where he placed fourth. The following year, almost nothing changed: same combination, same arena, but this time he took out the title of French Champion. "I started out well; I had only been riding for two years and I was already crowned the French Champion!" In 2012, his father invested in a new horse for him, Maxou. "In the beginning, he was meant for my sisters, but I got along well with him, so I kept him for myself," remembers Hugo. Three years later, Major de Coquerie joined the young rider's string. "Major was ridden by Kévin Staut, then my father bought him for my sister, Audrey. He finished his career with me. Thanks to him, I started riding in 1.45m events and then in CSI events where I gained a lot of experience."
At the same time, Hugo was working towards a Technological Baccalaureate. "I wanted to make sure that I had choices, even if deep down inside I was convinced that I wanted to be a rider. At the end of my sophomore year, I realized that I didn't like spending my days sitting in a classroom." That's how the young man, finally, like his sister Audrey, went on to complete a Professional Baccalaureate in the Management of an Equestrian Company on a work-study basis. He first worked at the family breeding farm before joining Bruno Rocuet's stables.
With his diploma in hand, Hugo chose to enter the workforce. "I was under contact with Julie Ulrich, and one day she told me that Kévin Staut was looking for a home and competition rider, so I went to his place." For a year, he was able to progress under the professional and benevolent eyes of Kévin and Julie, thanks to whom he was able to gain a lot of experience and participate in his first 1.45m event with his mare, Bruyères du Gué (Dalton Van Het Lindehof). In 2019, Hugo arrived at Julien Epaillard's. "I've been there for a little less than a year and as far as the future is concerned, we'll see. I want to continue gaining experience, so why not go abroad afterwards to improve my English and Spanish, see other systems. Eventually, I would like to come back to my parents to continue competing and take over the family breeding program." The circle will be complete.
Interview by Alice BONNEMAINS.