The Paris family: a passion for breeding (1/2)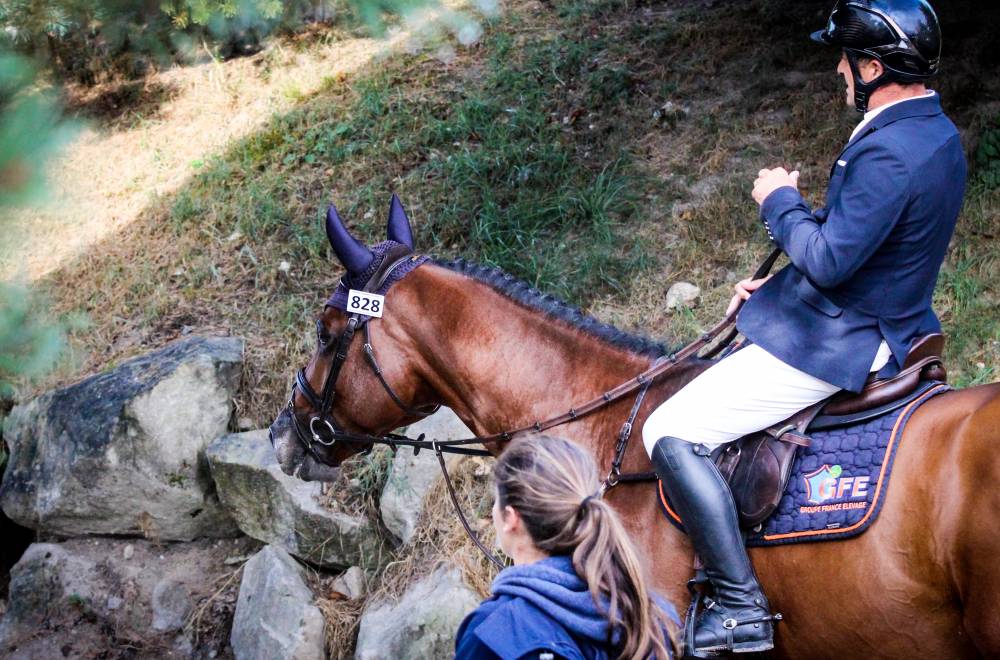 05 May 2020
Founded in 1970, the Haras des Forêts has been around for two generations and seems well on its way to adding another generation to its ranks. The Paris family, which has bred great champions such as Nectar des Forêts, Quamikase des Forêts (now Zirroco Blue) and Big Star des Forêts, has opened its doors to Studforlife.com
Guy Paris, a passionate founder…
His name is probably unknown to you, but Guy Paris is nevertheless the founder of the Haras des Forêts. When he established the stud in 1970, he had no idea that his son, and now his grandchildren, would follow in his footsteps. As a fulfilled father and grandfather, he says he is "proud to see that everything that was done before they took over is still going on and of the way the family business is evolving." He recounts, with passion, his conviction of using new breeding techniques such as embryo transfer for the past thirty years. "We were among the first to use that method," he recalls. Guy Paris and his son, Fabrice, were also pioneers when it came to using foreign blood and young genetics in their breeding program. The founder of the suffix "des Forêts" is pleased that his breeding program has been able to develop its reputation and its staff over the years. From his beginnings with one broodmare, to the present day with more than thirty mares and forty-five foals a year, the breeder acknowledges that this important evolution is partly due to embryo transfer, "which allows two-year-old fillies to be part of the breeding program before being marketed."
Guy Paris is full of praise for his son, who continues to progress the horse breeding side of the business without abandoning milk production on his dairy farm, which is his main activity. Aware that none of this could happen without a solid team around his son, Guy says, "Fabrice is fortunate to have some trusted and very competent employees on the dairy farm, which allows him to focus more on the horses and simply supervise what happens on the farm." He is also pleased to see that his grandchildren, Pauline, Audrey and Hugo are "very motivated to keep the family business going" and finds in them a common quality: business sense. When asked who he thought would take his son's place in a few years, their grandfather names Hugo without too much hesitation: "He's the only boy, the youngest, but he's the one who seems most interested in maintaining the dairy farm in addition to the equestrian part of the business."
From father to son...
As the son of a farmer and father of three children, Fabrice Paris is now the head of the Haras des Forêts, the third best stud in France. But how did it come to life more than twenty years ago? "At my parents' farm, there was a pony that we had covered, and that's how we started to get interested in breeding." Afterwards, Fabrice decided he wanted to ride horses and to have several of them. But his parents' economic situation did not allow him to fulfill this desire. "We didn't have enough money to buy horses, so we decided that the best thing to do was to make some." His father Guy then bought three broodmares for a good price and started the family breeding program.
Dairy farming is still part of the family business, and Fabrice Paris acknowledges that without it, the family farm would not be where it is today. "Without this farm, which provided a guarantee for banks and insurance companies, I would never have been able to invest as much as I did into the horses," he explains. Today, the trend has been reversed and horse breeding has become so important that the dairy farm has expanded through investments such as robotic milking systems. Over time, he was able to devote more time to horses. Several times, Fabrice Paris has wondered whether the dairy farm should be closed, but he has always changed his mind: "Today, horses pay better than cows, but we cannot forget that before, it used to be the opposite, and we don't know what the future holds," he explains.
Fabrice Paris has already anticipated the progress of breeding: the so-called 'average' horses no longer have their place alongside the good or even very good ones. Therefore, he decided to keep only one of the three broodmares his father had bought, and his choice was May Flower des Forêts. At the same time, and fortunately for the latter, embryo transfer was emerging. "May Flower had an accident where she broke a kneecap and her pelvis; without embryo transfer she could never have had a foal." Embryo transfers succeeded one another, but none of her offspring were sold. Guy and Fabrice Paris persevered and continued using the practice with May Flower's daughters. That's how the breeding program really started.
Since then, the Haras des Forêts has continued to develop and Fabrice explains that this is in part due to his curiosity and his close relationships with riders. "I've always been in contact with riders so that I could find out what they needed. I have a thirst to discover what we can do best for the sport." Curious and motivated, the breeder has already travelled to stallion competitions in Belgium, the Netherlands and Germany, and he visited Wellington for the first time in 2005. "When I arrived there, I didn't know anyone. I went looking for new customers, but I came back empty-handed. However, I was able to see where our sport was heading: in Europe we're ten years behind the United States," he says. He also remembers his first Fences sale: "I thought I had the best horse in the sale, but in the end I realized that my horse was good, but not good enough to get the top price." This trip to Bois-le-Roi motivated Fabrice Paris to work hard to improve the quality of his foals. He also mentions his choice to trust young genetics for reproduction is an economic concern in particular. He nevertheless recognizes that in the short term it isn't profitable because the foals' selling price is lower. But "when you sell horses at three, four or five years old, all that counts is that they jump well; their bloodlines are less important at that point."
Concerning his rider's hat, Fabrice Paris is rather self-taught, even though he spent a lot of time with Éric Levallois and Christian Hermon before settling down. "When I started, I watched what the other riders were doing a lot, not because I was jealous of them, but because I was trying to learn the best parts of each of their riding styles, and to analyze their course rides... I had no choice, I had to succeed!"
Fabrice Paris also fulfills his role as a father with his three children: Pauline, Audrey and Hugo. Born around horses, they all followed in their father's footsteps. "I used to ride down on horseback to drop them off at the nanny's house at noon, and in the evening, she would hand them back to me over the hedge and we would go home like that." He is proud of his children and their respective backgrounds, he doesn't hide the fact that "…if none of them had decided to take over, at sixty-five I could have retired." He ends by admitting that perhaps it's better this way: "I'll never get bored, I'll continue to accompany them, unless they kick me out (laughs)!"
The second part of this article on the Paris family will be available soon and will be dedicated to their third generation.
Interview by Alice BONNEMAINS.