Opening of the Ekestrian Elite & No Reserve Price Auctions on January 25 & 26!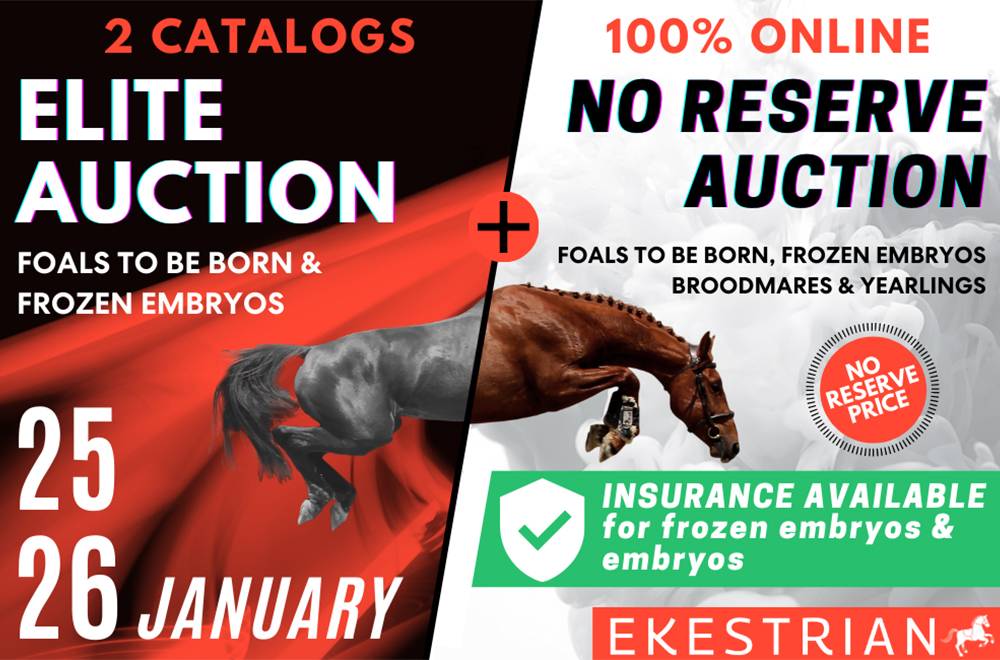 25 January 2022
Live now! Foals to be born, frozen embryos, broodmares & yearlings selected by our experts are presented at two 100% online Ekestrian Auctions which will close lot by lot, minute by minute tomorrow, Wednesday, January 26th at 9 pm (French time):
- Exceptional ELITE AUCTION including 19 foals to be born and 11 frozen embryos: https://bit.ly/3qWlr8K
- 100% NO RESERVE AUCTION featuring 3 yearlings, 2 broodmares, 7 frozen embryos & 5 foals to be born for sport and breeding enthusiasts: https://bit.ly/3KCWOpz
Ekestrian is pleased to inform you that insurance is available for all the lots in the catalogs. In particular, we confirm that all frozen embryos and foals to be born will be eligible for insurance, subscribed by the buyer.
Lots overview:
Lot 11 - Elite: Foal to be born - Rare! Cornet Obolensky out of Yuri Mansur's star, Babylotte, winner in CSIO5* 1.60m!
Lot 12 - Elite: Foal to be born - Direct damline of Diamanthina van't Ruytershof winner in CSI 1.60m and Emerald's full sister! Aganix du Seigneur out of Nerbi van't Ruytershof, 1.35m, full sister of Jilbert van't Ruytershof winner in CSI5* 1.60m and Pegase van't Ruytershof's sister! https://youtu.be/KQyrkFpzUKY
Lot 15 - No Reserve Price : Frozen embryo - Quidam de Revel x Diamant de Sémilly, out of Fiolita, Grand Prix 1.50m-1.60m and sister of Tolita triple winner in World Cup 1.40m-1.60m, 1.60m performers' damline https://youtu.be/gbCUd6nDtNI
Don't forget to create your account and/or to update your details on the website to be able to access the catalog and bid during the auctions: https://bit.ly/3GXIshl
Information and price estimates from the Ekestrian team at +33.7.86.32.75.17 or [email protected].