Olivier Philippaerts at the top!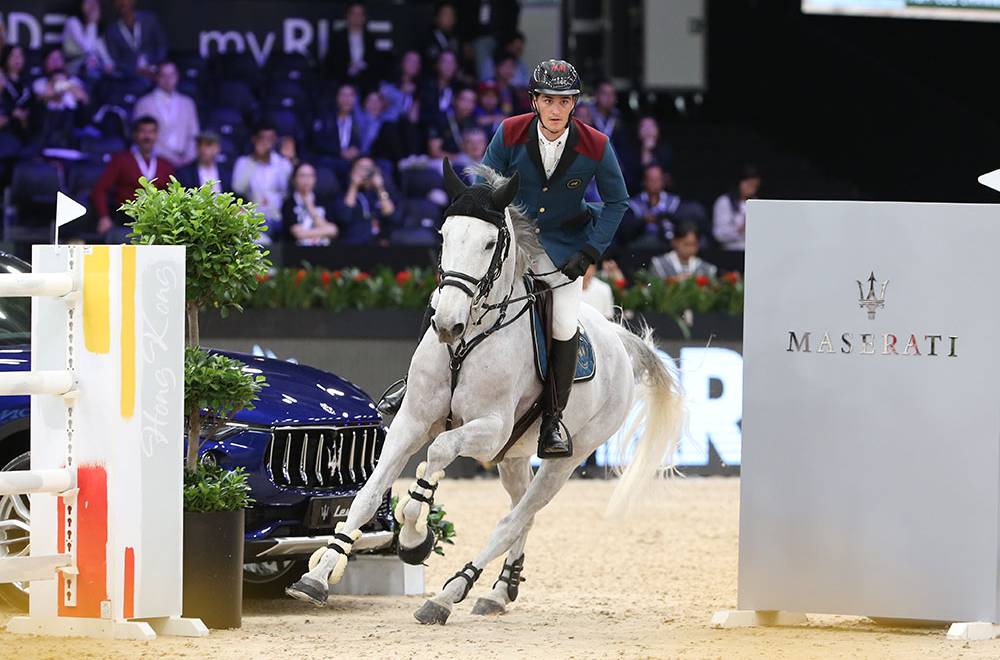 16 February 2019
There were a whole ten riders who racked up clear rounds in the first stage, so the line-up would have remained exactly the same for the final round if two of them had not picked up time penalties. Winner of the showcase event pitting showjumpers against jockeys, Simon Delestre had cause to be a little disappointed after a beautiful run by Ucello de Will (Marlou des Etisses).
There are a lot of French supporters in Hong Kong!
Already winner of the opening contest with Quinn vd Heffinck (For Pleasure), Emanuele Gaudiano went hell for leather to complete a very demonstrative round with Chalou (Chacco Blue), astonishing even the least experienced of the Chinese audience. But it was fast and fault-free, getting him 35''73 and the provisional lead.
Those who came after him kept trying, but the bars began to fall. And when they weren't falling, the rounds were too slow. Bertram Allen on Izzy vd Wateringhoeve (Cicero Z) and Sameh El Dahan on Suma's Zorro (Douglas VDL) paid the price with times of 36''72 and 36''53.
Gaudiano's time looked hard to beat, but Olivier returned to the ring determined and on in his way in received a few tips from the former selector of the Belgian national team, Dirk Demeeersman, here in Hong Kong to coach a young Chinese rider. It soon became clear that the Belgian had no intention of playing a supporting role. H&M Cue Channa (Cardento) jumped magnificently and proved herself very responsive to her rider – 34''72 was the result. The pair had shaved a full second off the Italian's time, although the riding was academic here – the horse had jumped with style and confidence. Bravo!
Thus suddenly hope had returned to the field, and Denis Lynch tried his luck with Chablis (Couleur Rubin) but unfortunately fell back in the final straight – 36''28.
Pius Schwizer gave his best throughout the round, but the action of About A Dream (Clinton) prevented him from chasing after the Belgian. It was second place for him, with 35''07.
"I watched Emanuele Gaudiano's round, but I know that my mare is naturally very quick, and I told myself that I was going to take the risks. It has taken me a while to realize it—it's now six months that she's been with me—but she's a mare with a lot of quality. I'm truly happy. Pius finished very close, but I'd taken all the risks right to the end, and today that was enough. I am very happy with this victory. Tomorrow she'll have a day off, and I hope to do as well again on Sunday in the Grand Prix," explained today's victor.